Kick Start your Career in Financial Services with a Master's in Finance from Imperial College Business School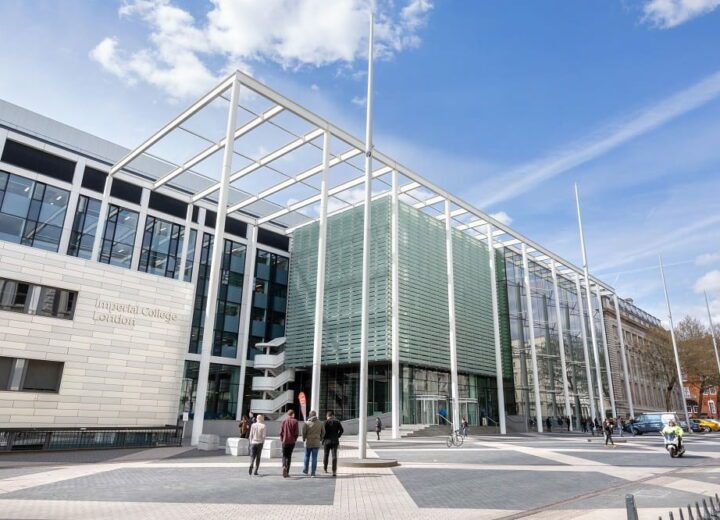 Have you ever thought of pursuing a career within financial services but don't know where to start? Why not consider further study at the prestigious Imperial College Business School. Their MSc in Finance will give you the skills to transform your future career, industry, and even the world we live in today! In this era of accelerated change and digital disruption, business leaders must think differently if they want to drive innovation and leverage the opportunities of our evolving world.
The Imperial College Business School MSc in Finance is a one-year, full-time programme that has a track record of securing its students with some of the top jobs in financial services for the last 20 years. Covering a range of sectors including asset management, investment banking, and consultancy, this course has the potential to catapult your career prospects.
Want to find out more?
Who better to give you an insight into studying MSc Finance than a current student and alumni. We caught up with Alison Zambrano Bustillos, a current student studying the course, and Julia Laskowska, an alumni who has completed the course and is now working in the industry.
Alison Zambrano Bustillos
Current Student at Imperial College Business School studying MSc Finance
Previous education: BSc Economics with Finance, Queen's University Belfast
Nationality: British/Ecuadorian
How did you first hear about the MSc Finance course?
"Ever since starting my undergraduate studies, I had been following Imperial College and their postgraduate course options. My goal was always to further my studies through a Master's degree, and as such through researching Imperial College Business School I found that the MSc Finance course is something they offered and specialised in. It was an opportunity that I could not pass up!"
What made you choose to study it?
"I chose to study the MSc Finance at Imperial over other institutions because of the quantitative nature of the modules offered, professors with world-leading industry backgrounds and the alumni network provided by Imperial. I believe Imperial will open many doors and help me to progress to greater heights in my career in finance."
What experience did you need before starting the MSc Finance course?
"Prior to joining Imperial, I did an internship at Hotel Cathedral International as a Finance Controller Intern in Quito, Ecuador. I also worked at Tenon FM as a Strategic Analyst to the CFO in Delhi, India where I was then offered a full-time graduate role due to my noted success as an analyst."
How was the application process, did you receive a scholarship?
"The application process itself was straightforward and enjoyable, moreover, I was fortunate enough and honoured to receive the Woman in Finance scholarship. Receiving recognition for the efforts that I had put into my undergraduate studies definitely gave me a confidence boost. With Imperial's affiliation with the CFA, I was also pleased to receive the CFA Student Programme Scholarship along with exam prep resources which will definitely strengthen my candidacy for leadership roles in the near future."
What has been your favourite aspect of the course so far?
"The MSc Finance programme at Imperial is structured in such a flexible manner that each and every student can truly gain the most out of their interests in the wide-reaching field of finance. It's the challenging aspect and cultural diversity of the programme that I enjoy the most. Moreover, I enjoy the wide variety of choice within my electives, allowing me the freedom to cover areas in which I would want to specialise and apply toward my future professional career. From this, I was able to personalise the programme at Imperial in a manner that suits my own personal and professional needs."
What is the most exciting thing you have learnt so far?
"My favourite module so far has been Corporate Finance. Through the theoretical material covered in lectures as well as the application of these fundamentals in coursework helped me understand multiple decision-making process for companies. Gaining the ability to recognise key factors such as what affects the cost of capital of companies and understanding the different capital structure decisions.
Have there been any challenges and how have you overcome them?
"The programme itself proved challenging through its rigorous and fast-paced structure. Having to submit multiple pieces of coursework every week were, at times, very challenging. Especially given that interviews and other obligations would clash with these deadlines. To me, these challenges are part of the experience of this Master's at the Business School and have helped me stay very organised and taught me how to prioritise my workload."
Has anything about the course changed due to the pandemic?
The pandemic has changed the course substantially. At first, we were split into two groups where one week Group A would attend campus and the next week Group B would attend, studying online in the week we were not on campus – this is called multi-mode teaching. However, through the national lockdowns of this year we have had to complete our course completely remotely. This has specifically had an impact our group projects and exams.
What are your future career goals, and have they changed or become clearer since starting the course?
"I want to build a career in Investment Banking and Private Equity, and I am already in the application process for multiple investment banks. The MSc Finance programme has provided me with a thorough understanding over a wide breadth of financial topics and, has allowed me to grow my foundational skills in the building of financial models."
What opportunities are there for women in finance at the Business School?
"I have always been passionate about changing the way women are seen in the finance industry and the scholarship proved to me that the Business School aims to achieve this also. I was a guest speaker at the Women and Leadership panel event, where I was able to encourage and help many prospective female students gain insight into the world of finance, offering out my details should they have any further questions."
Has the course opened opportunities you wouldn't have had access to beforehand?
"Becoming an Equity Analyst for the Student Investment Fund at Imperial College Business School has given me the opportunity to leverage my analytical skills needed for any role in the finance industry. I'm always willing to accommodate new learning efficiently and I believe this was the perfect pathway to do so."
Did you attend any workshops or events that have helped you through the course? 
All the Careers events have been very helpful in choosing which part of the industry interests me the most. I enrolled in the optional VBA and C++ module and look forward to taking part in this as I believe it is very important to develop a programming skillset for any analytical roles.
Do you have any advice for students thinking of starting the course?
"Ready yourself to be fully immersed in the world of finance. MSc Finance is intense for a reason, it is made to appeal the most to those that have a firmly placed interest in progressing to highly technical and sought-after roles in the financial industry. That being said, do not fear reaching out to the Business School and taking full advantages of the resources that they offer. They are there to help, and a one-to-one Careers session will always be there to provide any assistance that an Imperial student needs."
An Alumni's perspective
Julia Laskowska
MSc Finance Alumni
Associate, Real Estate Structured Finance, Bank of America
Now we have heard from a current student studying the course. Let's find out more about life after studying the MSc Finance course at Imperial College Business School. Julia Laskowska completed the finance course and is now an Associate in Real Estate Structured Finance at the Bank of America. Following and during the MSc, she gained some impressive experience at Lloyds Bank as a summer intern, the National Bank of Poland on work experience, Deutsche Bank on a summer internship, and finally the Bank of America where she secured her current role.
What made you choose to study the MSc Finance course at Imperial?
"I chose it for the technical and practical aspects as I believed this would prepare me well for the workplace. I found that the course offered by Imperial was one of the more flexible ones with a large selection of elective modules and an option to choose between a research or applied project. Additionally, Imperial is a well-recognised, reputable institution."
What was your favourite part of the course?
"Meeting different people from the course and the wider Imperial College Business School, all with various backgrounds and experiences. Everyone was extremely helpful in sharing information and tips for job applications and interview preparations."
What skills did you learn during the course that have directly helped you in your job?
"Practical skills, group work and basics of accounting have been the most helpful in my job."
Do you think the programme developed your professional skills?
"I do, both the programme and the Careers team have helped in developing my professional skill while at imperial."
What was the biggest challenge you faced and how did you overcome it?
"Time management, especially during the summer term when I started my summer internship at Bank of America and was working on the applied project at the same time. It required good organisation and self-discipline on my side."
Did the course give you more confidence before entering the workforce?
"It did, I felt like I gained a more rounded knowledge of finance and improved my teamwork, practical and organisational skills which are important in every job."
How long after completing the course did you secure your first job?
"I was a summer intern at Bank of America after completing the MSc Finance course. Towards the end of my summer internship, I was introduced to the Real Estate Structured Finance team. I started as an off-cycle intern in October 2018 and received a full-time job offer a few months later. I have stayed in the same job, with the same team since and have recently been promoted to Associate."
Did you always want to work in Finance, or did you career path change overtime?
"No, I did not know what I wanted to do when I first started my undergraduate course. At the time, all I knew was that I enjoyed Economics as a subject and wanted to see where it took me."
What do you enjoy most about your current job?
"Firstly, I like the asset class – real estate is tangible, you can go and see the buildings and their surroundings, see how they are currently used and what the investor's business plan is to make the returns. The job requires a combination of common sense, market knowledge and technical skills which makes it interesting."
What tips would you give to young women thinking of starting the Finance course at Imperial?
"If you have any doubts or questions, there are alumni from truly diverse backgrounds so you are likely to find someone with similar experiences to ask any questions you may have. It is a very good course, consisting of core modules giving a good financial knowledge base, and electives modules which help tailor the course towards what you are interested in or what you think could be useful in your career."
Do you think it's important to encourage more young women to enter the financial services industry?
"I do, it is a very dynamic industry where you continue learning, it is a challenging but also rewarding sector. Encouraging young women also brings more diversity and balance to the industry which I think is beneficial."
Find out more and apply today!
If you're looking to kick start your future in financial services, the MSc Finance course from Imperial College Business School could be perfect for you. Download the brochure to find out more.