Women in STEM Ireland: Statistics and Key Findings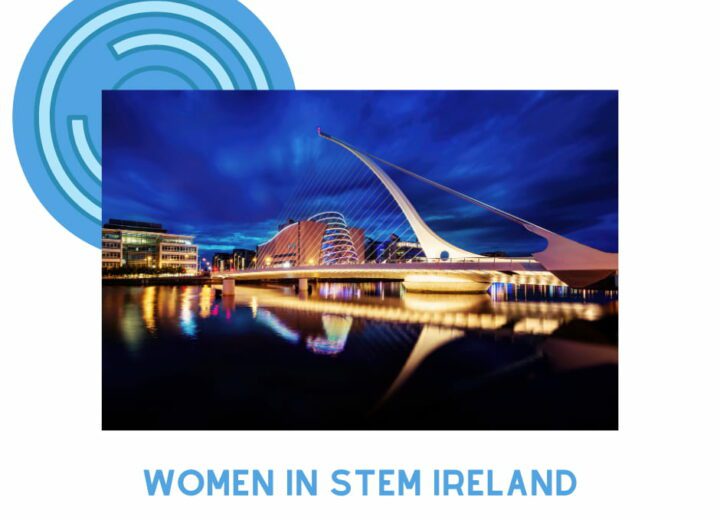 Over several years, Ireland has developed into one of the world's leading technology hubs. With the emergence of the Silicon Docks in Dublin and a continued increase in STEM industry job figures, the future looks exciting for Ireland.
As society adapts to change and the pace of technology advances, the demand for experts and innovators in STEM fields will only continue to increase. This means that unless Ireland keeps up with this demand, they could risk restricting their economic growth.
According to a report from Engineers Ireland in 2019, over 94% of engineering employers in Ireland reported skills shortages as the main barrier to growth within the sector. This highlights the drastic change needed to keep up with the current and future economic and infrastructural needs.
However, this skills shortage comes hand in hand with a worryingly large gender gap in STEM at both university and workforce level. A 2019 report conducted by the STEM Education Review Group of Ireland revealed that that there was a significant drop-off in interest in STEM subjects at Leaving Certificate, especially by women.
There is a whole host of research that highlights the benefits of a diverse workforce in STEM and across all sectors of business, from financial gain to performance boosts and innovation. A report by McKinsey titled 'Why Diversity Matters' revealed that gender diverse companies are 15 per cent more likely to outperform their counterparts financially.
So, with Ireland seeking to become Europe's STEM leader by 2026, there is more work to be done to ensure Ireland has a diverse and inclusive STEM workforce.
Women in STEM Ireland Statistics
In 2016, the STEM Education Review Group reported that only a quarter of the 120,000 people working in STEM industries in Ireland were women. When we look at figures from 2018, women still only comprise 25% of Irish citizens working in STEM, according to the Central Statistics Office.
When we look at specific industries, 13% of 2018 engineering graduates were women and 12% of engineering professionals were women in 2019, according to Engineers Ireland. This reveals a severe lack of representation across graduate and workforce level.
In IT, 21% of ICT specialists in 2017 were women, this figure was 30% in 2004, according to statistics from European Institute of Gender Equality.
There is also strong evidence of a leaky pipeline and poor retention for women in top level jobs in Ireland. The HEA reported that just 1% of full professors are women and 17% of CEOs are women. Another report conducted by Grant Thornton International entitled 2020 Women in Business found that 18% of Irish businesses in 2020 still have no women in senior management roles, an increase from 8% in 2019, and 17% of businesses have just one woman in a senior management role.
When we look at gender pay gap figures, there are also drastic imbalances. According to Gender Pay Gap statistics, the average hourly pay was 13.9% lower for women than men in Ireland 2014. In 2018, the European Commission released She Figures that revealed the pay gap between women and men working in scientific research and development positions in Ireland is the largest in the European Union, with women earning on average 30 per cent less than men.
Why are less women following a path into STEM in Ireland?
As we see the tech industry and engineering industries grow at a fast rate in Ireland, one question springs to mind. Why are young women not choosing to invest in a career path that will open doors to a booming jobs market?
There is certainly no evidence that men are better than women when it comes to progressing in education and careers in STEM. In fact, last year, researchers at the University of New South Wales looked at gender differences in the academic grades of 1.6 million students of all ages across the world, and found that males and females scored similar grades in STEM subjects. So why doesn't this translate into more women moving into STEM careers?
Many believe that subconscious bias comes into play, with girls and young women obstructed by stereotypical beliefs that they are maybe not as good at subjects like maths or physics as boys are. This coupled with societal stereotypes that engineering, tech and maths are dominated by men, and a gender-based confidence gap surrounding mathematics.
This view is backed up by a CWIT study which revealed that 59% of secondary school girls still do not know enough about STEM and 22% of them believe that STEM subjects in school match 'male careers.'
Plus, research conducted by Engineering Ireland found that more than half of respondents believed that outdated attitudes among both women and men generally are still obstacles to women entering the engineering sector.
It's clear that stereotypical views of gendered subjects are still prevalent in Ireland, with girls and young women opting to choose subjects and careers that are perhaps seen as more 'feminine'.
However, Professor Lisa Looney, Executive Dean, Faculty of Engineering and Computing at DCU suggests this gender imbalance is down to "a poorly informed perception of risk. Risk associated with likelihood of success and career risk."
Professor Looney argues that there needs to be more emphasis on young women understanding that choosing a degree in engineering, or computer science doesn't mean you must become an engineer or a software developer. "This new age of technology, an engineering or computer science degree can take you to many different roles within a range of industries", states Looney.
"In engineering, we often see that the number of female students mirrors the number of males in the calls who are very focused on becoming an engineer. However, what we don't see is female equivalents for male students, who are not focused on a specific career yet."
Perhaps more needs to be done at school level to educate girls about the vast array of opportunities that are available in the STEM world.
How to encourage more women into STEM
So, moving forward how can we encourage more girls to take STEM subjects at school and retain these interests through university and their careers?
One way is to begin introducing more prominent female role models at all levels. If young women can see other women developing successfully in these fields, they are more likely to become interested in pursuing it themselves. Whether this be teachers in the classroom, lecturers, 'celebrities' or representation in the media.
In June 2019, a report conducted by Accenture entitled Girls in STEM revealed that teachers are one of the biggest influences in young girls' lives.
However, there is also an argument for the importance of female STEM characters in the media. Among the top female STEM characters who inspire girls to study STEM subjects are Meredith Grey from Grey's Anatomy, Dana Scully from The X-Files, Amy Farrah Fowler from The Big Bang Theory, and Disney's Doc McStuffins, made by Irish animation company Brown Bag Films.
Many believe that project-based learning is also one of the best ways to encourage a greater number of young people into a STEM-related workforce. With more emphasis on practical experiments, hackathons and learning which more effectively mirrors projects that companies work on in the real world, there could be a boost in interest.
Companies can do more to encourage women to apply for roles and progress. From having prominent female leaders on the board to attending women's events and constantly adapting procedures and initiatives, creating environments where women can thrive in STEM is vital.
The future
Ireland has seen some exciting investment and funding for projects that will all help towards a gender-balanced STEM workforce in the future. In 2019, the Science Foundation Ireland reported that €3.6 million had been invested in projects to promote science, technology, engineering, and maths (STEM) in Ireland. A total of 41 projects received funding to improve public understanding of STEM and to support education initiatives for under-represented groups. Of these projects, a large number were specifically targeted towards engaging girls and women in STEM.
With the continued growth of Ireland's tech hub and STEM jobs market, coupled with the extra funding and interest in STEM careers, Ireland is well equipped to make important changes that will benefit women in STEM.
STEM Women Ireland
At STEM Women, we are passionate about addressing the gender imbalance in STEM. We host networking and careers fairs for STEM students and graduates who identify as female, across the UK, Ireland, Europe and Australia. Our events provide employers with the opportunity to introduce their graduate opportunities, speak on a panel, list their jobs online and reach out to the attendees immediately after an event.
STEM Women first hosted an event in Dublin, Ireland in 2019, welcoming over 180 female STEM students and graduates to meet with inspiring employers from a range of STEM industries.
One representative from Mercury Engineering described our Dublin event as: "very engaging and a great opportunity for women to learn about various industries, thus balancing diversity, gender equality and inclusion."
In 2020, we moved our events online and hosted a STEM careers fairs for the whole of Ireland, welcoming a record 376 attendees and 14 exhibiting companies.
This year we are excited to be hosting another Ireland based event targeted towards students and graduates who are passionate about entering the technology sector. For more information, visit our events page or request a demo from Lauren, laurenj@stemwomen.co.uk.