Women in STEM Ireland: Statistics and Key Findings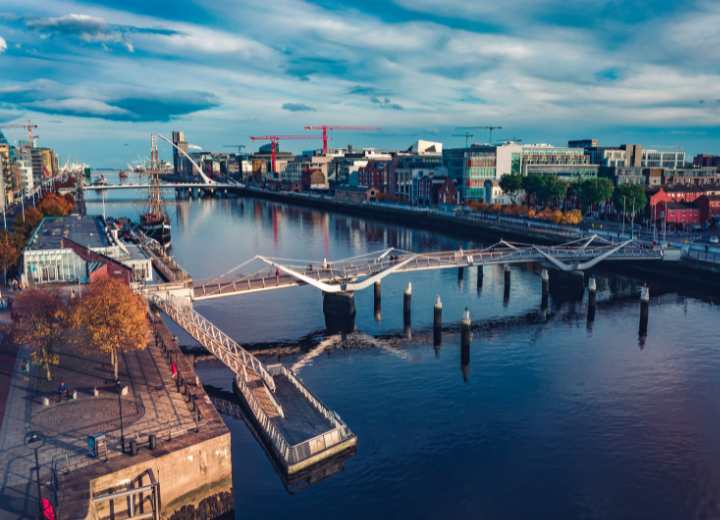 Thousands of STEM industry organisations operate in Ireland –  from multinationals to SMEs – and STEM contributes a substantial percentage of Ireland's GDP. Of course, this relies on a highly-skilled workforce –  the Central Statistics Office (CSO) reports that 158,300 people were employed in professional, scientific, and technical activities in 2021, significantly higher than the 139,400 who were employed in the same category in 2020.
A world-leading technology hub
In recent years, Ireland's reputation as one of the world's leading technology hubs has continued to grow, with developments across analytics and Artificial Intelligence (AI) creating hundreds of new jobs. The Covid-19 pandemic has accelerated the adoption of many digital solutions that would have otherwise taken years to become mainstream, and this digital transformation is set to continue, presenting both opportunities and challenges for Ireland.
Despite recent lay-offs amongst tech companies, the need for digital, technology and analytics expertise continues to grow more quickly than these skills can be supplied, and there are skill shortages in other STEM industries, too. The Open University's Business Barometer 2023 identified a particular shortage of accountants in Northern Ireland, and further skills shortages are reported amongst health and lifescience professionals, and the engineering and construction industries. With the growing proliferation of cyber-attacks, there is also demand for more cybersecurity professionals.
These shortages highlight the needed to keep up with the current and future economic and infrastructural needs.
The STEM gender gap
However, this comes hand in hand with a large gender gap in STEM at both university and workforce level. The Higher Education Authority (HEA) notes that, of those entering Higher Education, 43% of men study STEM, compared to only 19% of women (a 24-percentage point difference).
There have been some improvements in women's representation in narrow fields of STEM (for example, in Ireland women represent more than 40% of doctoral graduates in Physical Sciences (She Figures, 2021)) but the overall outlook still shows that women are less likely to study STEM subjects.
Why do we need more women in STEM?
There is a whole host of research which highlights the benefits of a diverse workforce in STEM, from financial gain to boosting performance and sparking innovation. In March 2023, the advisory firm Lintstock found that boards with better gender diversity offer more effective oversight, underpinning the findings of McKinsey's 'Why Diversity Matters' report which showed a 15% increase on financial returns for organisations with high levels of diversity.
Embracing diversity is not just the right thing to do, it's vital for business success.
So, with Ireland seeking to become Europe's STEM leader by 2026, there is more work to be done to ensure Ireland has a diverse and inclusive STEM workforce.
Women in STEM Ireland Statistics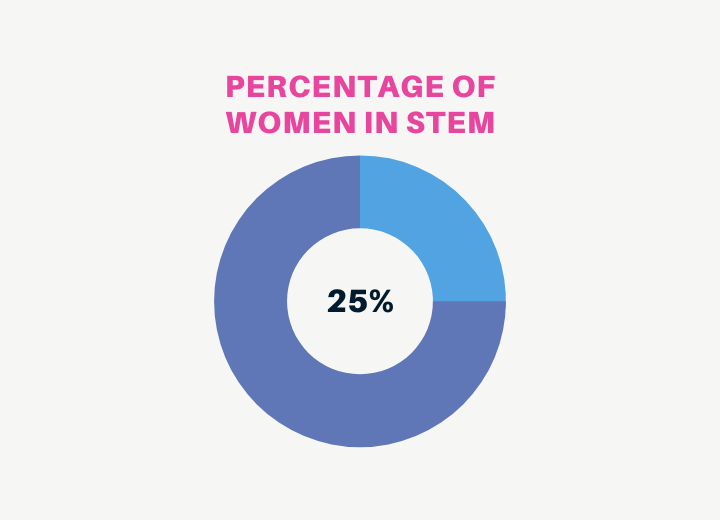 In 2018, only a quarter of those working in STEM industries in Ireland were women, and the OECD has indicated that this number has increased very little in recent years.
When we look at specific industries, in 2017, only 21% of ICT specialists were women, and in 2019, only 12% of engineering professionals were women according to Engineers Ireland. This reveals a severe lack of representation at workforce level. Despite small gains across STEM, at current rates it will take over many more years to close the gap.
There is also evidence of a 'leaky pipeline' and poor retention for women in top level jobs in Ireland. The organisation Balance for Better Business reports that, despite Ireland moving onto the list of top-10 countries in the EU for female board representation for the first time, there are still relatively few women in key decision-making and senior leadership roles across Ireland's business community. There are no female chairs amongst the Iseq20 and the number of women in chair roles across all Iseq-listed companies has fallen by 5%. However, some progress towards balance at board level has been made, with an average female representation of 32%.
Gender Pay Gap
When we look at gender pay gap figures, whilst Ireland's gender pay gap is amongst the lowest in the EU, and has been falling since 2018, men are still paid 10% more (based on 2020 reporting).
Gender pay gap reporting requires businesses with more than 250 employees to not only report on their gender pay gap, but also on the measures they have put in place to address it since the last report. These reports are available for public scrutiny and can have significant reputational impact.
There have been some qualitative changes in the gender pay gap due to new reporting requirements, as highlighted by CIPD Ireland – 41% of their respondents noted a more inclusive culture in their organisation since new reporting regulations were introduced; 28% said reported had led to changes in leader and manager behaviours, while 36% felt it had led to more inclusive recruitment practices.
Why aren't more women following a path into STEM in Ireland?
As we see the tech industry and engineering industries grow at a fast rate in Ireland, one question springs to mind. Why are so few women choosing to invest in a career path that will open doors to a booming jobs market?
There is certainly no evidence that men are better than women when it comes to progressing in education and careers in STEM. Research by Villanova University in 2020 demonstrated that women are as competent as men when completing tasks, no matter how advanced. So why doesn't this translate into more women moving into STEM careers?
Subconscious bias has been identified as one reason for gender disparity, with women obstructed by stereotypical beliefs that they are naturally unsuited to subjects like maths or physics, and are predisposed towards creative or caring roles. A recent study from PwC showed that only 16% of female students had received encouragement to study in tech, as opposed to 33% of men. This is heightened by a sense of 'imposter syndrome' as women find themselves striving within sectors that are dominated by men, such as engineering, tech and mathematics.
A lack of role models is also a key factor, with PwC's study revealing that 78% of students could not name a famous woman in tech.
How to encourage more women into STEM
So how can we encourage more girls to study STEM subjects at school and maintain this ambition through university and into their careers?
One way is to provide access to diverse role models in STEM. If women and non-binary people can see others like them developing successfully in these fields, they are more likely to see themselves having a future in STEM. These role models can include teachers, academics, 'celebrities' or figures in popular culture.
Creating supportive communities is also key, so that women can see themselves as part of the 'bigger picture' and recognise that there are many other women in STEM, at evert stage of the career journey.
Companies can do more to encourage women to apply for roles and to progress. From ensuring that there are prominent female leaders at board level, to creating in-house networks and mentoring programmes, providing access to external support and coaching and, of course, ensuring that recruitment and progression processes are inclusive and free from bias.
The future
Many programmes and opportunities now exist which aim to to inspire female participation in STEM in Ireland, such as BT Young Scientist & Technology Exhibition, Dream Space at Microsoft Ireland, and ESB Science Blast. Opportunities such as Code Plus, Dell STEM Aspire and Google Women Techmakers seek to engage females in STEM and encourage their progression, whilst organisations such as Connecting Women in Technology (CWIT), Engineers Ireland and, of course, STEM Women, are working to elevate and advance women in STEM careers.
With the continued growth of Ireland's tech hub and STEM jobs market, coupled with growing support and interest in STEM careers, Ireland is well equipped to make important changes that will benefit women in STEM.
STEM Women Ireland
At STEM Women, we are proud to be part of the step change that's needed to achieve greater diversity in STEM. We host networking and recruitment events for students, graduates and those with industry experience, who are women or non-binary and who want to pursue careers in STEM. These inspiring events take place across the UK, Ireland, Europe and Australia, and provide employers with the opportunity to meet talented graduate, raise awareness of their brand and recruit diverse talent.
STEM Women will host a Belfast event for the first time on 31st October 2023, with an event in Dublin taking place on 1st November. For more information about these events, including details of exhibitor and speaker packages, visit our Employers page or contact info@stemwomen.com
*This article was updated in July 2023