STEM Women Release Updated Whitepaper Revealing New Insights into How to Attract More Women into STEM Roles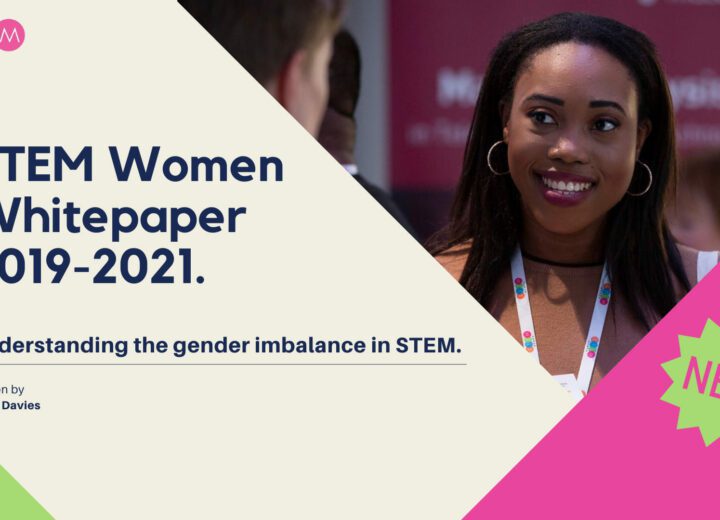 For the third year running, we have compiled an in-depth Whitepaper that explores students' and graduates' attitudes towards gender issues that are prevalent within STEM. This new report uses data collected from autumn 2019, 2020 and 2021 and uncovers new insights into the current STEM jobs market, gender issues in the workforce, the impact of the pandemic, and career confidence.
Titled 'Understanding the Gender Imbalance in STEM', we used survey data from 557 STEM students and recent graduates who identify as women or non-binary, studying at universities across the UK. The report reveals a number of key factors surrounding how students apply for roles, what they look for in prospective companies, and the specifications they look at before accepting a job offer.
Importance of Diversity and Inclusivity
The report found that from 2019 to 2021, the percentage of respondents that see diversity initiatives as extremely or very important when accepting job offers rose from 74% in 2019, to 83% in 2020 and 89% in 2021.
Respondents highlighted the importance they place on feeling like they belong within a company.
"I think they're really important to reassure marginalised groups that they are valued and desired among employers. There have definitely been times that I have decided not to apply for a job because it doesn't seem like somewhere that I would fit in. Diversity initiatives tell me that even if a company appears to be male-dominated, they are trying to address a gender imbalance and actively want women to apply." – Respondent.
The report also found that in 2021, 57% of respondents said they had suffered from or experienced imposter syndrome. Many highlighted that this arose from feeling like the 'odd one out.'
"Ever since I started pursuing a career in engineering I saw the difference in attitude towards me. I had often been subjected to joke and because of that, I was really questioning myself if engineering is the career I want to do. No person should ever question themselves, because of the 'normalised' opinions of the others." – Plamena, Computer Hardware and Software Engineering.
Representation and career confidence
From 2019 to 2021, the number of respondents who said that the gender balance of a company would influence whether they would accept a job offer rose from 54% to 67%, that's an increase of 13%.
Respondents highlighted that they were more likely to accept a job offer if they could see role models in prospective companies. Being able to connect over shared experiences and feel that they can relate to other employees is very important to the students, especially those who identify as BAME.
"Seeing women and women of colour in a company with high impact and leading positions is a good sign that the company gives those opportunities to women and so tells me that I will be able to have that opportunity too."  – Sayuri, Product Design & Manufacture.
In our whitepaper, we also wanted to explore more surrounding career confidence and barriers faced during the job search. We found that when respondents were asked to measure how confident they were that they would have a successful career after graduation, on a scale of 0 – 100, the average score was just 67%.
This shows that many talented students and graduates have doubts about their future career prospects, despite having excellent qualifications and an enthusiasm for STEM industries. One reason for this could be the COVID-19 pandemic, the whitepaper found that in 2020, 60% of respondents said that the COVID-19 pandemic had affected their future career prospects, and in 2021, this number remained high at 59%. This shows that career prospects for students and graduates are still being negatively impacted by the pandemic, which may continue for years to come.
Sophie Chadwick, Events Manager at STEM Women, explains…

"It's clear that students and graduates can feel very uncertain about their career prospects, despite having strong qualifications and a passion for the STEM industry. It has never been more important for employers to tackle the gender imbalance in STEM by listening to young talent and reacting to their concerns. Our Whitepaper has highlighted the importance of students feeling like they belong within companies and seeing people like them in their teams and in management positions. By promoting companies with strong support systems, healthy working environments and better opportunities for minority candidates, we will hopefully take a positive step towards a more diverse STEM workforce."
STEM Events
Finally, one of the key resources for employers to utilise to encourage more women into STEM roles is diversity focused careers events.
The report found that in 2019, 70% of respondents said they were more likely to apply to a company who had presented a live speaker session, this increased to 77% in 2021. This shows that respondents felt more connected to companies who shared personal career journeys and real stories from their employees.
Our updated whitepaper covers a vast and varied range of topics including the gender pay gap, sector specific gender issues and much more. For the full report, please download it below.
To view all our upcoming events visit https://stemwomenevents.com/events