Meet the speakers – Dublin STEM Women Graduate Careers Event – Wednesday 1st November 2023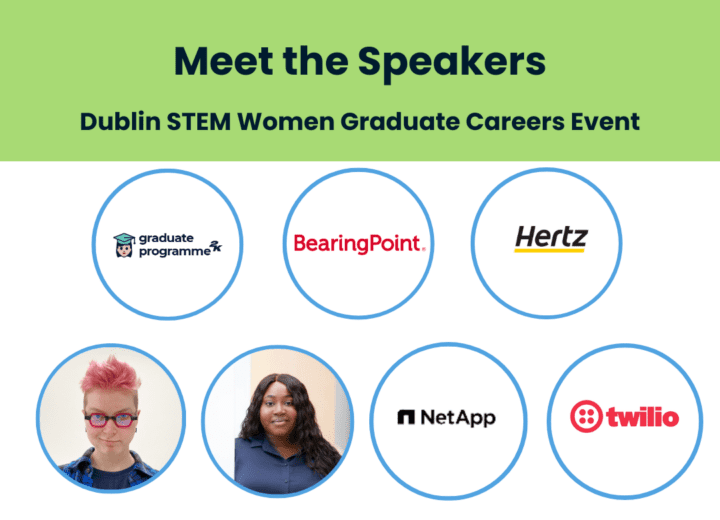 On Wednesday 1st November, we are excited to welcome hundreds of students and recent graduates to the Dublin STEM Women Graduate Careers event. This event is perfect for students and graduates studying a STEM (science, technology, engineering, or mathematics) related course.
We'll have 37 exhibiting employers taking part in the event. Seven companies will also be delivering live presentations.
At 12.00pm the event will begin, with attendees able to register and head to the theatre space for the first speaker session.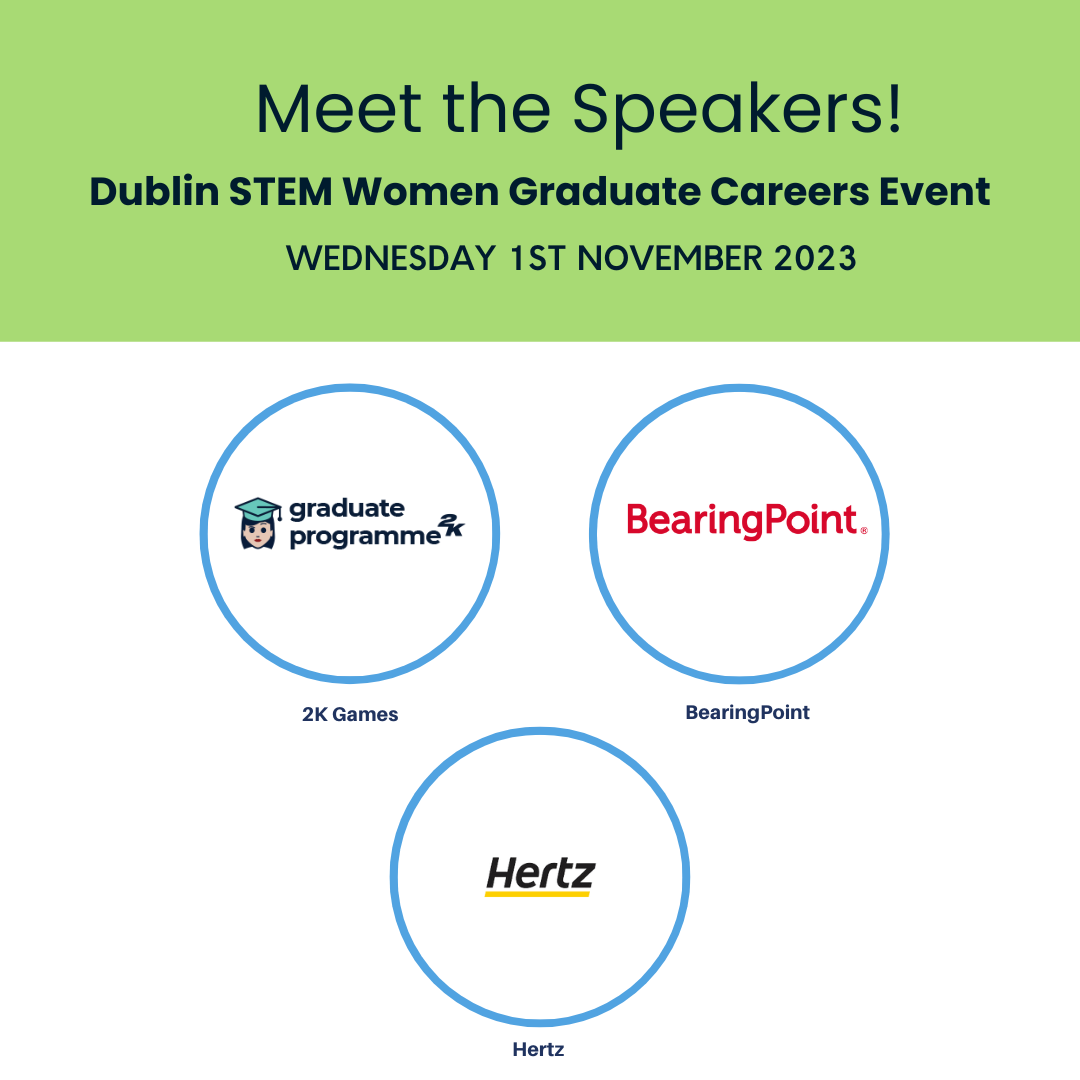 12.10 – Speaker insight session 1: 2K Games, Bearing Point and Hertz
The session will start with a welcome talk from STEM Women.
Attendees will then be able to hear insight talks from Emily Burke (2K Games), followed representatives from BearingPoint and Hertz.
1.10 – Speaker insight session 2: Shutterstock, NetApp and London Business School
The second session will start with a welcome from STEM Women followed by an insight talk from Anna Maloguko, Senior Data Engineer (Analytics) from Shutterstock.
Anna's talk, "Not exactly tech: superpowers of generalists" will share a key message for attendees – that you don't need to have a tech degree to be successful at a tech job. Anna will reflect on her experience, having never being trained in data work or coding, but consistently finding ways to achieve success.
Next, attendees will hear an insight talk from data storage and data management company, NetApp, followed by London Business School. Elizabeth Taiwo, Student Recruitment Manager from London Business School, will explain how a master's degree can help to kickstart your career.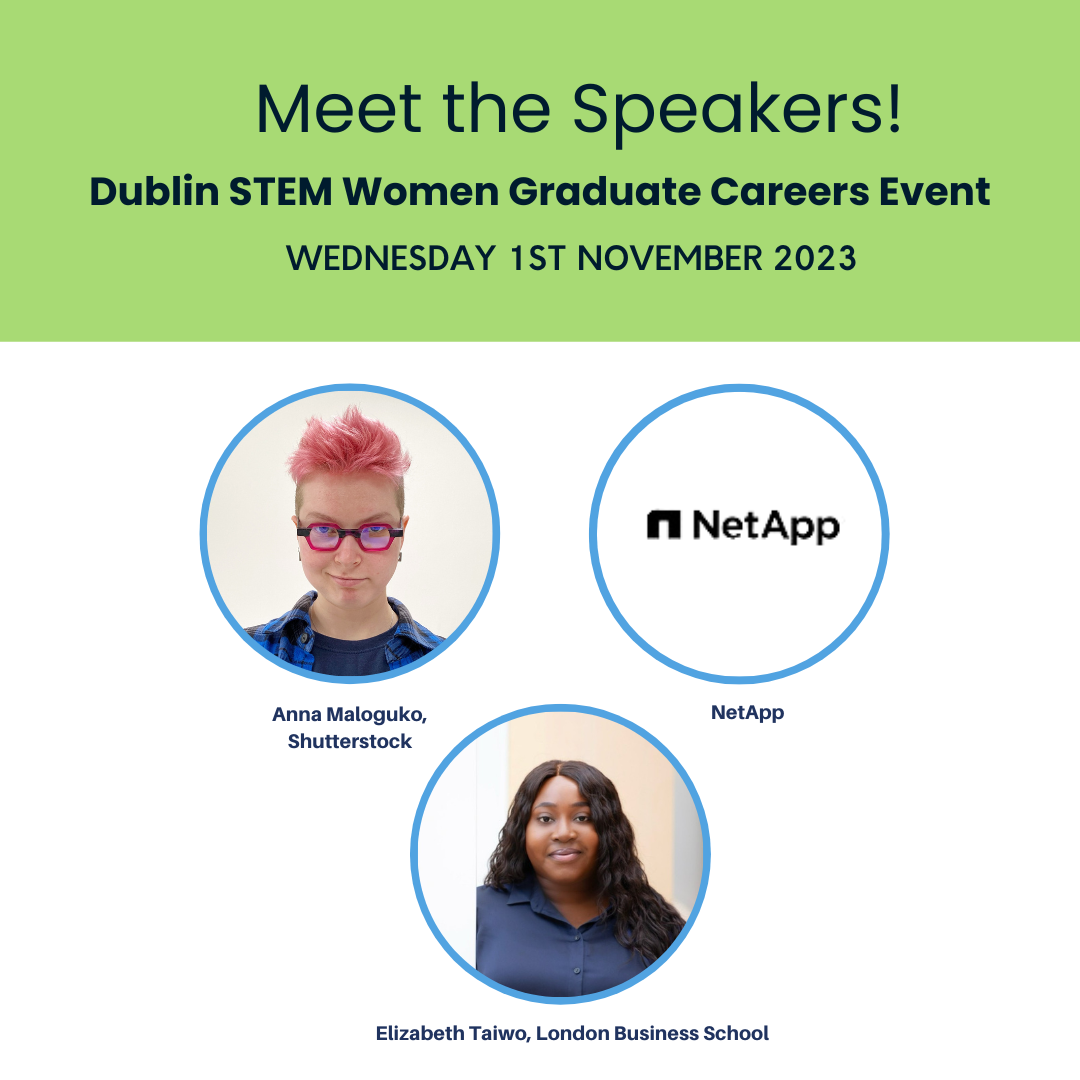 2.10 – Empowering Women in Tech with Twilio: Navigating Careers and Overcoming Challenges
In the final session of the day, tech leader Twilio will host an inspiring 25-minute panel discussion featuring accomplished women in tech. Twilio's panellists will share their personal journeys, from career navigation to overcoming obstacles, and provide valuable insights on mentoring, networking, making your voice heard in male-dominated workplaces, dealing with setbacks, and essential soft skills. Listeners will gain practical advice and inspiration!
Attendees can network with the exhibitors until the end of the event at 4pm.
Exhibitors
2K Games
Abbvie
Analog Devices
Arup
AWS
Bank of Ireland
Bearing Point
Bord Na Mona
Bordgais
Designer Group
Dornan Group
Dublin City University
EirGrid
Energia Group
Exyte
Flogas
Hertz
HPE
Intel
John Paul Construction
Kirby Group
London Business School
Mace Group
Mercury Engineering
Netapp
Optiver
Permanent TSB
Pfizer
PJ Hegarty
Shutterstock
SIG
Takeda
Twilio
Uisce Éireann
Version 1
Walls
WuXi Biologics & WuXi Vaccines
To enquire about exhibiting at our upcoming events, get in touch with Event Sales Manager, Lauren Jenkins by emailing laurenj@stemwomen.com.