How to boost your career in tech with online learning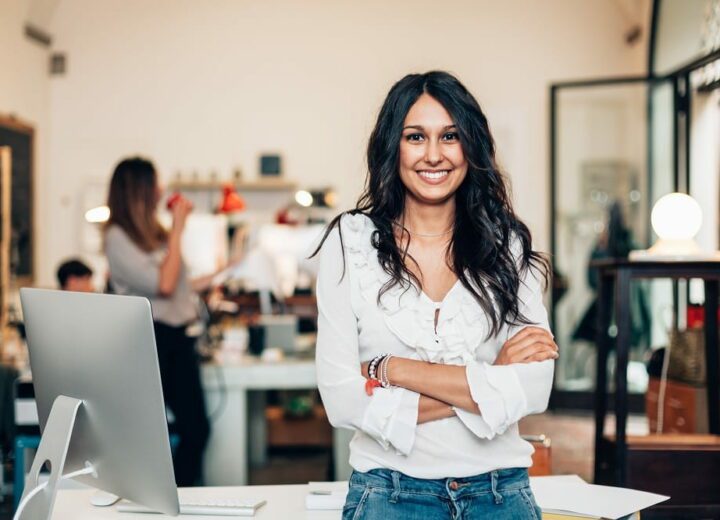 The gender gap in the tech industry
The number of women in the tech workforce has risen from 379,000 to 485,000 since 2018. That's around 30% of the total number of professionals working in tech. This is incredible progress, that every woman working in tech should be proud of. Now it's time to keep up the momentum and aim for even bigger results.
Representing women in the tech industry is so important. In fact, according to research having a gender diverse team leads to superior business decisions 73% of the time. Imagine the success we could see in the industry if more women climbed the ranks to rival the gender imbalance.
How can you boost your career?
Networking
Building a strong network of like-minded professionals is extremely valuable to career development. It enables you to have a direct link to other people in your industry, giving you the opportunity to learn from them, create new useful connections, uncover work opportunities and more.
During Learning People's recent webinar on The importance of networking for women in tech, Gill Cooke, Head of Digital Planning & Delivery at Three said "When you're in a minority, it really helps to have a support system. If you're trying to achieve anything, the most important thing is to have someone, or a number of people behind you to build your confidence. Someone to say yes you can do this, why don't you, what's stopping you? That's why a network of any size is so important to support your career." 
Learning & development
With an industry as changeful as tech, keeping up to date with latest advancements will ensure you are at the top of your game. You can do this by investing in your skillset and expanding your knowledge through industry relevant training.
Gaining and maintaining a certification is a great way to boost your learning and development in tech. IT training giants, like CompTIA and EC-Council, often produce extensive certification roadmaps to keep you on the right track with what employers are looking for in mind. A report by IDC discovered that CompTIA-certified professionals are promoted almost twice as often as their non-certified colleagues. 
You can also explore improving your transferable skills through soft skills training. This will enhance the way you engage with people in the industry and give you an edge during professional situations like interviews, board meetings and team projects. 
Get ahead with Learning People
At Learning People, we are passionate about getting more women into tech and more women up the career ladder. We provide online training and career support that is dedicated to helping you reach success. You and your career goals are placed as a priority at every step of your learner journey.
You gain access to all the courses you need to suit your career pathway. We pride ourselves in making things simple and reliable with personalised training plans containing only the latest module content. You can learn where you want, when it's convenient for you with our innovative online training platform.
Alongside your training, you receive hands-on, practical guidance on your employability from our Career Services team. You'll have 1:1 coaching with a career service consultant to build your confidence and plan your future. You'll have the opportunity to connect with our network of 25,000 students through student-exclusive events such as interactive workshops.
"I love how approachable and open everyone is, across exam and career support. I never had a bad experience when I asked for help and there was always support if you needed it. If you needed more support you could request it, and it would always be there." – Heather Cluney, Learning People student.
What to expect when you enquire with us
Your journey with us begins with an in-depth career consultation to identify the perfect, personalised training package. Your goals, key skills and experience will be evaluated. Your career consultant is there to answer any questions and guide you through the next steps at a pace that suits you. 
Book a career consultation today by visiting https://www.learningpeople.com/