How a career with BAE Systems brings purpose to your everyday working life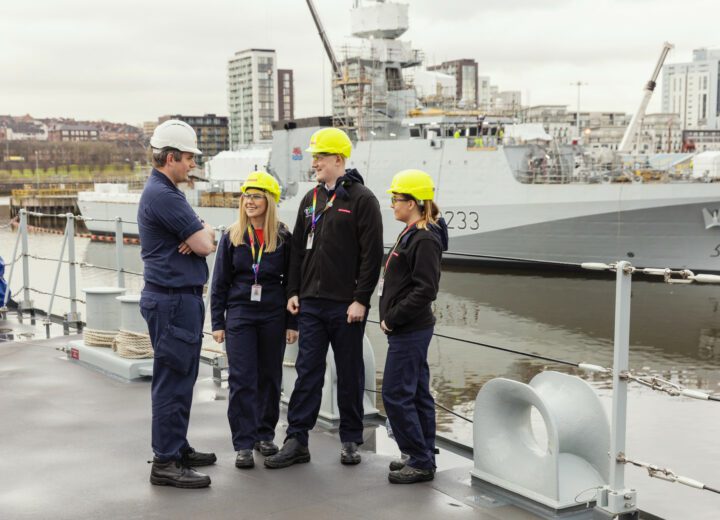 Explore the world of opportunities with BAE Systems and read what their graduates have to say about life at the company.
When you step through the doors of your workplace how do you want your day to feel? Purposeful, productive, exciting, world-changing? When BAE Systems talks about inspiring career options, it's offering jobs that enable and empower, value and reward, as well as helping you develop new skills, knowledge and confidence. Every role makes you realise exactly why you came to work.
BAE Systems is proud of its part in protecting those who protect us. Its products are key to defending the nation's people, environment, assets and interests against threats by innovating in electronics and cyber-security and solving complex problems.
In maintaining its traditional headline engineering, manufacturing and maintenance interests by continuing to invest in its business communities in Scotland, Cumbria and Lancashire; BAE Systems is mindful of its legacy, both economically and environmentally. With a net zero target across all operations by the end of the decade, when you work for BAE Systems you are part of a positive future as well as a proud past.
Embrace the opportunity to find your purpose
When you explore BAE Systems' internships, placements and graduate roles in information technology (IT), engineering, security, data science, supply chain and project management, you'll also see openings not immediately associated with the hard edges of the ships, submarines and aircraft the organisation has a long history in building and maintaining. Software, satellites, surveillance and solar power also fall under the BAE Systems remit, but the story doesn't end there. For example, your degree subject may lead you to start your career in a graduate global finance programme, working towards a professional accountancy qualification, but along the way you'll hone project management and business skills. Or you may be drawn into another field altogether.
Senior systems engineer Mike, who started on the graduate scheme in 2019, explains that his work has taken him from developing improvements to submarines and helicopters to gaining qualifications from Massachusetts Institute of Technology (MIT) and Cambridge University. Mike always wanted to work in defence but was not able to join the armed forces directly for health reasons. His job allows him to meet that ambition in a meaningful way. 'The opportunities that I've had, and the responsibility I was trusted with so early on in my career, have been really motivating for me,' he says.
Besides offering those types of development opportunities to its employees, BAE Systems invests nearly £100m a year in training, education and skills in graduate and apprenticeship programmes and in strategic partnerships with schools, colleges, universities.
Equally, if you join, you may prefer to stay in one area of expertise, like Andy, who graduated as a naval architect then joined BAE Systems in 2020. His family has been involved in shipbuilding for generations, and he particularly enjoyed his degree. After being accepted on to the accelerate graduate programme, Andy was able to join one team and make a deep dive into a particular area of expertise. He still met and mixed with other graduates in the BAE Systems network, and after finishing his graduate programme has been able to ensure his development continues, while still maintaining association with his roots. 'I like to get onto our ships and see for myself how my work makes a difference. That's really important for me as an engineer, to actually see the challenge that I need to solve with my own eyes,' he says.
Striving to become better than yesterday
When an organisation backs research and development projects worth £1.6bn in 2020 alone, and boasts 2,500 inventions patented worldwide, its credentials speak for themselves. With so much brain-power already, you might wonder where you'll fit it at BAE Systems. The answer is, if you have the right attributes for the job, anywhere you choose.
Accelerate graduate engineer Lucy joined BAE Systems on an undergraduate scheme and found she had flexibility to explore areas of business that interested her, from engineering to finance, procurement to project management. Using her degree in aerospace, she's been working with the Tempest aircraft team at the forefront of next generation technology. She is a proud advocate of Women in Science and Engineering (WISE) Young Professionals Board, as well as a team member for the SHE (science health and environment) challenge.
BAE Systems' recruitment teams recognise diversity of thought, outlook and background bring new talent to the table. Net-zero technology lead engineer Michelle runs the environmental stream of the Next Gen projects initiative. With a degree in chemical and energy engineering, she has developed experience working in the Europe and International (E&I) Product Environment working group.
'Each project that I take on builds my skills, my knowledge, and my confidence,' says Michelle. 'My network has grown and I've found support in different avenues within the company, such as Embrace, the employee resource group that supports cultural and ethnic diversity. I have a corporate mentor and a mentor within our Inspiring Women employee resource group as well.'
Though Jenny studied mechanical engineering at university she was keen to move into project management and had a particular interest in submarines. Apart from being involved in high-octane programmes working to tight deadlines, and gaining a project management qualification (PMQ) with the Association for Project Management (APM), Jenny carved out time to join the BAE Systems sustainability working group and, like Michelle, is part of Embrace. 'I've never been treated differently because of my ethnicity; everyone has been very welcoming,' she says. 'If you're not comfortable with the people you work with, it doesn't matter how interesting the product is as you just don't feel motivated or encouraged,' she adds, emphasising that the group is open to anyone as a member or ally.
Are you ready to find the right graduate programme to suit you, or do you have questions that you'd like answers to? If you'd like to learn more about the graduate, internship and work experience openings at BAE Systems the start of your career could be just one click away.
Join us – and embrace the opportunity for a brighter, better and more secure tomorrow.