Event review – UK Financial Services Careers Event – September 2022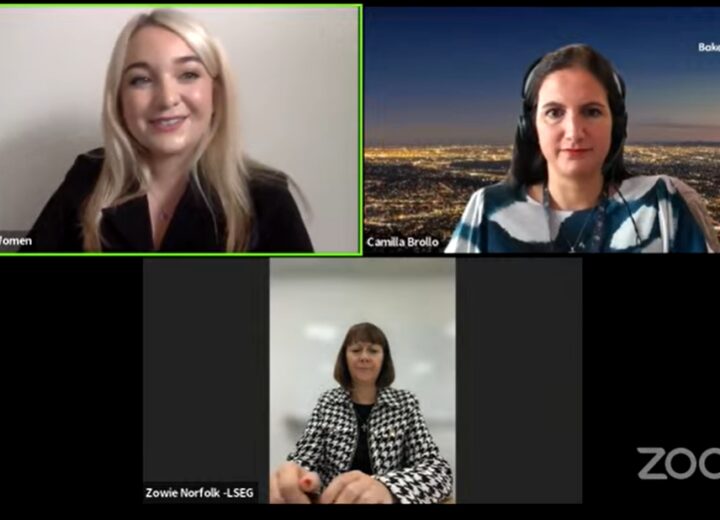 On Wednesday 14th September, we ran the first event of the autumn 2022 season, our UK Financial Services Careers Event. Taking place on our virtual events platform, we welcomed 11 exhibiting companies and signed up over 700 students and recent graduates.
Unfortunately, in the early part of the event we experienced a few technical issues which affected some attendees and exhibitors. However, we were able to resolve the issues quickly and get the event back up and running. Our live speaker sessions all ran as planned, and networking was only affected in the early part of the event.
STEM Women Events host, Sophie Chadwick, opened the event at noon with a welcome talk, which was followed by an inspiring panel discussion featuring women working in financial services. Throughout the day, we also heard insightful talks presented by British International Investments, London Stock Exchange Group, Zurich, First Actuarial, Mizuho and Baker Hughes. As well as the live presentations, attendees could also network with employers via webchat and video call, browse company stalls, and apply for roles and opportunities.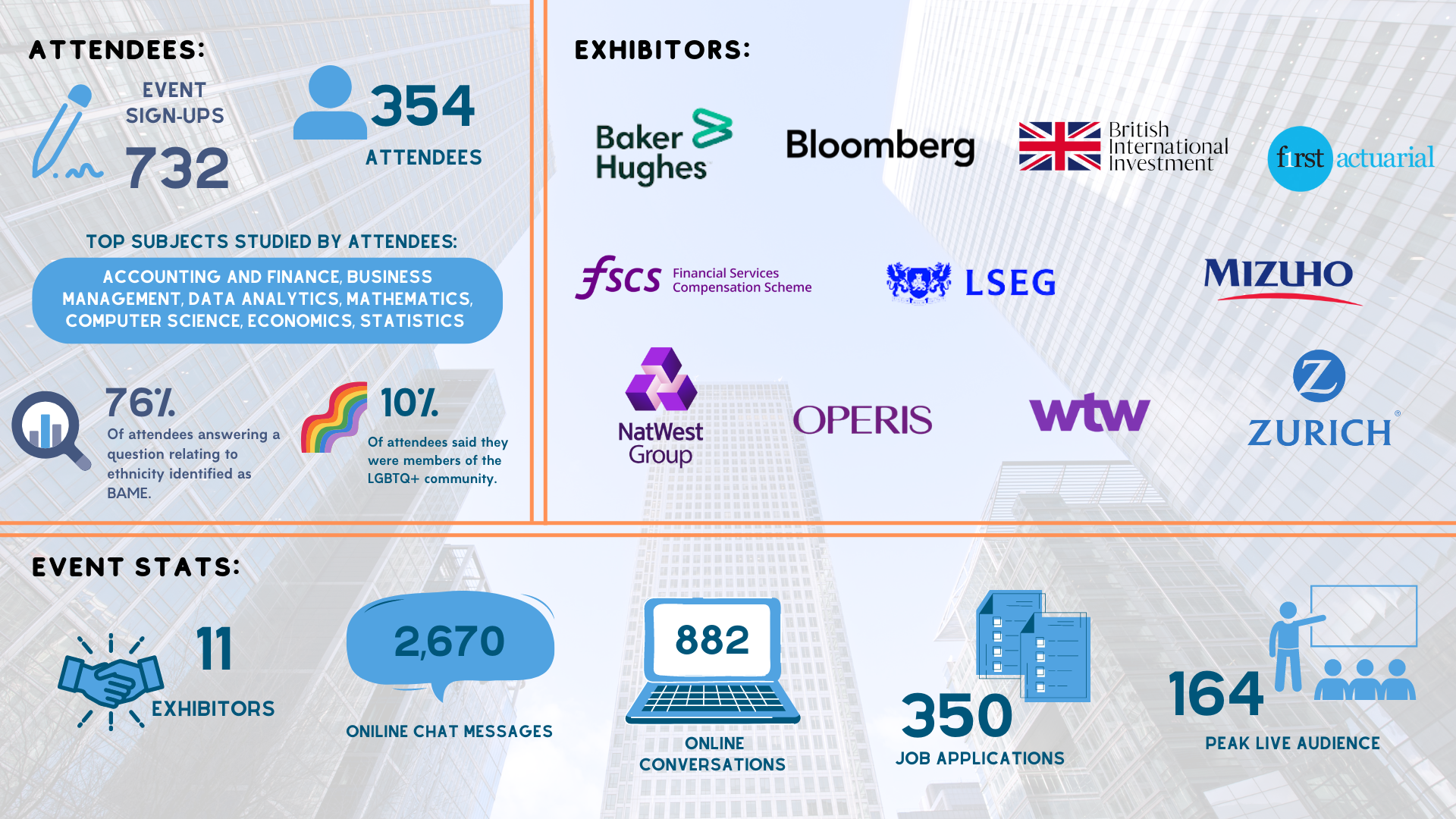 The panel discussion
Chaired by STEM Women Events host, Sophie Chadwick, our panelists included Zowie Norfolk, COO & Head of Business Management for Capital Markets Technology at The London Stock Exchange Group, and Camilla Brollo, FP&A Income Statement Manager at Baker Hughes. We heard some fascinating discussions on the myths surrounding a career in financial services, the power of having a strong mentor and the key behaviours that will lead to success in the workplace.
"Behaviour of collaboration is really key. Identify an aspect of the company culture that you relate to because then you can boost those feelings of belonging within the company."
The session ended with some inspiring advice on how to overcome feelings of imposter syndrome or low confidence.
"Look back and be realistic – I managed to get into the graduate scheme at my company, was I the best choice, yes, maybe I was. It's about asking yourself why not, why shouldn't it be me? Make a case for yourself in your own head and look back at the milestones you have achieved."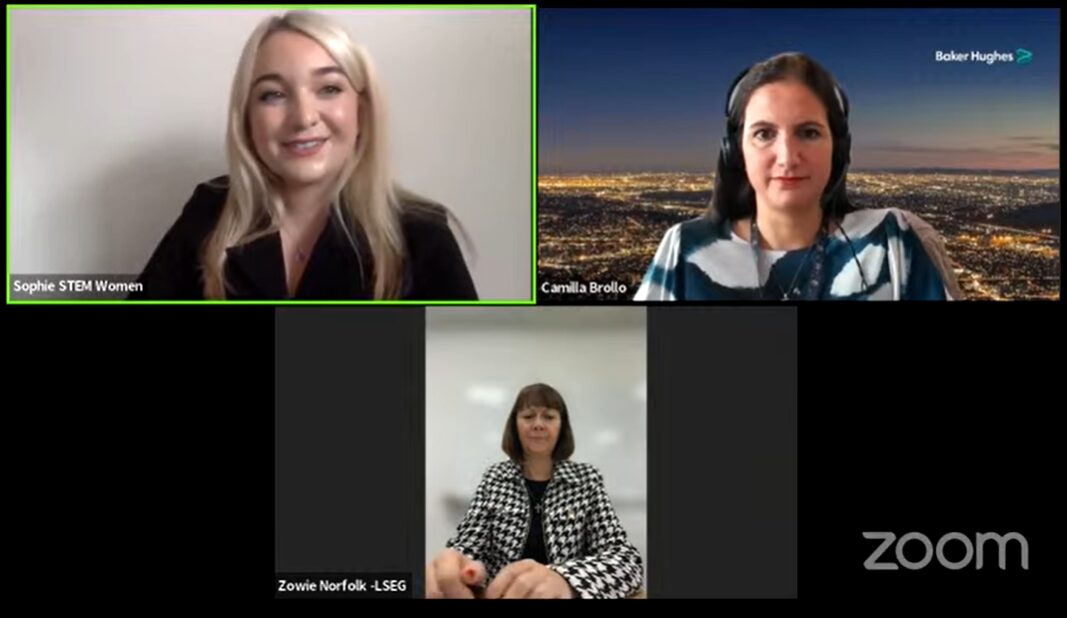 The speaker sessions
Throughout the afternoon, 6 employers presented speaker sessions which introduced the attendees to the companies and highlighted what opportunities they offer to students and graduates.
We heard from:
Jo Fry, Director of Financial Services, British International Investments
Key topics: An introduction to the company, her role at the Nairobi office and the path she took to get there.
Zowie Norfolk, COO & Head of Business Management for Capital Markets Technology, LSEG
Key topics: Career journey from legal to financial services, advice on getting ahead in business and the importance of mentors.
Alex Sidgreaves, Chief Data Officer, Zurich
Key topics: What it's like to work at Zurich, what Zurich do for their customers and an in depth look into what a career in insurance looks like.
Amy Noble, Trainee Investment Consultant, Annie Lunn, Actuary, Olivia Barrow, Actuarial Trainee from First Actuarial.
Key topics: What it means to be an actuary and the actuarial profession, the company culture and the opportunities First Actuarial have live.
Jaspreet Saini, Head of Enterprise Programme Management, Mizuho.
Key topics: The diversity of roles within banking, what has driven her career, and understanding that change is okay.
Camilla Brollo, FP&A Income Statement Manager, Baker Hughes
Key topics: Personal career journey from studying economics to securing a senior role, plus some information on the early careers program at Bake Hughes.
Despite the technical issues at the beginning, our Financial Services event saw great engagement between attendees and exhibitors, and we heard some really inspiring advice and career tips from our fantastic speakers.
Join us at a STEM Women Event!
We are running another 6 events this autumn season, continuing with our industry focused events technology and engineering. These are followed by a STEM Careers Event for the Benelux Region, a UK wide STEM careers event and a Hybrid STEM Careers event in Ireland. Our autumn season will finish with an In-Person STEM Careers Event in London in October.
If you're a student looking to register for your free ticket, take a look at our events line up – careers.stemwomen.com, and follow us on LinkedIn, Instagram, Twitter and Facebook for event updates.
If you're an employer interested in exhibiting at an upcoming event, please don't hesitate to get in touch with Event Sales Manager, Lauren Jenkins by emailing laurenj@stemwomen.com or visit our website www.stemwomen.com.