Announcing STEM Women's Autumn Events 2023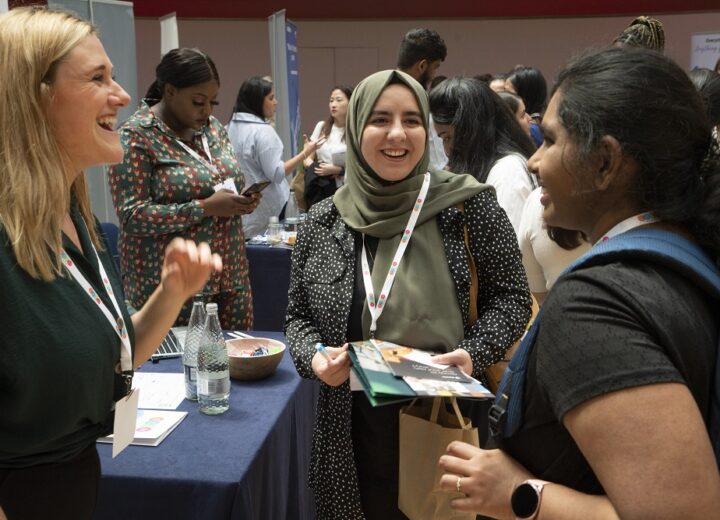 This Autumn, STEM Women are proud to be hosting 10 fantastic networking and recruitment events for STEM students and graduates, and for experienced women in tech.
The events will cover the UK, Ireland and Amsterdam, allowing attendees to discover more about the wide range of industries within across STEM (science, technology, engineering and mathematics), including consulting, financial services, public sector, data, energy and the built environment. More than 150 employers have already signed up to exhibit!
Take a look at the STEM Women Autumn Events programme below: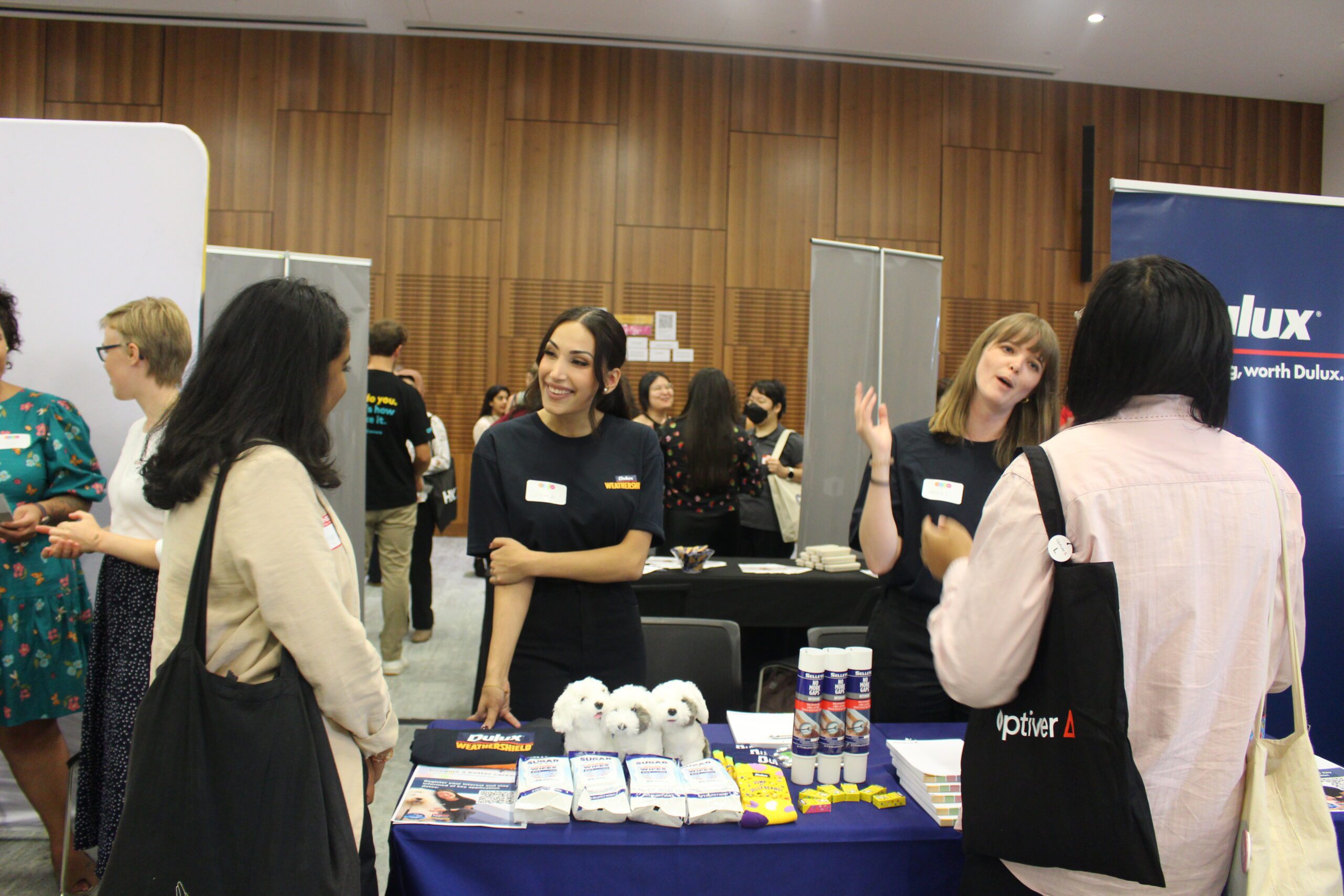 STEM Women Autumn Events 2023
Wednesday 4th October 2023 at Congress Centre
The first event will be in central London and we are excited to announce that it will be sponsored by Fluor.
At the event, we'll welcome over 40 top employers who will network with attendees, present talks, take part in a panel discussion and highlight their roles and opportunities on their company stall. This event is perfect for attendees who are studying or recently graduates from a STEM-related course at university and who identify as female or non-binary.
Find out about our last event at Congress Centre here.
Wednesday 11th October at Aspire
Next up in the programme for Autumn 2023 will be our first event in Leeds! Exhibiting employers at this event will promote graduate opportunities from across STEM-related industries. Attendees will have the chance to network with a fantastic range of employers that includes Arla Foods, Barnett Waddingham, the British Army, Capital One, Engie, Farrans, Harrison Spinks, HSBC, JB Bentley, London Business School, Nufarm, Phillips 66, Rolls Royce, and Sumo Group.
Wednesday 18th October at Bridgewater Hall
Manchester will be the location for the next event, sponsored by Lanxess. The event will include a series of talks hosted by STEM Women, featuring BNY Mellon, S&P Global, MI-GSO PCUBED and Siemens. Exhibitors will include BAE Systems, Bet 365, Bloomberg, Capital One, Couchbase, Novanta, Rolls Royce, and Waters along with many others!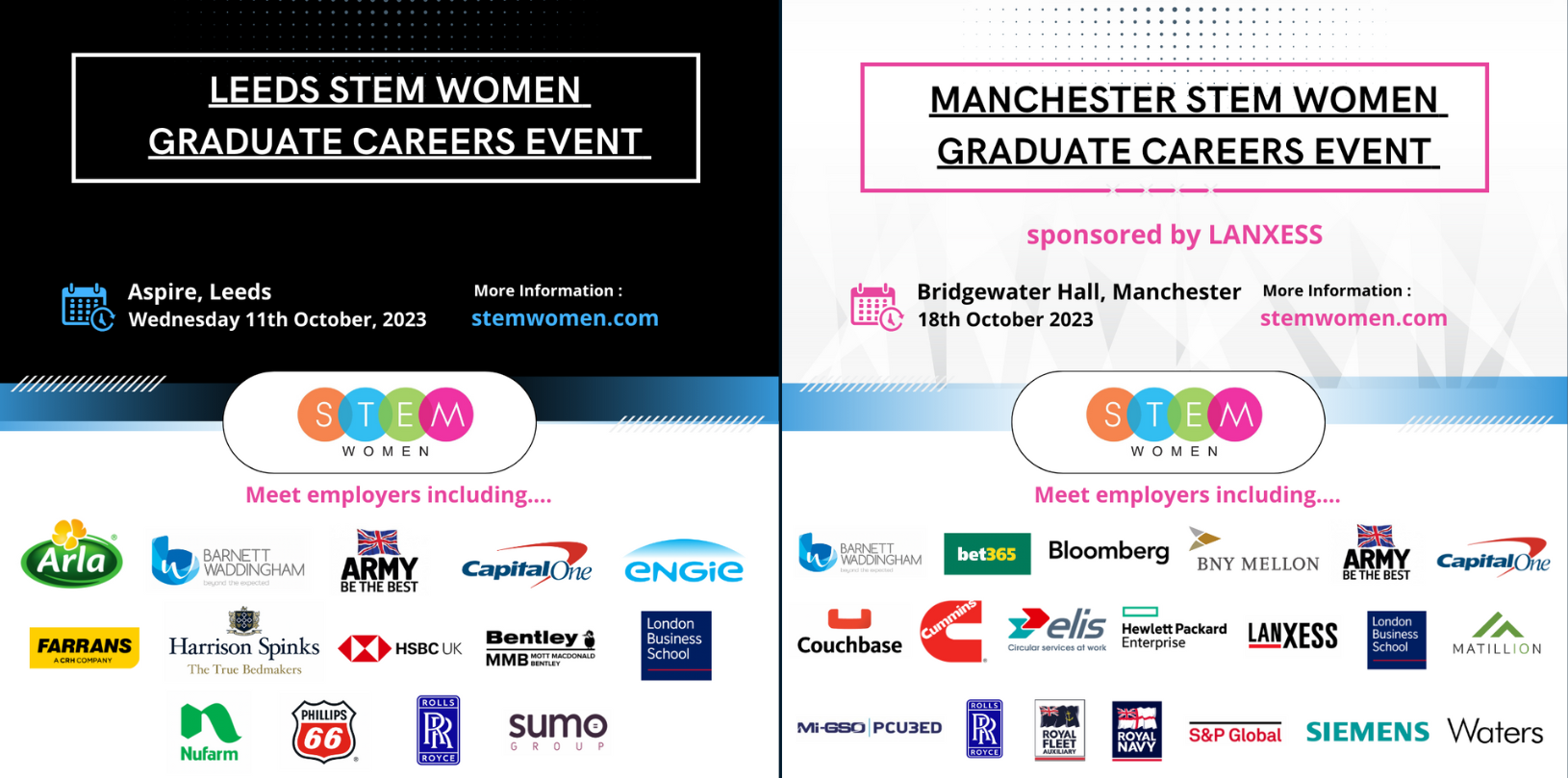 Friday 20th October at Technology and Innovation Centre
We'll be hosting an event at the Technology and Innovation Centre in Glasgow on 20th October 2023. Sponsored by Raytheon, this event will also see NXP Semiconductors take to the stage to give a fascinating insight into their organisation. In the networking space, attendees can connect with a wide range of exhibiting employers and find out more about their roles.
Wednesday 25th October at Edgbaston Stadium
Next up, the Birmingham STEM Graduate Careers Event will be sponsored by Jaguar Land Rover, with employer insight talks from AWE, Glide, Siemens and Rolls-Royce. In the networking space, attendees can visit a wide range of company stalls, with organisations from across STEM industries exhibiting in one space. A great chance to forge new connections!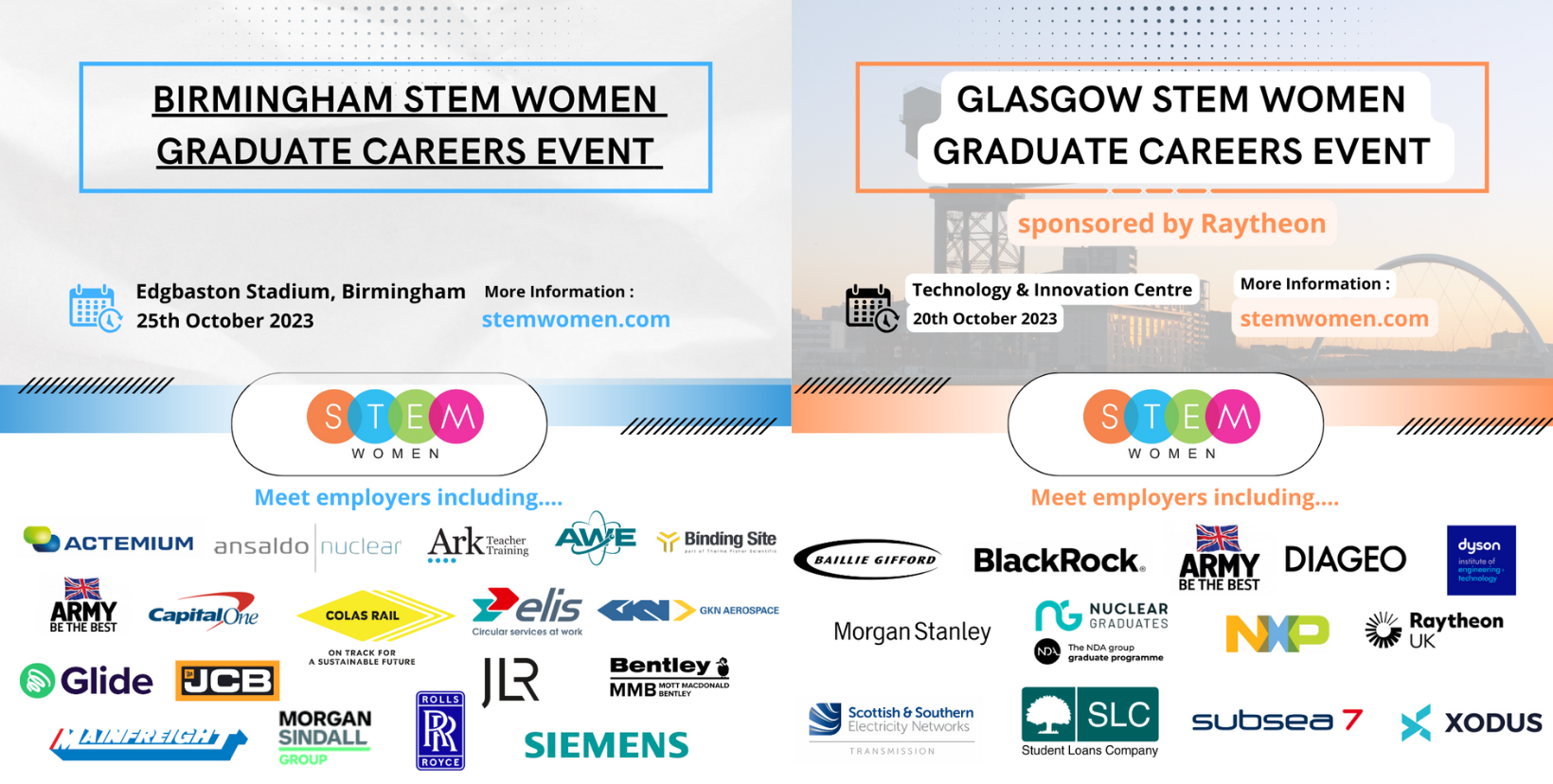 Monday 31st October at Riddel Hall
The final event in October will be in Belfast at Riddel Hall. This event is the perfect opportunity for students based in Belfast to network with top employers looking to recruit for their graduate roles.
Wednesday 1st November at RDS
As we move into November, the STEM Women team will head to Dublin for the next event at RDS. We've been running events in Dublin for a few years and the event has now become so big that we've moved to a new venue to accommodate even more exhibitors and attendees. This event will offer students and graduates the chance to network with some of Ireland's top employers and hear from organisations such as NetApp and Shutterstock during the insight talks.
The last STEM Women event in June 2023 saw 27 exhibitors meeting talented STEM students and graduates. Read more about the event here.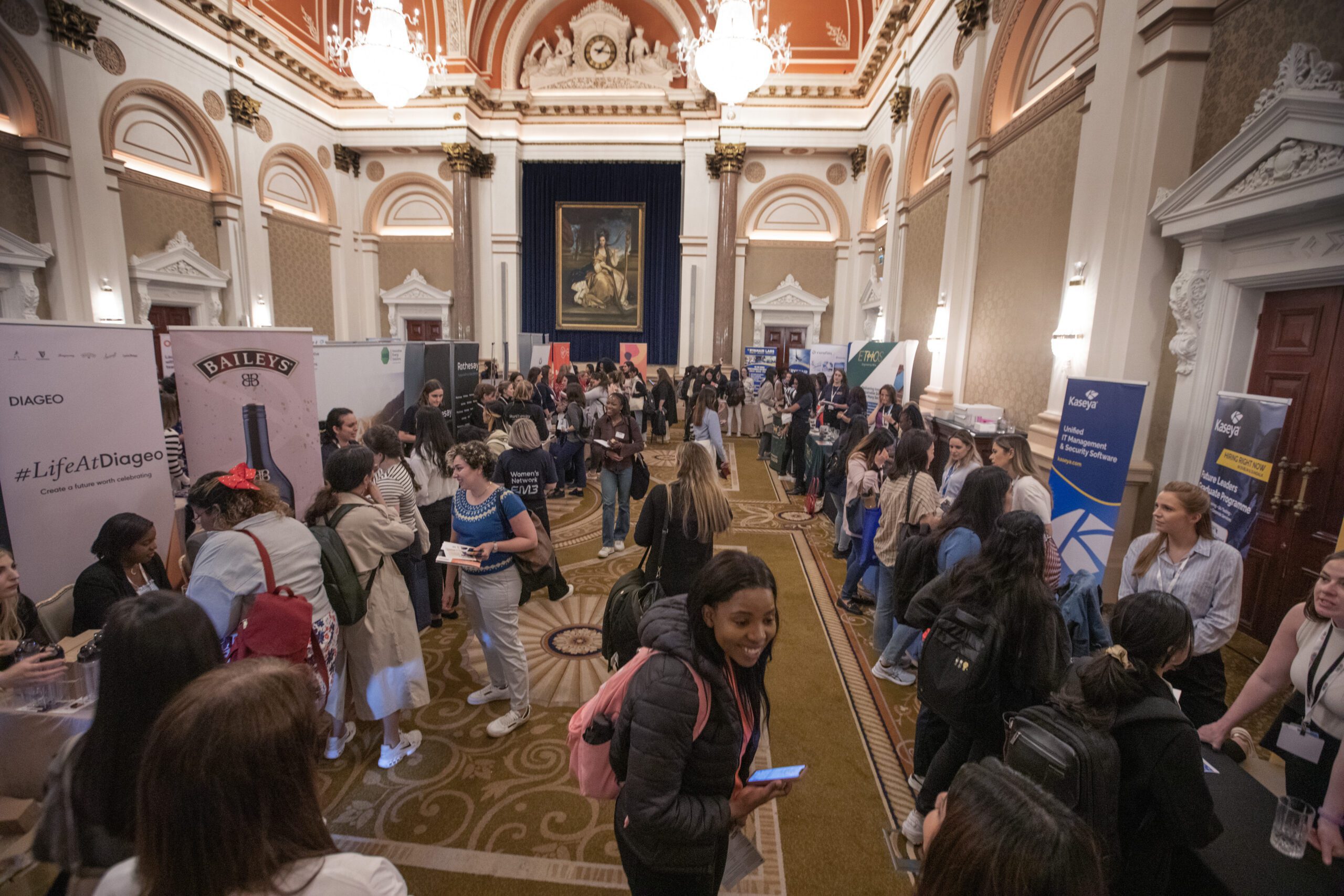 Monday 6th November at the Movenpick Hotel
We can't wait to visit Amsterdam for this in-person event! Keep an eye on our event page and social media channels for all the latest updates on speakers and exhibitors. We have previously hosted virtual events covering the Benelux region (Belgium, Netherlands and Luxemburg) – find out more about the last Benelux event here.
Monday 13th November at QEII Centre
The final student and graduate event of 2023 will be the London STEM Graduate Careers Event at QEII Centre. We held a Tech-focussed event here in March, and what a fantastic event that was! Read all about it here. We're excited to be back with an even bigger STEM event, with speakers including London Business School, AWE, LSEG, Johnson & Johnson, Standard Chartered Bank, BNY Mellon, Kubrick and Just Eat.
Monday 13th November at QEII Centre
The final Autumn event will be the Women in Tech Networking evening. This event is aimed at women who have 1+ year's experience in industry and who are looking to explore opportunities in tech. We hosted our first networking event for experienced Women In Tech back in April 2023 – this event saw over 150 attendees come to make new connections within this inspiring community. Read more about the event here.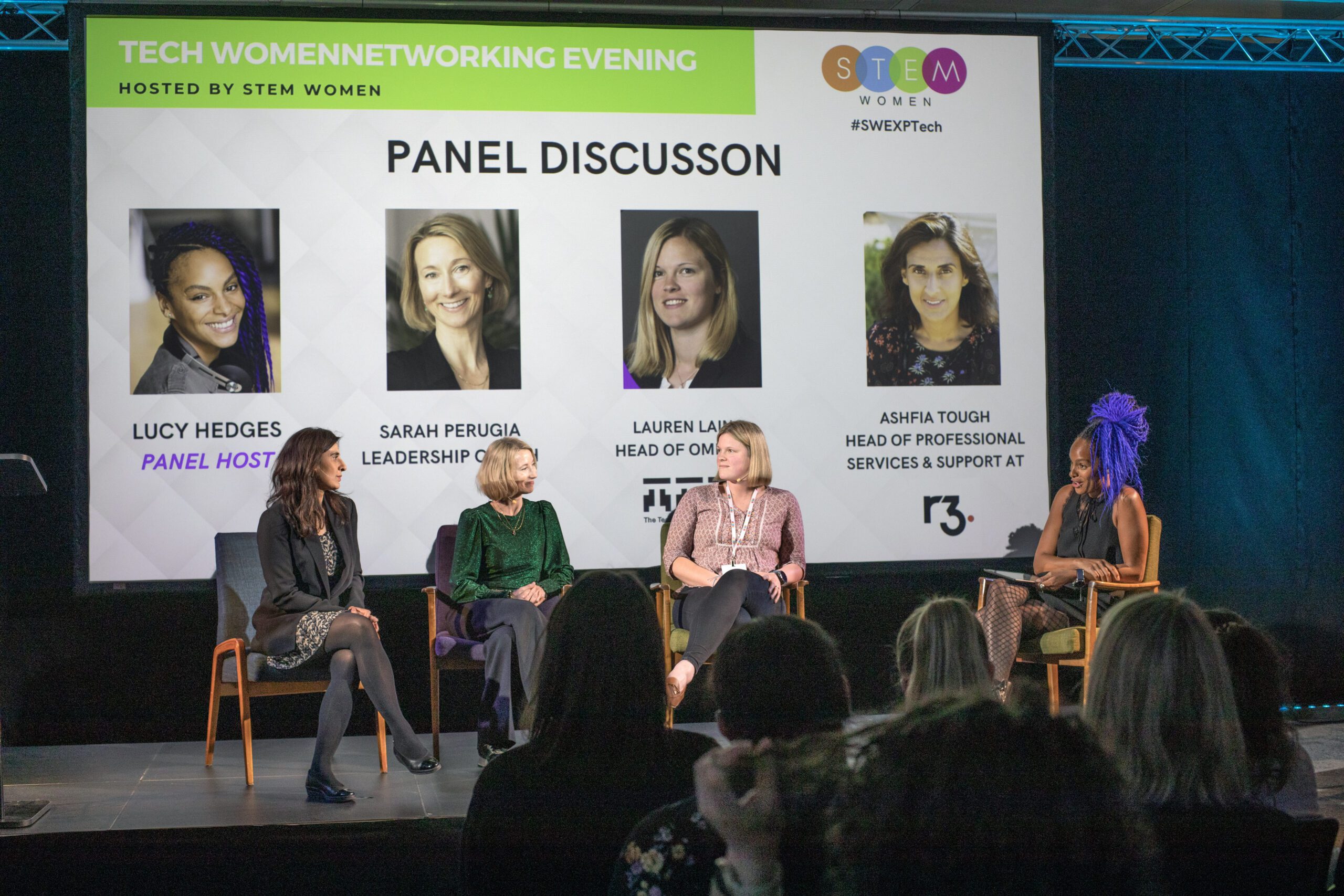 Attend an event!
Are you a student or graduate looking to start your career or gain experience? Or an experienced Women in Tech? Register for your free ticket to attend these upcoming events and have the chance to network, apply for roles and hear inspiring talks and presentations.
For employers looking to recruit diverse talent for their graduate roles, get in touch with our Event Sales Manager, Lauren Jenkins, info@stemwomen.com.
You can also follow us on LinkedIn, Twitter, Instagram, and Twitter to keep up to date with event news.