Event Review – Dublin STEM Careers Event – 7th June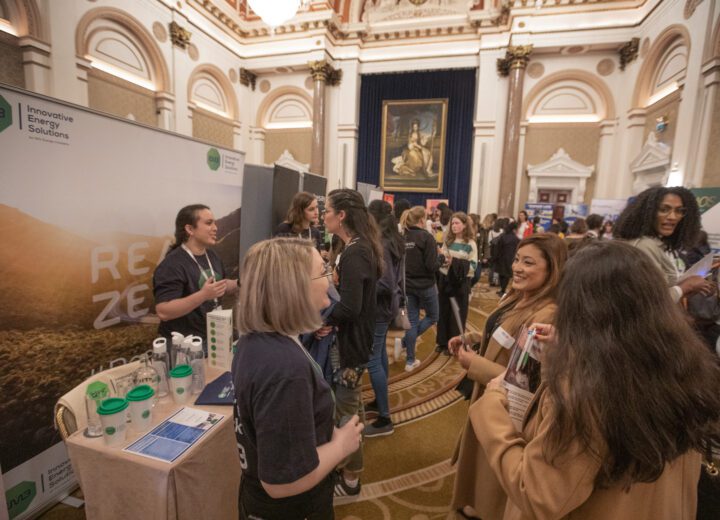 On Wednesday 7th June we ran our Dublin STEM Women Graduate Careers Event. The event attracted 31 exhibiting employers and over 1200 student sign-ups!
The event began at 12.15pm with a welcome talk from STEM Women events host, Sophie Chadwick. We then heard presentations from four employers throughout the afternoon. During the day, attendees could network with employers in the Banking Hall and The Reserve.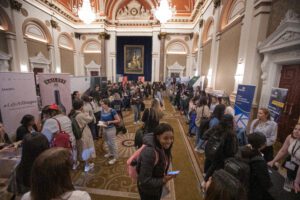 The Speaker Sessions
Our first employer insight session began just after 12.15pm with Jill Ivers, Manager, Marketing Technologist at 2K Games, speaking about company culture and describing her typical day. Jill also highlighted the perks of working at 2K Games, including personal trainer sessions and regular socials – we also got to see some images of their stunning office! Following this, the audience heard a further insight talk from Rebecca Kelly from Bearing Point. Rebecca explained how she became a consultant, introducing "scrum methodology" to the audience and highlighting the key attributes needed to succeed in consultancy. These presentations were followed by a live Q&A where audience members asked questions to each of the speakers.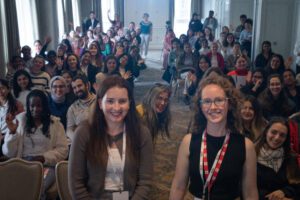 The second session began at 1.45pm and featured talks from Three Ireland and Uisce Éireann. Deirdre Dempsey, Analytics and Innovation Manager at Three Ireland, shared her career path into data, highlighting the importance of developing soft skills alongside technical skills. She encouraged students to gain experience in public speaking to improve their confidence and communication, and to continue to develop this skill throughout their career.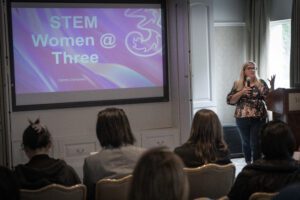 This was followed by a talk from Cait Gleeson, National Laboratory Strategy Lead, and Aphra Leavy, Water and Wastewater Optimisation Manager, at Uisce Éireann. Cait and Aphra described their career journeys, with Cait explaining how her career has aligned to her personal interest in environmental issues. Aphra spoke about her job-hunting experience and provided practical advice to job-seekers, as well as sharing insights into the projects that she has worked on and her career progression. These sessions were also followed by a Q&A opportunity.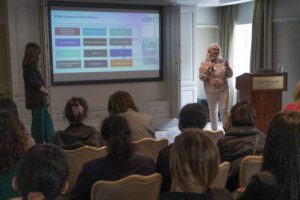 Networking
Throughout the day, attendees could network with our exhibiting employers in the two main halls, which were populated with company banners and employers waiting to start discussions and offer advice to prospective candidates. There was a fantastic atmosphere throughout the event, with lots of attendees taking pictures with the event banners, picking up free goodies and building their professional networks.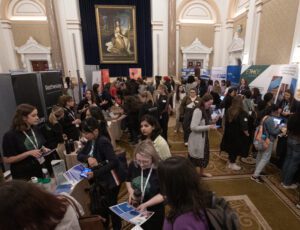 Amazing Feedback
"It was such a fantastic day, filled with wonderful attendees and really insightful questions." – Hubspot representative
"Very enjoyable careers event, meeting lots of career-focussed women who are very interested in careers in STEM. Great branding opportunity." – Wuxi Biologics representative
"Great to meet so many bright, curious and ambitious women."-  Nicola Brophy, Talent Lead, Three Ireland
"A huge variety of exciting and leading companies that are nurturing women in STEM were present, which made the event amazing." – Rebecca Clarke, Video Game Design, Ballyfermot College of Further Education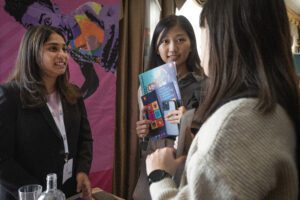 Join us at a STEM Women Event!
We run a range of industry-specific, general STEM and location-specific events each year. We'll be back in Dublin for another STEM Women event on 30th October as well as hosting an event in Belfast on 31st October.
If you're a student looking to register for your free ticket, take a look at our events line up – www.stemwomen.com/events , and follow us on LinkedIn, Instagram, Twitter and Facebook for event updates.
If you're an employer interested in exhibiting at an upcoming event, please don't hesitate to get in touch with Event Sales Manager, Lauren Jenkins by emailing laurenj@stemwomen.com or visit our website www.stemwomen.com.