STEM Women Announce Their Upcoming Autumn 2021 Virtual Graduate Careers Event Season!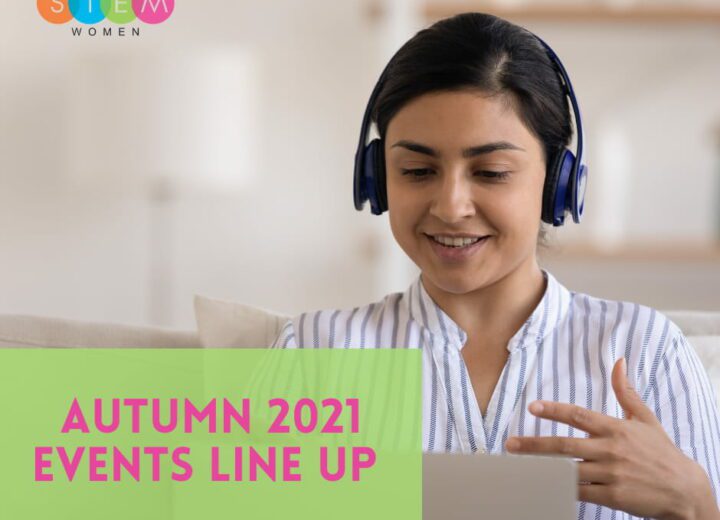 We are delighted to announce our autumn 2021 graduate careers event line up, running from September to October! This year, all of our events will be hosted on the STEM Women Events virtual platform and will cover general STEM careers in the UK, Ireland, and Europe, as well as industry-specific events for financial services, technology, and engineering.
Our inclusive events aim to address the lack of diversity in STEM industries and are aimed at female and non-binary students, but accessible to all regardless of gender.  During our events, attendees can browse company stalls, apply to live roles, watch employer presentations, ask their questions during a Q&A panel session, take part in breakout sessions and network with employers via webchat, voice, and video call.
Last autumn, we held 10 virtual STEM careers events, introducing over 3,000 female STEM students and graduates to over 130 employers. We have also hosted 5 events during the first half of 2021, and have received some fantastic feedback from both attendees and employers.
This autumn we are expanding our event line up even more and hope to continue to grow our inclusive community. Take a look at the STEM Women Autumn 2021 Careers Event Line Up:
When: Tuesday 7th September
Our first event will be targeted towards attendees who are interested in pursuing a career within financial services, studying at universities across the UK. Last year, our financial services event was a truly inspiring day and attracted over 420 sign-ups to network with some of the biggest employers in financial services. Our event aims to address the imbalances within financial services and encourage more underrepresented groups to consider a career within the industry.
​
When: Wednesday 15th September
Following the huge success of our Technology Graduate Careers Events last autumn and in April 2021, we are doing it all again! This event will attract students and recent graduates who identify as female or non-binary and are looking to start their careers within technology. Last years' event saw over 740 attendees sign up to network with 17 top employers from the technology industry, and our most recent April event attracted 1076 sign-ups and 18 employers. Technology is one of the fastest-growing industries in the world, so it has never been more important to ensure the workforce is diverse and inclusive.

UK Graduate Technology Careers Event Panel, April 2021
When: Wednesday 22nd September
Our fourth event in the autumn season will be targeted towards attendees and employers based in Scotland. This general STEM careers event will enable attendees to network live with STEM graduate employers, hear insightful presentations and apply for live roles. Last year, our Scotland event attracted a staggering 930 sign-ups, all interested in starting their careers within a STEM industry.
When: Wednesday 29th September
This event will be specifically targeted to employers and attendees based in the London area. Our London based events are always very popular with both students and employers, with previous events receiving great feedback. In October last year, we hosted a STEM Careers Event for London and Home Counties which saw over 860 students and graduates sign up to network with 20 top STEM employers.

Example of our virtual stalls 
When: Wednesday 6th October
Next up will be our STEM Careers Event for Ireland. This event will attract students and recent graduates studying at universities across the whole of Ireland. Previously, we have hosted inspiring STEM careers events covering Dublin, the whole of Ireland, and an Irish industry-specific event for technology.
When: Wednesday 13th October
We will also be hosting a STEM careers event for England and Wales, which excludes the London area. This event will attract students and graduates studying at universities such as Manchester, Liverpool, Warwick, Cardiff, Birmingham, and many more. Last autumn we held a number of regional-specific events for the Midlands, North West, South West, and more, this year we are combining these into one. This will help companies attract a wider range of attendees from across England and Wales.
When: Wednesday 20th October
Our final industry-focused event will be for attendees interested in a career within engineering. It will attract students and recent graduates studying at universities across the UK. This event is the first we have done that solely focuses on the engineering industry and we can't wait to hear the inspiring talks from employers within the sector. Just like technology, engineering is an ever-growing industry that offers exciting job prospects that are open to all.
When: Wednesday 27th October
Last Autumn we hosted our very first event for students, graduates and employers based in the Netherlands. This year we are pleased to announce that we are branching out even further to cover the full Benelux Region. This will be our final event of the season and we are so excited to grow our 'women in STEM' community even further.
Join us at a STEM Women Event this Autumn

STEM Women Midlands Event 2020
If you are an employer looking to book an exhibitor package for any of these events, you can request a brochure by filling out the form below or contact our Event Sales Manager, Lauren Jenkins for more information.
If you are a student or recent graduate looking to start their career in STEM, head to our events platform and register for your free ticket to any of our upcoming events.
To stay up to date with all of our news and insights, follow us on LinkedIn, Instagram, Twitter and Facebook.
Form ID:3033