Event Review –London In-Person Technology Careers Event – 23rd March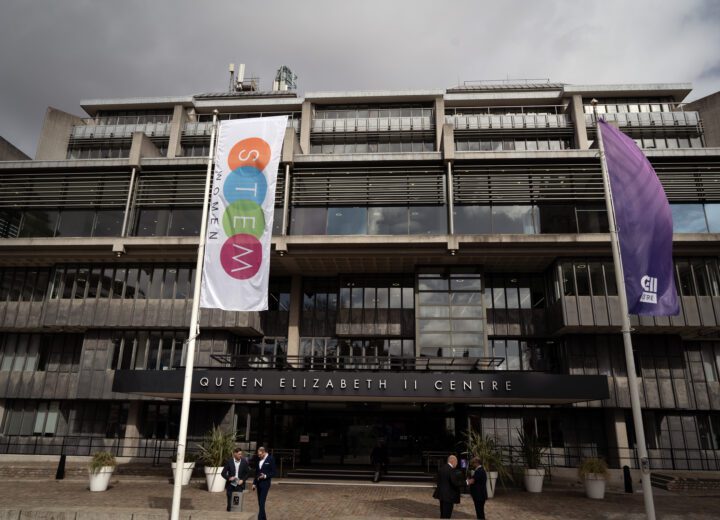 On Thursday 23rd March, we ran our London In-Person Technology Careers Event, at the QEII Centre. Sponsored by Reply, this event saw 300 attendees meet with 7 top exhibitors at an exclusive tech specific event.
The Westminster setting was stunning with the STEM Women flags flying outside Westminster Abbey and students (and employers) taking selfies!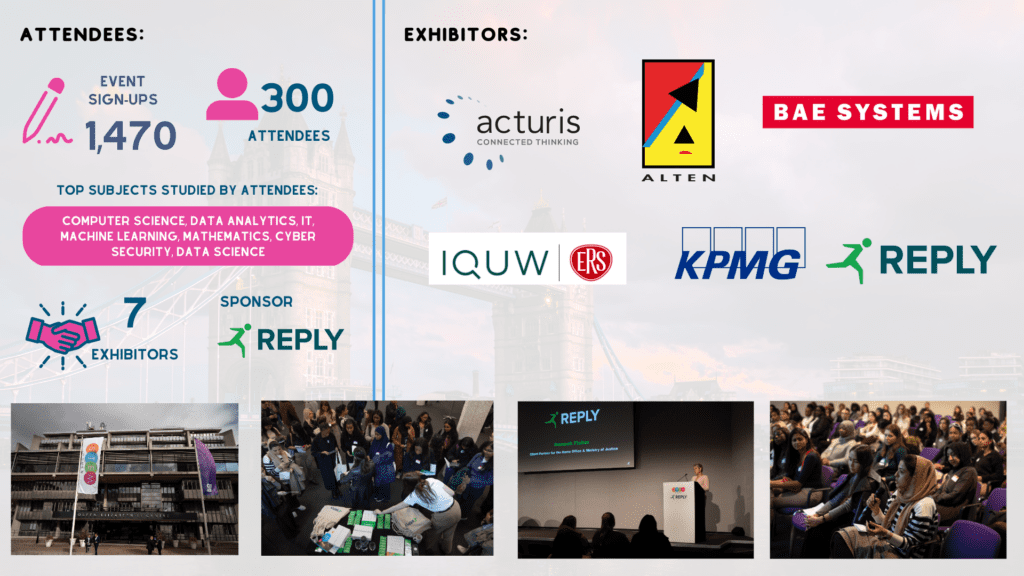 Flying the Flag for STEM Women!
The event began with a welcome talk from Sophie Chadwick, Events Manager at STEM Women. This was followed by a sponsor's address delivered by Hannah Fisher from Reply. Hannah provided some historical context around the role of women in technology, before describing why diversity is important to Reply.
Kamal Lakhpin from KPMG then talked through her career and offered a number of practical tips. She focused on the free training and development opportunities that are available online and how everyone can develop new technical skills.
The audience then heard from Jasmine Wright who works at BAE Systems. She shared her personal journey and how she studied IT at school, college and university. Jasmine highlighted the challenges that she faced being the only woman in lecture theatres, but also how she still enjoyed her computer security course.
Hannah Fisher from Reply then returned to the stage and shared her personal journey. She focused on how important it is to develop a support network and to be brave enough to take risks and overcome challenges. Hannah encouraged the audience to celebrate who they are.
An Inspiring Panel Discussion
Hannah, Kamal and Jasmine all returned to the stage to take part in a panel discussion that was facilitated by Sophie. We had some fantastic audience questions covering topics including dealing with imposter syndrome, moving into a technology career without an IT degree, the most important tech skills to develop and what to ask at an interview!
Networking and Great Feedback
The students then networked with employers for the remainder of the afternoon, browsing company stalls, picking up free goodies and asking questions.
"The event did not disappoint – I met so many amazing people and had the chance to hear from companies who are leading the way in innovation and technology. It was great to see so many talented and motivated women in STEM, and to feel like we are part of a community that is making a real difference in the world. I feel more confident and empowered in my career aspirations. I look forward to attending more events like this in the future, and continuing to build my network and develop my skills in User Experience." – Yun Ju Chen, Goldsmiths University, UI/UX Design.
"Planning, prep and support for attending the event has been excellent. 10/10. Will definitely be back."- Chris Monaghan, Recruitment Business Partner, FNZ.
Join us at a STEM Women Event!
We run a range of industry specific, general STEM and location specific careers events each year.
If you're a student looking to register for your free ticket, take a look at our events line up and follow us on LinkedIn, Instagram, Twitter and Facebook for event updates.
If you're an employer interested in exhibiting at an upcoming event, please don't hesitate to get in touch with Event Sales Manager, Lauren Jenkins by emailing laurenj@stemwomen.com, or fill out the form below. www.stemwomen.com.
Sign up to hear about our next event