Autumn 2020 STEM Women Events Announced!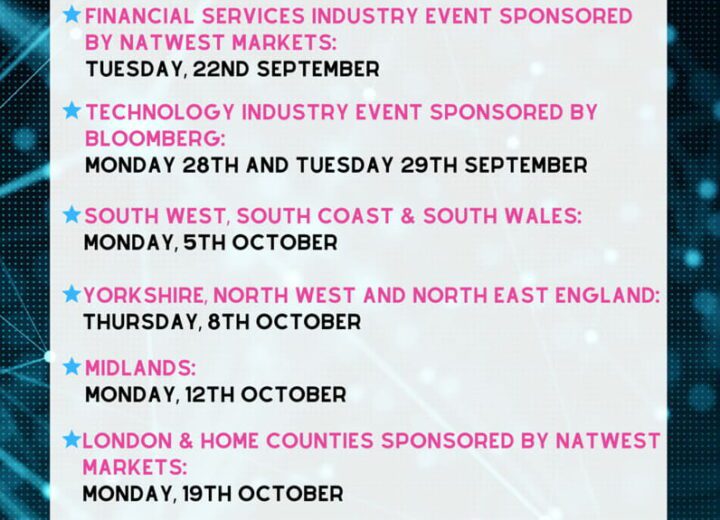 We are delighted to announce our autumn online event line-up. Nine events will take place virtually across October and November. The online format will enable us to reach students across entire regions, rather than limiting the event to those living in the venue city, meaning more students can 'attend' than ever before!
Two of our events will be industry focused, namely our 'Technology Event' and our 'Financial Services' events. Students attending these events will be studying a STEM degree, and will have a desire to work in these industry sectors. The other events will be location focused, meaning attendees will be based within a particular region, studying a STEM subject and interested in working in a range of different STEM industries.
See the full line up here:​
1. Financial Services Event: 22nd September 2020
This event will attract students studying STEM subjects across the UK, interested in a career in financial services. Last years' event took place in Westminster and attracted a high calibre of students.
2.Technology Event: 28th September 2020
This event will attract students studying a STEM subject and interested in a career in technology. As a dual event, it will also attract women with 1-5 years' experience, and employers can choose to exhibit at the graduate part of the event only, the experienced part only, or both parts!
3. South West, South Coast and South Wales Event: 5th October 2020
We have held an event in Bristol for the past 2 years, and this year we will be bringing the event online – making it bigger than ever before! The event will attract students studying in universities across three regions to hear from employers and apply for internship and job opportunities!
4. Yorkshire, North West and North East England Event: 8th October 2020
This event is always very popular with students and a great way to showcase your opportunities in these regions, covering key cities including Liverpool, Lancaster and Manchester, along with the surrounding area. We are also excited to bring STEM Women events to Yorkshire and North East England for the first time this year. These regions have fantastic universities, including Durham University, University of Leeds, University of Sheffield, University of Newcastle and University of York!
5. Midlands Event: 12th October 2020
Last year our Birmingham based event saw 30 employers meet over 200 students! This year we are anticipating that over 400 students will take part in our virtual event covering the entire Midlands region.
6. London and Home Counties Event: 19th October 2020
Always our biggest event of the season, our London based events are sell-outs! Expect to meet students studying in London and the Home Counties, including Oxford and Cambridge, along with those studying UK wide and looking to work in London.
8. Ireland Event: 28th October 2020
Our first Ireland based event took place in Dublin last year and we are delighted to extend it this year to cover the whole of Ireland! Our university communications team work closely with universities to promote our free events to women studying STEM subjects and we will be working with universities and institutions across Ireland this autumn!
9. Scotland Event: 4th November 2020 
Having held events in Edinburgh and Glasgow in the past, we always look forward to running our Scotland based events. This year we can reach students studying across all of Scotland, and anticipate a high turn-out of talent!
10. The Netherlands Event: 12th November 2020
We have been keen to expand into mainland Europe and have had so much interest from Amsterdam based companies that we have decided to hold an event targeting The Netherlands for the first time this autumn! We will be working with top employers and universities across multiple cities to ensure that it is a country wide event.
You can request the event brochure for these events by filling out the form below!
Form ID:3033
If you are a student and would like to attend one of the events, please sign up here.