Over 120 Female Students Attend Our First STEM Women into Financial Services Event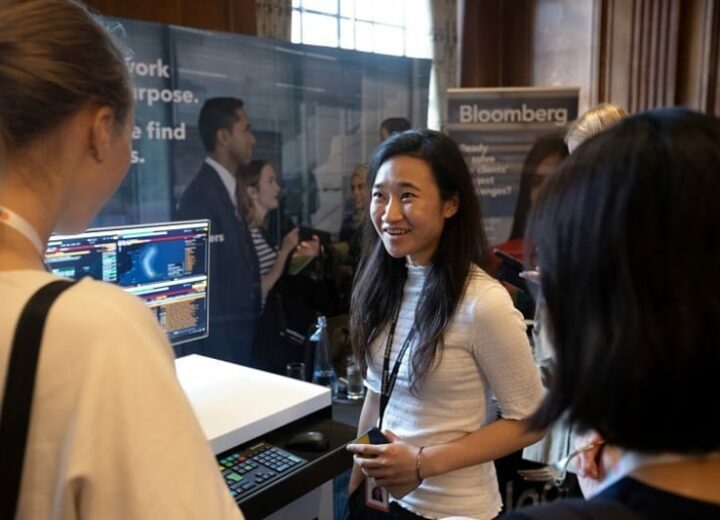 On Tuesday 8th October, we welcomed 120 female STEM students and 10 huge names from the financial services industry to the prestigious One Great George Street to meet, network and discuss graduate opportunities in the financial services.
During the day students were encouraged to talk with companies, listen to in-depth interviews with women working in the financial services and take part in a panel discussion.
The beautiful venue, set in the heart of London's Westminster, formed the perfect backdrop to what was a truly inspiring day for both female students and prospective employers. Adorned with ornate and impressive features, chandeliers and regal touches, One Great George Street really gave this important event an added sparkle.
At around midday, the event started with an informative welcome presentation from our sponsor, NatWest Markets.  Lucy Grimstead, Managing Director, Large Corporate and Private Fund FX Sales took to the stage to introduce the company and talk about her experience at NatWest Markets and what opportunities they have available to students.
This motivating talk was followed by a keynote speech from Victoria Scholar, a financial journalist and TV producer. She inspired students by describing her career journey from the trading floor in the square mile at investment bank Nomura, to becoming a financial journalist and TV producer for CNBC, Bloomberg, BBC, CNN and IG.

Victoria Scholar – Keynote Speaker
Students then filtered into the two large rooms adjoining the theatre to network with the employers. Exhibiting companies included NatWest Markets, Bloomberg, Fitch Group, Natixis, Moody's, BlackRock, Janus Henderson, IMC Trading, EDF Trading and MJ Hudson.
Making their way around the rooms, students found plenty of opportunities to talk to companies about their graduate opportunities, learn some helpful hints and tips about the application process and gain some feedback about their CVs. Each exhibitor had set up impressive stands, stacked high with free goodies for all of the attendees.

IMC Stall
Lediona Bebja, a graduate from Queen Mary University, who studied a post graduate degree in Mathematics was really impressed with the networking opportunities:
"I got so much out of the event. I've seen a lot of companies that I wouldn't have normally applied for. I've learnt lots of tips actually, about my CV and the application process. I also learnt about psychometric tests that I didn't know about before. So, I've learnt so much!"
Throughout the afternoon, networking continued in both of the adjoining rooms and a tasty selection of refreshments were served.
Meanwhile, in the theatre, Victoria Scholar returned to the stage to begin the first of a series of interview sessions with women working in the financial services. Female representatives from NatWest Markets, Bloomberg, Natixis, Fitch Ratings, BlackRock and EDF Trading were welcomed onto the stage, one by one, to talk about their companies, how they got their jobs and their experiences as women in the industry.

Students watch the interview sessions
Topics covered included the importance of diversity in the workplace, the benefits of having a strong female mentor, the kind of degrees you may need to succeed at a job in one of these companies and the graduate scheme process.
Cecile De Sousa from Natixis highlighted the importance of events like STEM Women into Financial Services:
"When I was a student, there weren't events like this so I didn't know what was out there. I had no concept of mentoring schemes, I wasn't aware of the concept of having a sponsor. But today, I think we are offering much more opportunities to young women, more tools to help them succeed. And that's why we are starting to see so many more female profiles in financial service team. And that's such a relief."

Bloomberg stall
After a short break out which was filled with more networking, we were back into the theatre for an all-female panel session with representatives from NatWest Markets, Bloomberg, Natixis, Fitch Ratings, BlackRock and EDF Trading. Chaired by Victoria Scholar, students asked some fabulous questions, with the best ones winning a snazzy STEM Women hoody!
During the panel session, one student asked for an example of the biggest challenge a member of the panel had faced. Karolina Potter from EDF Trading gave a very inspiring answer:
"The challenges I faced were around changing my mind frame, building my confidence and feeling like I deserved to be in my job. But I learnt to see things as positive challenges, rather than I can't do it. It's important to remember that learning is positive, and learning is fun!"
There were more great questions surrounding the importance of fully understanding the culture of a company before applying to roles and how much the industry has changed over the years.

The panel session
Overall the day was a huge success, with many students taking one step closer to their dream job in the financial services.
Rebecca Ruth Sterling, a student at Cass Business School was thrilled with the event:
"The event has been really inspiring. We're in our third year now so we're just starting to look at what opportunities are available, and it's really inspiring to see women who are actually doing it. I think diversity is really important, especially as a woman and a woman of colour, it's really good to see women who are actually doing these jobs and moving further up the chain. Hopefully, in the future, we will see more women in senior roles in financial services."
We can't wait for our next event in Edinburgh at the EICC on the 16th October!
If you're a student looking to come along and join the fun, check out our events page and register for a ticket at one of our upcoming events! You can also become a STEM Women member and hear news of our upcoming events first.
Are you an employer looking to exhibit and talk at one of our events? Get in touch with our team today and be part of the next STEM Women event.