Highlights from the STEM Women Autumn Events Season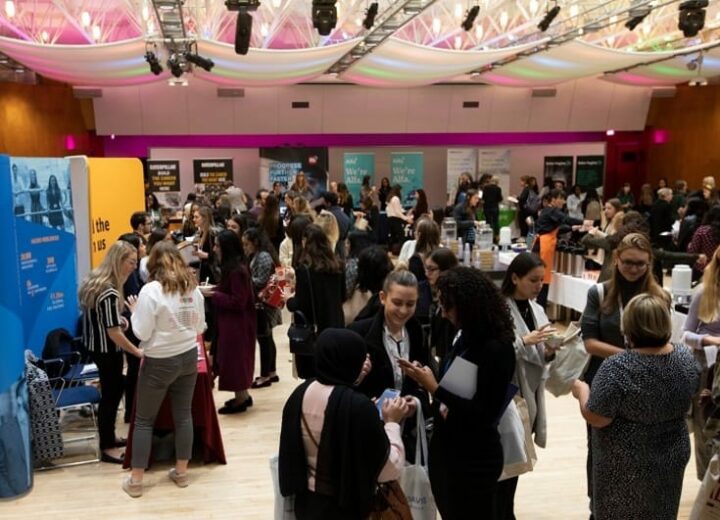 The 2019 event season was our most successful to date. We visited eight cities across the UK and Ireland, introducing over 1,500 students to 167 employers. Each event combined employer networking, employer insight talks and panel discussions.
Our events have helped many university students and graduates find their ideal job within companies who are committed to creating a gender-balanced workforce. It's time to take a look back over some of the highlights from our Autumn season.
Women into Financial Services at One Great George Street, London
The first event in our busy Autumn schedule was in London at the grand One Great George Street on Tuesday 8th October. This special event, sponsored by NatWest Markets, was focused on women working in financial services and featured representatives from Bloomberg, Fitch Group, Natixis, Moody's, BlackRock, Janus Henderson, IMC Trading, EDF Trading and MJ Hudson.  On the event day, we welcomed over 120 students to network and discuss graduate opportunities in the industry.
The day began with an informative keynote speech from Victoria Scholar, a financial journalist and TV producer. In between the busy networking, we held a number of break out sessions which included interviews with women working in financial services, followed by a panel session where students asked the women some great questions. A truly inspiring day for both employers and students, the feedback we received was so positive we can't wait to host a similar event next year!
Edinburgh Community Event at the EICC
Following our Women into Financial Services Event, we made the journey up to Edinburgh on Wednesday 16th October and welcomed over 160 female STEM students to our event. Sponsored by EY, the event featured representatives from EY, BlackRock, Diageo, Network Rail and Scot Rail, Cirrus Logic, The British Army, Zonal, PwC, Goldman Sachs, Accenture, KPMG, Morgan Stanley, Bloomberg, Baker Hughes, McLaughlin & Harvey Construction, FDM, BBC, RBS, and Lloyds Banking.
The day began with an inspiring talk from EY, followed by interviews with women working at EY, Scot Rail, BlackRock and Diageo, with an in-depth panel session where students asked some thought-provoking questions. The panel session was a huge success for both the companies talking and the students in the theatre. Rachel from EY highlighted how unique this format was for a careers event:
"I really loved the panel session. The four of us had completely different backgrounds and yet there was that common thread of getting into leadership, the difficulties of it and how we found the application process and we all gave similar advice, which really showed how unified we all are."
After the event was over, we caught up with Anna Soprota from Cirrus Logic who expressed the importance of diversity: "I would say to employers thinking of attending these events, just come along! At the moment we have a real problem with diversity in the UK in a number of organisations, a number of sectors and this kind of impact within the space of 4 hours, you're not going to get anywhere else."
London Community Event at the Congress Centre
We returned to London for our STEM Women event on Wednesday 23rd October, featuring NatWest Markets, EY, BlackRock, PwC, VISA, Viqtor Davis, Expedia, PA Consulting, Johnson Matthey, Alfa, Accenture, KPMG, Heathrow, Baker Hughes, ExxonMobil, VMware, Deutsche Bank, SEI, Barclays, Capgemini, Mazars, Kilburn & Strode, Wates, Caterpillar, AWE, Mizuho, Toshiba, Amazon, Genius Sports, Subsea 7 and American Express.
This event was marketed to over 650 students and with a fantastic turnout, it was one of STEM Women's biggest yet! Sponsored by NatWest Markets, students enjoyed a welcome presentation and two panel sessions with female employees from NatWest Markets, American Express, Wates, EY, PwC and Expedia.
One student found the advice from the interview sessions especially helpful: "I was really inspired by the interesting speech from Carla from NatWest Markets and the really useful advice of the women on the panels. It has helped push me back into a positive and brave mindset with my applications!"
With both employers and students extremely happy with how the event went, we are so proud to be introducing so many female STEM students to inspirational employers.
Manchester Community Event at Bridgewater Hall
As we reached the halfway point in our busy schedule, it was time to head to Manchester on Wednesday 30th October. Over 200 students came along to network with 23 top companies, including Novelis, PwC, EY, IBM, Autotrader, Goldman Sachs, Capita, AND Digital, TPP, Altius, ANS, Sky Betting & Gaming, ARM, Bloomberg, Bosch, Citrix, Moody's, KPMG, Accenture, FDM, Morgan Stanley, Instron and Fichtner.
The day featured encouraging talks from women who were either recent graduates or senior professionals working in STEM, alongside networking sessions and an engaging panel session covering topics including imposter syndrome, diversity and how to succeed.
Eno, a student studying at Liverpool University described her experience of the event: "I've been able to network with a few companies, gotten some email addresses and given my CV to a few places as well. I've definitely widened my network, I'm going to be adding a lot of people of LinkedIn, so I've managed to get a lot of resources, it's been great!"
Birmingham Community Event at The Botanical Gardens
After our hugely inspiring Manchester event, we were in the beautiful Botanical Gardens in Birmingham on Tuesday 5th November. We welcomed over 190 female students to meet with 30 top STEM employers including Rolls Royce, Buckingham Group, MThree, PwC, IBM, REPL Group, West Midlands Trains, Altius, FDM, Capgemini, Goldman Sachs, IMI, Galliford Try, ARM, Zonal, Citrix, Accenture, PA Consulting, KPMG, Moody's, AstraZenca, Baker Hughes, Kainos, Instron, Sopra Steria, SPD, Next, Keller, Cadent and Kautex.
The event featured motivational talks and a panel session with women working at Rolls Royce, Buckingham Group, REPL Group, MThree Consulting, PwC and IBM. Maria from IBM came and spoke to us after she had been interviewed on stage:
"I found that a lot of people came up and spoke to me after I'd been on the stage, I was really touched because a couple of people asked me to be their mentor. Seeing the impact you make and the value you might add during half an hour of your time at an event like this is really great."
Bristol Community Event at We The Curious
We then headed to Bristol on Wednesday 13th November to the fantastic We The Curious. Over 160 female STEM students came along to this event to meet with 17 employers, all eager to diversify their graduate teams. We welcomed Rolls Royce, Accenture, Edwards, Welsh Water, PwC, Willmott Dixon, KPMG, Baker Hughes, Amazon, Heathcoat Fabrics, General Dynamics, Willis Towers Watson, Intellectual Property Office, GKN Aerospace, Ministry of Defence, Nucleargraduates and Jacobs.
The day featured a slightly different format, with a welcome presentation from Rolls Royce to start, followed by networking throughout the rest of the day. There were also a number of skills drop-in sessions which included Interview Skills Clinics, a Roundtable Discussion and LinkedIn Headshots.
Kate, a recruiter for PwC, shared some of the reasons why her company attend STEM Women events: 'When I walked through the door, it was really inspiring how many women there was. At PwC we need more students who study STEM at university because we need the diversity of approach, we are not looking for one type of person."
Dublin Community Event at The Westin
Our penultimate event of the season was held in Dublin, Ireland for the first time! Taking place on Monday 18th November, we welcomed over 180 female STEM students to meet with amazing companies including Google, Bearing Point, Amazon, Microsoft, Central Bank of Ireland, Bank of Ireland, Prodieco, PM Group, Xilinx, Abbvie, Fidelity, Jones Engineering, Obelisk, Workday, John Sisk and Mercury.
Hosted in the beautiful Westin, this event was one of our most special. The event began in the main theatre space with a welcome from STEM Women, followed by presentations from women working at Bearing Point, Google and Amazon.
Jennifer from Google gave the students some really great insights into starting a career in technology: "I learned that STEM is an amazing foundation. Studying science gave me the building blocks to do all these different things, it gave me the opportunity to transfer into a huge range of different roles at Google."
Our first STEM Women event in Ireland was a huge success and we are sure to return next year for an even bigger event!
London 2 Community Event at The Science Museum
Last but certainly not least was our final London event, held in the fitting Science Museum. Sponsored by NatWest Markets, with a sector sponsored by TUI, this event was one of our most inspiring.
On Wednesday 27th November over 250 students arrived to meet with 21 top companies including NatWest Markets, TUI, MathWorks, Vodafone, Framestore, Edwards, Openmarket, Daiwa, Newton Europe, Wunderman Thompson Commerce, Axis, HSBC, Capita, Willmott Dixon, And Digital, Dunnhumby, Direct Line Group, Kubrick, Analysys Mason, Bosch and Cirrus Logic.
Whilst networking continued in the main hall, two panel sessions took place featuring women working in various STEM disciplines. The first was sponsored by NatWest Markets and had a focus on Financial Services with representatives from NatWest and HSBC. This was followed by a second panel, sponsored by TUI, which was focused on technology and featured women working at TUI, Wunderman Thompson Commerce and MathWorks.
These sessions helped students to understand more about working in STEM, the challenges they may face and the best ways to overcome them. Theresa Bodner, a PhD student from Bangor University described her experience:
"I really liked the panel session because I think it's important to have female mentors. The best advice I've given today is twofold, the first is to be persistent if you want something to really go for it and the other is to really be authentic. The fact that we are women is not a weakness, it's a strength and what we can bring to the industry is a lot of advantages. I can't wait to start applying to these companies!"
With so much success in 2019 and an ever-growing community of women in STEM, we're delighted to announce our 2020 event season and can't wait to meet even more of you!