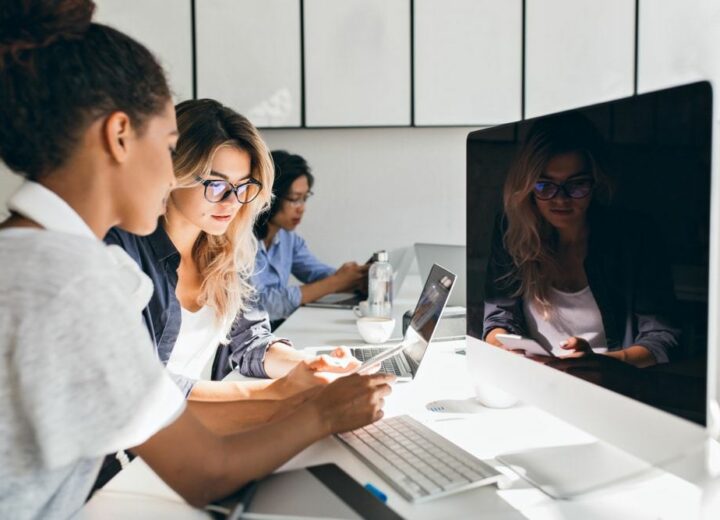 Technology is a world that is currently dominated by men. Whether you work in the UK's tech industry or in Silicon Valley, women are hugely outnumbered by their male counterparts by roughly 5:1. According to WISE's latest figures (2018), only 16% of women work as IT professionals and 17% of IT technicians are women. The numbers have unfortunately declined by 1% and 2% respectively since 2017. However, there has been a 1% rise in the number of women taking core STEM subjects at university, rising from 15% to 16%.
While women have been underrepresented in tech for many years, it was not always this way. During the Second World War and for a couple of decades afterwards, especially in the United States, computer programming was seen as women's work. From the 1950s, through to the 1970s, many women worked on building software, while men typically, worked on building hardware. During this period, computer programming was seen as menial work. However, in the 1980s all this changed. Major changes to computer software meant men shifted their focus from hardware to software, and, with the likes of Steve Jobs and Bill Gates revolutionising computers, the industry rapidly grew. In popular culture and advertising, computers and video games were generally targeted at boys and men. The US publication, The Atlantic has a great video detailing the history of women in tech.
Women in technology statistics
While much progress has been made for women in the workplace, the number of women in STEM careers remains stubbornly low – even after years of Women in STEM campaigns. While overall the numbers are rising, the increments are small. However, some progress is being made, even though the steps are tiny at this time. According to The Women's Engineering Society, just 15% of those working in STEM, including women in engineering are female. When it comes to leadership positions, this figure drops to 5%. Looking at the pipeline, only 15% of computer science graduates in 2018 were female. Within the UK, this lack of pipeline talent is starting to have an impact on industry as a whole. According to PWC's Global CEO Survey, CEOs who took part in the survey said that STEM skills are particularly hard to recruit in the UK. While this is not just in relation to women, getting more females in STEM will help bridge the skills gap.
So, what is behind the STEM gender gap? One answer comes from an OCED study which found that many girls lack confidence in pursuing high-paid careers in science. There also may be a perceived mismatch between what a career in STEM can be and the perception that women have of a career in STEM. In the 2017 PWC Study on Women in Technology, 50% of females interviewed say that the most important factor when choosing a future career is "feeling like the work I do makes the world a better place/has a wider impact" this was only second to "having interesting work." Many would argue that technology has had, and will have, the biggest impact on society. So, how do we get girls and women to see that a career in STEM can help them have an impact and make the world a better place?
Famous women in technology
A lack of role models has been cited as a reason why many women do not enter into STEM careers. According to PWC's 2017 report on Women in Tech, only 22% of students interviewed in the report could name a famous female working in technology, compared to two thirds who can name a famous man working in technology.
While one issue with role models is that not many women in technology might seek the limelight, another issue is they are often sidelined. However, the technology industry does have a number of high-profile women who have made waves in their industry.
Karen Spärck Jones
Hailing from Huddersfield in Yorkshire, Karen Spärck Jones was a computer scientist who was responsible for introducing the concept of inverse document frequency, a technology that underpins most modern search engines. She studied and worked at Cambridge University, mainly focusing on natural language processing and information retrieval; basically, working on making computers understand human language and not just code. Spärck Jones is one of STEM's more overlooked heroines. During her long and successful career, she campaigned hard for more women to enter computing. She died in April 2007 and the New York Times only published her obituary in 2019 in their Overlooked series. Without Spärck Jones, we wouldn't have search engines as we know them today.
Martha Lane Fox
The founder of Lastminute.com, Martha Lane-Fox become the British poster girl for the dotcom boom in the 1990s. After making a success of Lastminute.com, and surviving the dot com crash, she sold the internet travel company and moved on to a career in business. In 2004, Lane-Fox was in a serious car crash that left her severely injured. She spent many months in hospital. Once she recovered, Lane-Fox went on to work as a digital champion for the UK and helped to create the Government Digital Service. In March 2013, she entered the House of Lords, becoming its youngest female member. Lane-Fox is now the Chancellor of the Open University and is the founder of a technology-based independent think-tank.
Dorcas Muthoni
An entrepreneur and computer scientist, Dorcas Muthoni is the founder of OpenWorld, a software and app company she began at the age of 24. Muthoni, who is from Kenya, studied computer science at the University of Nairobi. Her company, OpenWorld, is one of the biggest tech companies in Africa and has been responsible for some of the most widely used web and cloud applications on the continent. Muthoni is also the founder of AfChix, a mentoring initiative that helps women get into computing across Africa.
The three women depicted here are just a snapshot of women who have changed, or are changing, the world of technology. Perhaps by bringing more role models to fore and promoting changes in culture, we can help encourage more women to consider a career in STEM.
If you are considering a career in STEM, come and attend one of our STEM Women events. Held around the country, our events connect STEM students and graduates with employers looking to hire those with STEM qualifications.
If you are a STEM graduate looking for your first graduate role, take a look at our jobs board.