Women's pioneering stories from history could encourage more young women to consider engineering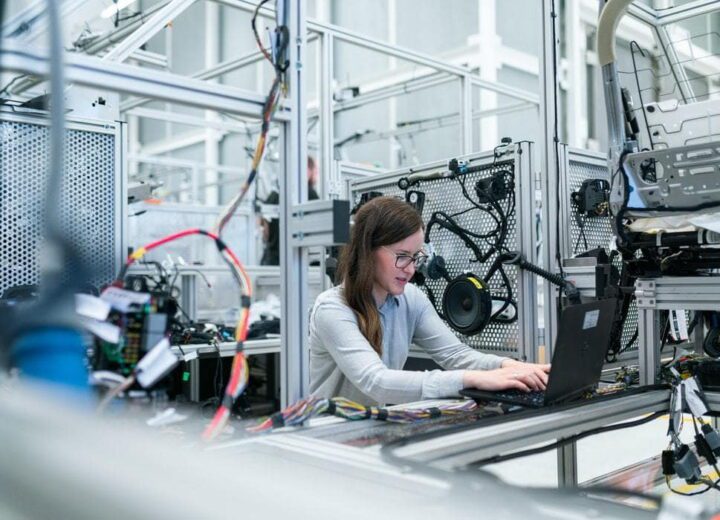 The IET recently published an interesting article, written by Polly Osborne, an electrical engineer specialising in whole energy system consulting and sustainability, which highlighted the importance of shining a brighter light on inspiring women's stories from history to encourage the next generation of engineering talent.
The underrepresentation of women in engineering has been an issue for years. According to UCAS data provided by HESA, in 2017-2018, 35% of STEM students in higher education in the UK are women. However, the percentage of women studying engineering courses was just 19% and those that graduate only make up 16% of the total number of engineering graduates.
When we look at the workforce, in 2019 women made up 24% of the overall STEM workforce in the UK. In engineering professions, women made up just 10% of the workforce in 2019, a percentage that has remained almost static for the past 2 years.
Engineering is a hugely important industry to the UK, it contributes 26% of the GDP or £127,580,000,000 to our economy, according to WES. Not only that, but engineering is diverse, creative, and exciting, it offers people the opportunity to work on life-changing projects that have the potential to change the world!
WES has reported that the UK needs to significantly increase the number of people with engineering skills. In 2017, the annual shortfall of the right engineering skills is anywhere between 25,500 (level 3) and up to 60000 (over level 4 skills). 61% of engineering employers say recruitment of engineering and technical staff with the right skills is a barrier to business.
It's clear that there are exciting and creative jobs available within engineering, and the industry shows no signs of slowing down. If the UK is to keep up with the rest of the world, more women need to be encouraged to take on these roles. Companies are 15% more likely to perform better if they are gender diverse, and in a global survey, 85% of corporate diversity and talent leaders agreed that: "A diverse and inclusive workforce is crucial to encouraging different perspectives and ideas that drive innovation".
There are plenty of ways to encourage more women to choose engineering at university and join the engineering workforce. The IET argues that one of the most powerful ways is to be better at highlighting female role models from history and telling their stories.
Polly Osbourne explains: "There are dozens of examples of historical women who achieved great things in our profession whose names remain relatively unknown.
"It was always a source of sadness to me that the walls of the electrical engineering department at my university were lined with electrical engineers from history who were all men. This is not to discount the achievements of Faraday, Ampere and others, but simply to say that we cannot expect to attract and inspire enough young women to take up engineering as a career if they don't believe it to be a place for them and have no one like them to look up to and identify with.
"We have an amazing legacy of engineering talent and invention to draw on in this country. Only by fostering all of our young people's talent in future will we beat our biggest challenges, including energy sustainability and climate change."
Inspiring Women in Engineering
Let's take a look at just some of the inspiring women in engineering from the past, learn from them, remember them, and talk about their amazing achievements!
Sarah Guppy
Sarah Guppy was born at the end of the 18thcentury in Birmingham, at the beginning of the industrial revolution. In her lifetime she saw the city undergo huge changes and witnessed some of the greatest engineering and technological innovations of the time. She was a designer, engineer, inventor, and the first woman to patent a bridge in 1811, a staggering 210 years ago!
Caroline Haslett
Born in 1895, before women won the vote, Caroline Haslett was an electrical engineer, the first secretary of the Women's Engineering Society and the founder and editor of the journal, The Woman Engineer. Throughout her life and work, she championed women and encouraged them to pursue their talents. She founded her own company for women engineers, giving them a place to practice when they were usually barred from the profession. Her work focused on freeing women from the burden of household chores by using electrical power, this was before the revolution of heating, electrical appliances, and electrical light.
Margaret Partridge
Margaret Partridge founded a company just after the end of World War One which introduced electricity to small towns and villages for the first time. A hugely inspiring woman, Margaret also encouraged young women to pursue their careers as engineers by offering apprenticeships for school leavers.
Hertha Ayrton
Lastly, Hertha Ayrton was a hugely influential electrical engineer, registering 26 patents in her lifetime! In 1899, she was the first woman to present her own paper on electrical arcs to the Institution of Electrical Engineers and was the first woman ever elected a member of the IEE that same year. The next woman was not elected until almost 60 years later, in 1958!
STEM Women
At STEM Women, we are passionate about addressing the gender gap in STEM. We host networking and careers events for STEM students and graduates who identify as female, or non-binary, and are interested in starting their career in a STEM industry.
During our events, attendees have the chance to listen to inspiring talks from women working in STEM, ask their questions during a live panel session, apply for roles, browse company stalls and network live with employers via webchat, voice and video call.
This autumn we will be hosting 9 careers events covering the UK, Ireland, Europe, and America. We also have a number of sector specific events, including an engineering focused event on Wednesday 20th October.  We hope this engineering event will help inspire the next generation of female engineers in the UK, and work towards a more gender balanced future.
If you are interested in attending this event or any of our autumn events, register your interest on our event page.