Women in Tech: How to Attract and Retain Female Employees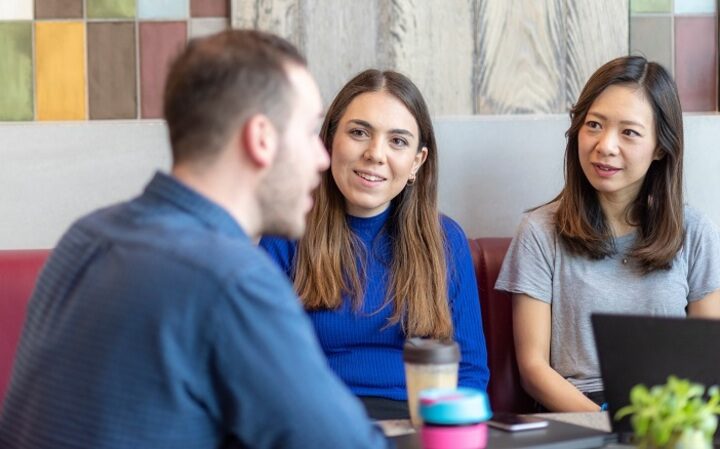 In the UK, women account for just 17 per cent of workers in the tech sector, with the proportion of women working as system designers and IT business analysts falling to 14 per cent, and further still to just 13 per cent of programmers and software developers, according to the Office of National Statistics.
Yet, since the Brexit vote, investment in UK tech has more than doubled, surging to a record £9bn this year and putting the country far ahead of rivals in Europe, the Telegraph reported. Last year, the government also announced that around 1.2 million new technical and digitally skilled workers will need to be hired by 2022 to support the huge growth of this sector.
So, why is there such a low percentage of women in tech roles? In a survey conducted by Tech City UK, it reported that 36 per cent of male respondents looked to work in the technology sector in the future, whereas, only 13 per cent of female respondents said they aspire to uptake a career in technology.
Many have argued that this shortage of women in tech could be down to a lack of confidence. The Tech City report also found that 45 per cent of women said they lack skills in technology, 38 percent lack knowledge about technology and 24 per cent said technology was 'not for people like them'.
However, some have suggested that less women take up jobs in technology because of years of gender stereotyping and policies that actively discriminate against women. In the 70s, in order to work, many women were required to gain permission from their husbands and show this to their employers. It's argued that this kind of damaging ideology has become ingrained within society, and today we are still fighting to overcome these injustices. Over the years, these issues have led to a lower proportion of women in the graduate talent pipeline, especially in subjects like computer science. Recent UCAS data from HESA 2017/2018 has revealed that women make up just 13% of students studying computer science, gaming and related courses in the UK.
Women in Tech
As well as attracting more women into tech roles, companies also need to work harder at retaining female tech talent. According to Forbes, once women enter the tech field, they leave at a 45 per cent higher rate than men. A report conducted by Indeed found that the most common reason for this is due to a lack of career growth, followed closely by poor management and slow salary growth. The report also found that only half of the women surveyed believed that they have the same opportunities to enter senior leadership roles as their male counterparts.
Reaching gender parity in the tech sector is a hugely important goal to achieve if the UK's industry is to continue to innovate and stay ahead of competitors. The McKinsey Delivering through Diversity report shows that companies in the top quartile for gender diversity on their executive teams were 21 per cent more likely to have above-average profitability than companies in the fourth quartile.
​
Sian Allsopp, Executive Director, Enterprise Technology & Services at Morgan Stanley highlights this: "The lack of women in technology companies isn't just a question for academic research and industry debate, it should also be of interest to investors… A new report ranks 108 tech companies, based on a common gender diversity investment framework. It found that, over the five years ending September 2016, highly gender-diverse tech companies returned on average 5.4 per cent more on an annual basis than the average yearly returns of their peers with less gender diversity."
So, what can companies do to attract and retain female tech talent? Let's take a closer look at some of the key things women look for when choosing between companies and some of the inspiring initiatives tech companies have already introduced.
How to attract and retain female employees
Pull from the graduate talent pool
One of the most effective ways to attract female employees to your tech roles is to focus on the graduate pool. Recent graduates are the core audience for tech attraction, and it has been proven that investing in junior talent will likely see a greater yield. At STEM Women, we have grown a large community of women in STEM, hosting careers events for STEM students and graduates across the country. Our events allow attendees to meet face-to-face with top employers, grow professional networks, engage with skills sessions and hear inspirational talks. After attending our events many students have been placed in graduate positions and successfully progressed their careers.
At Sparta Global, they have a dedicated D&I function that works with their Talent, Universities Engagement and Academy Teams to actively boost the number of women in tech roles.  Gaia Caruso, Diversity and Inclusion Lead explains: "We work with over 70 universities, student groups and societies to engage, mentor and champion female students to consider a career in tech…We regularly run on-campus coding workshops, networking sessions, panels and career mentoring activities to provide access to role models and foster technical literacy amongst female students."
Similarly, at Morgan Stanley, they have helped inspire young women by recently joining the TechSheCan Charter Steering Committee which aims to create a sustainable pipeline of diverse tech talent. Siân Allsopp, Executive Director, Enterprise Technology & Services explains: "You cannot be interested in a career that you don't yet know exists, so the #TechSheCan initiative is empowering teachers to ignite curiosity for a career as technologists in our younger generation. We need to change the perceptions of tech and amplify the wide range of career opportunities it offers to women."
Alongside work in schools and universities, some companies have introduced special apprenticeships and graduate schemes that attract more female employees to technical roles. At Aviva, they have recently launched a Technology Early Years programme. Resourcing Business Partner, Claire Cargill adds more detail: "We are recruiting over 50 apprentices and graduates for a 2020 intake. We don't require candidates to have studied technology related subjects before, instead, we are looking to candidates that have a passion for tech, are eager to learn and have a hunger to do the best for our customers."
Competitive and fair salary
Salary is a primary concern for women in technology at the start of their careers and throughout. Equal pay for equal work is obviously hugely important, and with the introduction of the gender pay gap reports, companies must now publish their gender pay gap. Therefore, implementing transparent pay practices ensure that women enter into companies on fair pay and do not undersell themselves at the interview stage.
Female-focused workplace benefits
While equal and fair salaries are hugely important factors, there are more ways that companies can attract and retain female employees within the tech industry. Diversity initiatives that include policies for women are proven to be hugely beneficial. In the STEM Women Whitepaper, due to be released in Spring 2020, we surveyed female STEM students about why they chose certain career paths. 74% of respondents felt that diversity initiatives were either extremely or very important to them when researching potential employers.
Therefore, introducing policies for post-maternity support for mothers returning to work, as well as benefits for working mothers and improving flexible working are all invaluable. At Morgan Stanley, they understand the importance of retaining tech talent. Siân comments: "We run our Return to Work programme, which is now in its 7th year. When women want to re-join the workplace after a career break, they can take part in a 12-week paid placement in one of our divisions that match their skills and experience. We also offer enhanced family leave, enabling men to take a greater role in childcare, which in turn allows women to be more active members of the workforce. Plus, 150 hours of back-up child/elder care per dependent, per year."
This change in policy has become more widespread with many companies implementing 'family-friendly' initiatives. Facebook and Google have even started covering the cost for a woman to have her eggs frozen, and many tech companies have introduced breastfeeding breaks with in-house breastfeeding rooms so mothers can have some privacy. Policies like these can be the deciding factor between staying on in a career or quitting.
Gender-neutral recruitment process
In order to work towards attaining a gender-balanced workforce, tech companies need to devise a flexible recruiting approach that takes into account women's specific needs and aspirations. Introducing simple changes such as using gender-neutral language on job descriptions can make a difference to the recruitment process. Research has found that male-orientated job descriptions can actively put women off from applying for jobs, and this is particularly prevalent within the tech sector. Research conducted by LinkedIn revealed that in order to apply for a job, women feel they need to meet 100 per cent of the criteria, while men usually apply after meeting about 60 per cent.
Another way to attract female employees is to implement blind hiring techniques. These can consist of blind candidate screening, pre-employment testing, genderless CVs and even insisting that shortlists include an equal share of women.
However, to implement this, it's important that HR representatives and managers are trained on gender bias hiring and can distinguish between positive action and positive discrimination. At Avanade UK, inclusion and diversity are truly embedded at the core of the company. UK&I Engagement and Inclusion Lead, Dora Grzetic describes how Avanade UK is working towards gender parity: "Dedicated teams across Europe have been appointed to ensure that every action – no matter how seemingly inconsequential – impacts on employees in a way that encourages inclusivity, cooperation, and difference. Fundamental to this have been the employee groups we have established – not just one siloed team paying lip service to inclusion & diversity, but organisations set up at every level of the business who take responsibility for new initiatives."
Some of the initiatives they have put into place include using gender-neutral language across job adverts and internal memos, implementing mandatory 'Unconscious Bias' training for all employees with hiring responsibilities and creating a diversity toolkit for all members of the recruitment team.
Inclusive work culture
If a business or workplace gains a reputation for having a hostile environment for women, it will obviously discourage potential female recruits and make it harder to retain female employees. It's important for companies to constantly reevaluate workplace practices to ensure they align with new diversity and inclusion initiatives.
One way to do this is to send out surveys to employees, that way the workforce can provide honest feedback on culture-related issues and suggest solutions. Introducing minimum requirements can also work towards making the workplace more inclusive, for example, companies can insist on having at least one female employee on internal committees that vote on workplace issues, diversity initiatives, partnerships, and dress codes.
Rachel Burton, director of HR for Engineering in EMEA at Facebook discussed the importance of promoting an inclusive work culture: "We help people who work here expand their skill sets—including their capabilities to build inclusive team environments where everyone is seen, heard and valued. We provide a variety of programs such as Be the Ally or Managing Inclusion dedicated to helping people find community, understand the importance of diverse perspectives, tackle bias, and participate in building an inclusive workplace."
At Sage, they recognise that having an inclusive workforce is hugely beneficial to innovation. "At Sage, it is crucial that our teams reflect the diversity of the customers we serve" explains Debbie Wall, EVP Sage Foundation and Diversity and Inclusion. "We recognise that colleagues need opportunities to contribute ideas, grow in their careers, manage work and home life and make a difference to the communities they live in."
Equal promotions
Representation is a powerful tool when attracting and retaining female tech talent. By visibly promoting and championing equality, a company's reputation can be boosted, and a positive precedent is set. Recruitment and retention are very closely linked, for example, if a female candidate sees women within the company in senior positions, it can encourage them to strive for the same.
Siân Allsopp from Morgan Stanley highlighted how effective diverse interview panels are: "I was put before several senior women during the interview process (for Morgan Stanley) and heard about the firm's collaborative, diverse and progressive culture. It showed a real understanding by the firm to put me in front of those women and proved to me there was a pathway here for me."
To work towards a greater number of promotions, Sparta Global have implemented training initiatives that actively champion and nurture female tech talent. Gaia explains: "Our trainees receive free, commercially relevant technical training. This means that our female hires can develop the fundamental skills they need to thrive in their careers long-term, irrespective of background or previous experiences. Once on the job, our female consultants benefit from on-going support and mentoring, so they can continue to upskill and advance their careers."
Empower women in the workplace
One of the most positive ways that will help encourage new female tech talent, retain them and improve long-term engagement within a role is to develop mentorship programs and employee resource groups, specifically for women.
At Aviva, they are focused on empowering women with some exciting new initiatives. Claire highlights some of these: "We have a number of colleagues trained to deliver and run Google #IamRemarkable sessions. Since summer 2019 we have had c.200 people through the programme. The objective of these sessions is to empower underrepresented groups to speak openly about their accomplishments in the workplace and beyond."
Alongside this, Aviva run a leadership programme called 'Accelerating Leadership from the Inside Out' which is committed to building a more inclusive leadership profile. It invests in the development of high potential women leaders to accelerate their development within the organisation.
An alternative way to empower women in the workplace is by making employees who have returned to a career in tech after a break more visible through social media and communications. On average, employees usually have a network that is 10 times larger than your company's follower base, especially on LinkedIn.
At Avanade UK, they recently launched a monthly 'Moments that Matter' blog series that highlights role models across the organisation that people can relate to and aspire to be like – touching upon topics such as working parents, disability, mental health, LGBT+, cultural diversity and more.
Develop a diverse pipeline of women in tech 
A good way of working towards gender parity within a company is to partner with organisations that solely focus on getting more women into STEM roles. Attend diversity events, advertise job vacancies on specific portals and ask for advice on the best practices to follow when developing and nurturing a diverse pipeline.
At STEM Women we are on a mission to address the gender imbalance in STEM. We host a number of networking and careers events for female STEM students and graduates, alongside experienced events for women currently working in industry. Our events allow attendees to meet face-to-face with top employers and female role models, grow their professional networks, engage with skills sessions and hear inspirational talks and panel sessions.
We also offer a range of digital services, from job board and social boosts, to sponsored creative content, newsletter inclusion and social media takeovers.  With over 4,000 newsletter subscribers, around 60,000 website visitors last year and over 13,000 combined social media followers, we have an ever-growing community of women in STEM.
Follow us on LinkedIn, Facebook and Twitter to stay up to date with all the latest news and event information.