Women in STEM USA Statistics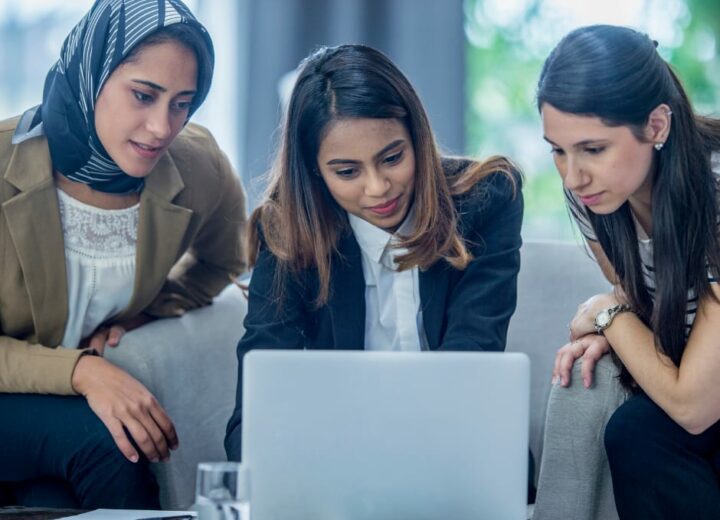 STEM-related occupations are some of the fastest-growing industries in the US and across the world. In recent decades, the STEM workforce has grown rapidly, with the Bureau of Labor Statistics projecting continued uptake and even a boost in employment following the coronavirus pandemic.
Despite making up almost half of the workforce in the US, women are still vastly underrepresented in the science, technology, engineering, and math-related (STEM) workforce. This underrepresentation is also seen in education, with fewer women and girls taking STEM-related courses at school and college.
Using data from the US Bureau of Labor Statistics and the AAUW, we wanted to take a closer look at some women in STEM USA statistics.
Women in STEM USA Statistics
Women and Girls in STEM Education
In elementary, middle, and high school, the number of girls and boys who take maths or science courses is roughly equal, and this split remains constant when girls and boys leave high school and prepare to pursue STEM-related majors in college.
However, the split then begins to become unbalanced as more men pursue STEM majors than women. Research has found that in first-year college students, women are much less likely than men to say that they intend to major in STEM.
When we come to graduation, women are outnumbered in the majority of science, maths, and engineering fields. In 2018, women earned 36% of STEM degrees. However, certain areas of STEM are much more underrepresented than others.
In health-related and life science fields, women earn a large share of degrees. In biological and life sciences, women earned around 62% of degrees in 2018. However, for other areas of STEM, they are in the minority. For the 2017-2018 academic year, women secured 22% of all bachelor's degrees in engineering, and just 19% of degrees in computer science. In advanced degrees within these fields, just 3 in 10 were earned by women.
Despite the STEM industry rapidly growing and a greater number of new and innovative jobs being created, the share of STEM degrees earned by women has remained constant at 36% for the past 20 years.
In fact, the share of women completing computer and information science courses has fallen by 10% since 1990, even though this is one of the sectors seeing the fastest growth in the jobs market.
Women in the STEM Workforce
Currently, women make up just 28% of the STEM workforce in the USA. This share has increased dramatically over the years, with women only making up 8% of STEM workers in 1970, but there are still clearly imbalances.
For the past 30 years, women have been consistently represented at roughly 25% of the STEM workforce in the USA.
The representation of women in STEM does vary when you look at particular industries within the STEM workforce. For example, since 1970, women have made significant gains in certain areas within STEM, particularly social sciences, increasing from 19% in 1970 to 64% in 2019.
Similarly, in 2019, women made up around half of those in math (47%) and life and physical science (45%) occupations, which closely matches the share of women in the overall workforce.
However, in some of the most sought-after skill sets and fastest-growing industries in the United States, the representation of women is worrying low.
Women currently make up just 15% of engineering professionals and 25% of computing workers. Over the years, these sectors have either remained stagnant or have seen decreases in representation. In engineering, women made up 12% of the workforce in 1990, which has increased by a minuscule 3% over the years. In 1990, 32% of workers in computer occupations were women; today, women make up 25%, unchanged since 2016.
Women in STEM Occupations USA – 2019
​
The Growth of STEM Industries in the US
As you can see, the gender gap in STEM is particularly high in the fastest-growing, highest-paid and some argue, the most influential, jobs of the future.
In 2018, the national STEM workforce comprised 11.2 million employees, equating to a 9% increase in STEM jobs between 2016 and 2018. The demand for STEM talent increased by 66% since 1990.
The technology, computing, and engineering sectors have seen exponential growth in recent years, with no sign of things slowing down. That has meant the number of jobs has increased, and according to the United States Census Bureau, these occupations comprise around 80% of the STEM workforce.
Industry Share of Jobs in STEM – 2018
According to research conducted using national job posting data which identified STEM jobs associated with a significant increase in the number of positions in the last five years, the fastest-growing jobs in the US are –
DevOps engineer
Data engineer
Computer Information research scientists
UX designers
Surveyors, cartographers, and photogrammetrists
Maintenance technician
Gender Pay Gap in STEM
According to the Bureau of Labor Statistics, women in STEM earn $20,000 less per year than men, the pay disparity increased by 3% between 2010 and 2015 and has remained stable at 23% in recent years.
In 2018, the average national salary for men in STEM occupations was $82,779, compared with $63,759 for women.
However, extensive research conducted by McKinsey & Company's 2018 Women in the Workplace report has shown that the gender pay gap is not solely due to pay disparities for equal-level positions, but rather largely as a result of less female representation in higher-level, higher-paying positions.
Addressing the Gender Imbalance: STEM Women USA
At STEM Women, we're on a mission to address the gender imbalance in STEM. We host a number of networking and careers events across the UK, Ireland, Europe, Australia, and the USA, dedicated to helping more women enter into STEM careers.
Our events provide employers with the opportunity to introduce their graduate opportunities, speak on a panel, list their job roles online and reach out to the attendees immediately after an event.
On Thursday 9th September, STEM Women will be hosting a virtual Graduate Careers Event for students, recent graduates, and employers based in the US. If you're interested in exhibiting at our event, get in touch with our Event Sales Manager, Lauren Jenkins at laurenj@stemwomen.co.uk.
Visit our events page to find out more and follow us on LinkedIn, Facebook, and Twitter to stay up to date with all the latest news and event information.