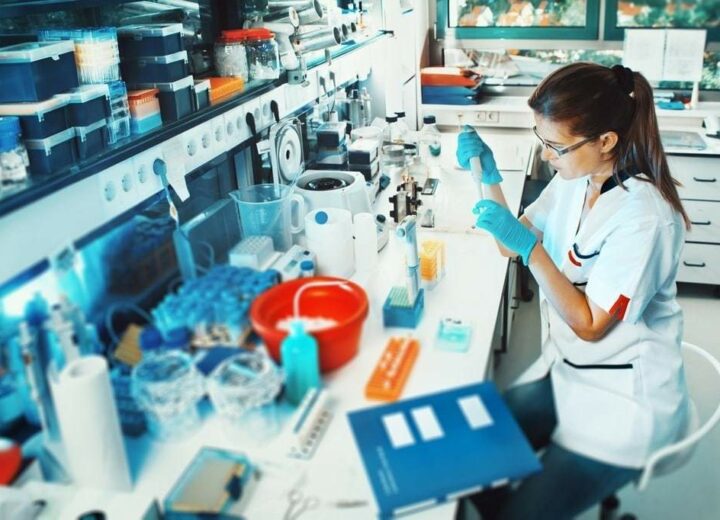 Firstly, let's start off by saying, there is no such thing as a job for a woman in STEM, no more than there is a job for a man in STEM; as long as you have the relevant qualifications and skills then your gender shouldn't matter. However, it is a fact that women are hugely under-represented within the STEM industry. According to the WISE Campaign, women make up 22% of the workforce in 2018. When you break down the numbers further the picture doesn't get much better. Only in Science do women make up more than a quarter of the entire workforce.
| | |
| --- | --- |
| Profession | % of women* |
| Engineering professionals | 12% |
| Science professionals | 43% |
| Science and engineering technicians | 27% |
| Management | 13% |
| IT professionals | 16% |
| IT technicians | 17% |
| Skilled trades | 8% |
*All data from WISE 2018
The issue of gender inequality in STEM is well documented and is being addressed by a number of initiatives across the country. At STEM Women we are also trying to make a difference, our female-focused events that are designed to bring students and graduates of STEM subjects and employers together.
Well paid jobs for women
In the UK, the average annual salary in 2018, according to the Annual Survey of Hours and Earnings by the Office of National Statistics (ONS) is £29,588. The average graduate salary in the UK is £23,000 according to Save the Student. When looking across the board, STEM is a well-paid industry and is considered a wealth generator, which is why governments and industry pay so much attention to the current skills shortage.
The average salary for STEM careers in the UK
Below we outline the average salary for a number of popular STEM jobs. Remember these are only averages and take into account remuneration from all levels of roles. These numbers are not necessarily starting salaries. How much you will get paid varies enormously due to a number of factors such as location, where your degree is from, your experience, industry trends and your ability to negotiate a salary.
| | |
| --- | --- |
| Job title | Average salary* |
| Civil engineer | £44,042 |
| Chemical engineering | £42,929 |
| Bioscience | £32,736 |
| Scientist | £41,258 |
| Statistician | £48,000 |
| Electrical engineering | £37,149 |
| Data analyst | £42,833 |
| Software engineer | £52,781 |
| Physicist | £38,724 |
| Lab technician | £28,158 |
| Pharmacy | £42,080 |
*Data taken from Adzuna in March 2019. Statistics are based on their database of over one million jobs ads and does not take into consideration any gender pay gaps.
As we can see, almost every job in the table above is higher than the ONS average salary. According to Adzuna figures, the national salary is £33,930, however, all roles in the list above with the exception of lab technician and bioscience are higher than Adzuna's average. So, no matter which number you benchmark against, the outlook salary-wise, for STEM is positive.
Jobs in STEM that women do dominate
It might be surprising, but there are some areas of STEM that women do dominate; these are pharmacy, bioscience, lab technicians and teaching some of the STEM subjects. 61% of pharmacists on the General Pharmaceutical Council's register in 2017 are women and 61% of UK bioscience postgrads are women (2011/12). According to Women in Public Life, the Professions and the Boardroom 2010, 53% of lab technicians are women. However, as you move up the seniority level the number of women in these jobs falls to a minority.
When it comes to teaching the STEM subjects, a report by the Royal Society back in 2006 showed that in all but physics and mathematics, more women were accepted on to PGCE courses for STEM subjects such as biology, chemistry and general sciences than men.
While there are some areas of STEM where women are starting to become a majority, many of these roles are not the highest paying. Looking at the average salary table above, bioscience and lab technician are two of the lowest paid jobs on the table, and both are dominated by women.
The STEM gender pay gap
The gender pay gap in STEM is a big issue. According to the New Scientist, women working in science and engineering earn a fifth less than their male colleagues in the UK; and the gender pay gap increases with age and experience. The publication carried out a salary survey in 2017 and also found that the average salary for a man in the UK in 2017 was £41,200 and £33,000 for a woman – a difference of 20%.
IT, business analysts, architects and system designers also have a 20% pay gap. Those working as production managers, directors in mining and energy or energy plant operatives had the biggest pay gap with 49% and 48% respectively according to an ONS 2018 report. Across the whole country and sectors, the gender pay gap fell for full-time employees to 8.6%.
Things are improving when it comes to the gender pay gap but there is still a long way to go. Of course, the reasons surrounding the gender pay gap are complex with factors such as career breaks, child rearing and flexible working all playing a part, but the numbers are going in the right direction.
Despite the issues surrounding women in STEM, the STEM industry is still a career path that, for many, have the dual benefits of being financially rewarding and exciting; and, of course, it's as much of a job for a woman, as it is for a man.
At STEM Women Events we try and address the gender imbalance in the industry by organising female friendly events across the country. Sign up to your nearest event today!