STEM Women Host Their First Ever Event in Ireland at The Westin, Dublin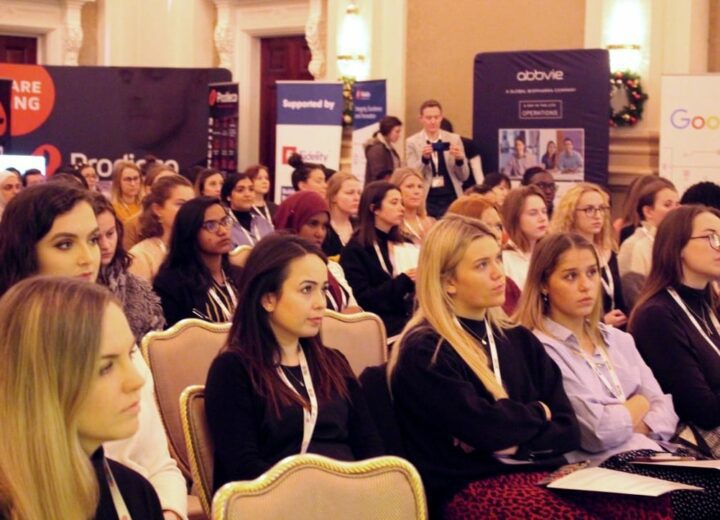 In the STEM industries, gender imbalance in the workforce is still a big issue that needs to be addressed. Women make up 50% of Ireland's workforce, but only 25% of the STEM workforce, according to the Central Statistics Office. With Ireland seeking to become Europe's STEM leader by 2026, many companies are looking to address this gender imbalance.
On Monday 18th November, just over 180 female STEM students came along to the first ever STEM Women event in Dublin to network with top employers and find out about exciting job and internship opportunities.
There was an amazing range of STEM employers exhibiting including Google, Bearing Point, Amazon, Microsoft, Central Bank of Ireland, Bank of Ireland, Prodieco, PM Group, Xilinx, Abbvie, Fidelity, Jones Engineering, Obelisk, Workday, John Sisk and Mercury.
Hosted in the prestigious Westin in the heart of Dublin, the day was hugely inspirational for both students and employers, with both enjoying a full afternoon of networking and engagement. The venue was the perfect setting for the event, with ornate chandeliers, a grand hall and twinkling Christmas decorations that gave the space a festive feel.
The event began at noon in the main theatre space with a welcome talk from Sophie Chadwick, STEM Women events manager. We then introduced three women to the stage, each from a different leading company, to talk to the students about their personal experiences of working in STEM and offer application and interview advice.
First up was Laura Moore, a Senior Business Consultant from Bearing Point. Laura began her presentation with a brief overview about Bearing Point, followed by an inspirational story about her career path from completing her degree in Management Science and Information Systems Studies at Trinity College Dublin, to securing her first role at Bearing Point and moving up the career ladder.
She also described how she overcame her fears during the first few weeks of her new job: "When I first started, I was actually client-facing within the first 2 weeks, which was all a bit daunting and to be honest I was worried because there was a lot to get up to speed within a short amount of time. But the support from the team was always there and I was never scared to ask questions and get help. That's something that's always been there throughout my 5 years at Bearing Point, there's always someone to help out when you need it."
After Laura's presentation, we welcomed Dr Jennifer Petoff, a Global Program Manager at Google. She has worked at Google for 12 years, starting out as a training specialist, she then worked in AdWords and finally took the leap into SRE and engineering for Site Reliability. She started by giving the students an overview of how she began her journey by studying Chemistry and Psychology at university and then going on to complete a PhD in Chemistry from Stanford University.
"I didn't choose chemistry because it was easy, I chose chemistry because it was hard. You tell people that you've studied chemistry and they say, 'oh I hate chemistry, it was the worst', and I'm like 'no it's the best!' I think it's important not to shy away from challenging subjects, because they can really serve you well."
After she had graduated, Jennifer then described how she realised she preferred working with people, rather than in a lab, and so started to work in university outreach.
"I was so surprised but Google actually reached out to me on LinkedIn and said, 'you have this background in sciences, but you also have this university outreach experience, have you ever thought of coming to work for us?' I mean at first, I was like, 'what does Google want with a chemist!' But, of course, I was curious and one of my mottos is no opportunities wasted!
"I learned that STEM is an amazing foundation. Studying science gave me the building blocks to do all these different things, it gave me the opportunity to transfer into a huge range of different roles at Google."
And finally, we heard from Ann Sylvester, an Operations Manager at Amazon. She talked to the students about her role at Amazon, what it involves, the constant innovations the company is striving for and the overarching importance of the customer. She also went on to highlight Amazon's commitment to diversity and change:
"I manage a very large team and I have one of the most diverse and inclusive teams at Amazon which I am hugely proud of. Amazon has gone to great lengths to ensure that inclusion and diversity is a big part of the culture. But there's still a way to go, technically I am actually the only Operations Manager that's a woman in Ireland. So, we need more!"
When the presentations ended, students were invited to grab some lunch and begin networking in the two large rooms. Employers were eagerly waiting to answer questions, offer advice and promote the opportunities available at their companies. There was instantly an excited buzz in the room as conversations were started, CVs were passed over and people connected.
Our first STEM Women event in Ireland was a huge success, with both students and employers extremely happy with what they got out of the day. We are so proud to introduce so many female STEM students to inspirational employers and continue to branch out of the UK!
One representative from Mercury Engineering described the event as: "very engaging and a great opportunity for women to learn about various industries, thus balancing diversity, gender equality and inclusion."
At STEM Women we host a number of events across the year, for more information, visit our events page. You can also become a STEM Women member and hear news of our upcoming events first.
Are you an employer looking to exhibit and talk at one of our events? Get in touch with our team today and be part of the next STEM Women event.