Come along to our Ireland STEM Careers Event, Sponsored by Ball Corporation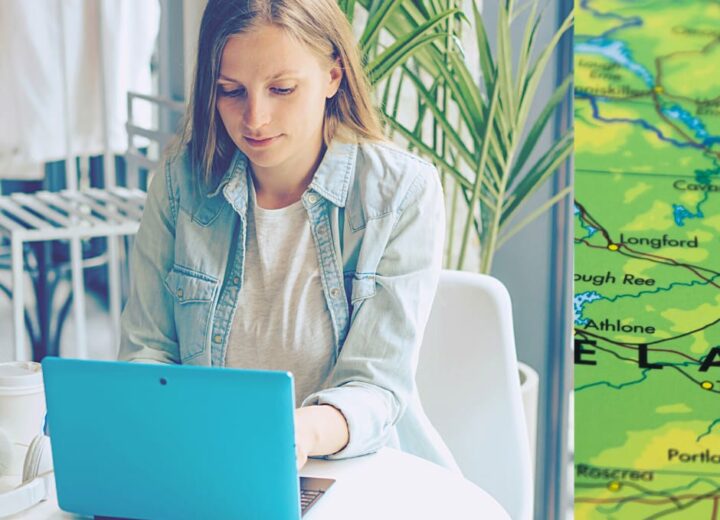 On Wednesday 6th October, we will be hosting our Ireland STEM Careers Event, sponsored by Ball Corporation. This event is targeted towards students and recent graduates who identify as female or non-binary and are looking to start their careers in a STEM industry.
The event allows attendees to network live with top STEM employers via webchat, voice and video call, as well as apply for roles, watch live presentations and ask their questions during a Q&A panel session with women working in STEM. We held our first Ireland focused STEM Women event in autumn 2019 at The Westin Hotel in Dublin. It was aimed at female and non-binary university students studying any STEM subject and included 16 employers from different industries. We registered over 450 students for this event.
Our 2020 event was moved online and attracted over 830 sign ups and 14 exhibitors! Attendees were able to hear first-hand accounts from women working in various roles, watch a live panel discussion, webchat with hiring managers and apply for jobs on the platform!
We have already signed up 12 companies, with many more to be announced.
Who is exhibiting?
The following companies will be exhibiting…
3M
AquaQ
Ball Corporation
Bearing Point
Breedon
Dornan
Eirgrid
HPE
Intel
Liberty IT
London Business School
Nikon
PPD
PwC
Riot Games
Stripe
VMware
Xilinx
Provisional Event Timings:
Noon – Event begins in the 'Live Presentations' area, with a welcome talk from STEM Women and our event sponsor, Ball Corporation.
12.15pm – Panel discussion with women working in STEM. Ask questions and gain a fascinating hand insight from inspiring panellists.
12:50pm – Live networking begins and continues until the event ends. Attendees can visit company stands, network with employers and search live jobs!
1:30pm – Live employer insight talk in the 'Live Presentations area' from PwC.
1:55pm – Second live employer insight talk from VMware.
2:20pm – Third live employer insight talk from Ball Corporation.
2.45pm – Fourth live employer insight talk from Bearing Point.
3:10pm – Fifth live employer insight talk from 3M.
3:35pm – Sixth live employer insight talk. TBC
3:55pm – Networking focus – having been inspired by our speakers, panellists and companies, be sure to use the last 35 minutes of the event to network and apply for job roles you're interested in.
4:30pm – Event ends.
What our exhibitors are looking forward to…
Ball Corporation:

"We can't wait for the opportunity of meeting a whole host of female talent, and breaking those stereotypes about embarking on a career in manufacturing.  We are looking forward to showing you how exciting and dynamic joining the Ball Family can be."
Joan Gover, Breedon:

"While we strive to ensure that our employees enjoy a caring work environment in terms of health, safety and work-life balance, we also recognise the benefits of a diverse workforce and are actively encouraging more women to join the industry. We know that women in STEM roles can use their unique experiences to develop exciting new ways to innovate and problem-solve and we welcome the opportunity to showcase what we have to offer here at Breedon Group."
VMware:

"VMware is thrilled to attend this year's STEM Women Ireland Event – each year we get the privilege of meeting women whose passion for technology and having a positive impact on the world aligns with our own. This event is a highlight to our year!"
Addressing the Gender Imbalance in STEM Ireland
According to the Central Statistics Office, in 2018, women still only comprised 25% of Irish citizens working in STEM.
When we look at specific industries, 13% of 2018 engineering graduates were women and 12% of engineering professionals were women in 2019, according to Engineers Ireland. This reveals a severe lack of representation across graduate and workforce level.
In IT, 21% of ICT specialists in 2017 were women, this figure was 30% in 2004, according to statistics from European Institute of Gender Equality.
Register Today!
Students can register for their free ticket here – https://stemwomenevents.com/event/5176
There are still a few spaces left for exhibitors at the Ireland STEM Careers Event, for more information please contact Event Sales Manager Lauren Jenkins at laurenj@stemwomen.co.uk
STEM Women Events
Alongside the STEM Women Ireland Careers Event, we are also hosting a UK Financial Services Industry Event, a UK Technology Industry Event, a UK Engineering event, and general STEM careers events for Scotland, England and Wales, London and the Benelux Region.
Visit the STEM Women (www.stemwomenevents.com) events page to find out more, and follow them on LinkedIn, Facebook and Twitter to stay up to date with all the latest news and event information.
Form ID:3033