Must Read Books for Women in Tech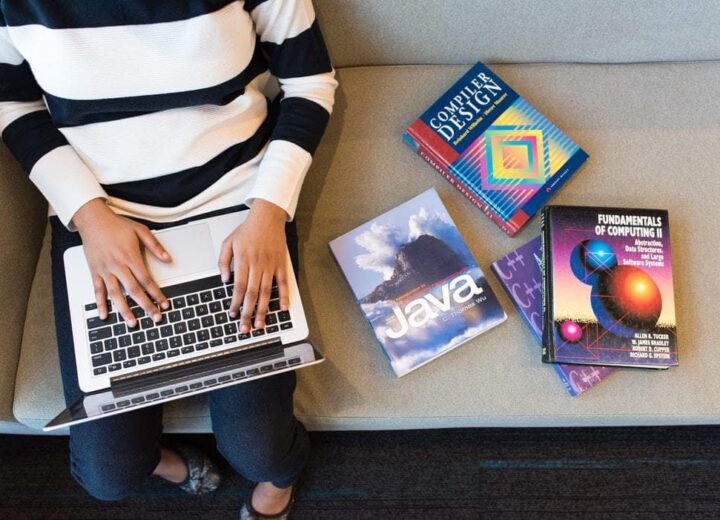 In the UK, women account for just 17 per cent of workers in the tech sector, with the proportion of women working as system designers and IT business analysts falling to 14 per cent, and further still to just 13 per cent of programmers and software developers, according to the Office of National Statistics. Gender diversity in tech is a big topic and one that we are very passionate about. We've put together a list of some of the must-read books for women in tech.
These books offer everything from practical advice on things like CVs and interview techniques, to discussions on unconscious bias in the workplace, inspiring stories from female entrepreneurs, and the exciting future of technology. We hope these books will help expand your knowledge, inspire, empower and most importantly discover more about the amazing technology industry.
Female Innovators at Work: Women on Top of Tech by Danielle Newnham
This book features 20 interviews with female innovators who have climbed to the very top of their career ladders within tech. It features Martha Lane Fox, Lynda Weinman, Gwynne Shotwell and many more, and focuses on the different ways women have made it to the top of their professions and offers advice on how to achieve career goals. If you are an aspiring tech entrepreneur, this book is perfect for you.
Women in Tech: Practical Advice and Inspiring Stories from Successful Women in Tech to Take Your Career to the Next Level by Tarah Wheeler
Next up in our list of books for women in tech is one of the most widely read. It provides insights, practical career advice and inspiring stories about real women working within the technology industry. These stories feature a range of fantastic role models, including Brianna Wu founder of Giant Spacekat, Angie Chang founder of Women 2.0, Katie Cunningham, Python educator and developer, Keren Elazari, TED speaker and cybersecurity expert, Miah Johnson, senior systems administrator, Kristin Toth Smith, tech executive and inventor, and Kamilah Taylor, mobile and social developer. The book shares some of the best way to structure a tech CV, how to succeed in a tech interview, ways to negotiate salary, and much more. Wheeler tackles the unconscious social bias that women are not a good fit for tech roles by busting this myth wide open and using her knowledge to champion women in tech.
Women of Color in Tech: A Blueprint for Inspiring and Mentoring the Next Generation of Technology Innovators by Susanne Tedrick
Another fantastic book that focuses on the need for more diversity in technology. Written by Susanne Tedrick, this book offers practical advice and fascinating stories that aim to encourage more women of colour to enter into the tech industry. Tedrick provides tools and advice for getting into the right mindset to succeed, alongside breaking down the types of jobs that are available in tech – it isn't just coding!
Pivot: The Only Move That Matters Is Your Next One by Jenny Blake
If you are looking for a career change, maybe to a new industry or a change in job role, Pivot is a hugely inspiring book which sets out some of the best ways to move into tech, as a woman. Jenny Blake is a fantastic writer who has worked for a small tech startup, as well as Google for 5 years. The book offers tools and advice on how women can navigate their career and make important choices to progress into different fields.
Brotopia: Breaking Up the Boys' Club of Silicon Valley by Emily Chang
In this book, Emily Chang calls upon her experience interviewing top tech executives and investors as the executive producer of Bloomberg Technology, a TV show focused on global technology. Brotopia highlights just how male dominated Silicon Valley is, however, it also reveals the fight back from women against the sexist and toxic workplaces that are rife within the technology industry. One of the best and informative books that deals with gender diversity within tech, it is well worth a read!
Life in Code: A Personal History of Technology by Ellen Ullman
Next up is Life in Code by Ellen Ullman, a recognised publisher and computer programmer with an amazing technological mind. The book explores the development of artificial intelligence and how computers and technology impacts society. For women working in tech, this book can help you learn more about the advancements in technology over the past 20 years and look to master the next 20. Ellen Ullman has also published Close to the Machine, arguably one of the best technology books alongside this one.
Technically Wrong: Sexist Apps, Biased Algorithms and other Threats of Toxic Tech by Sara Wachter – Boettcher
Looking to learn more about the ethics of technology? Technically Wrong provides in depth insights into biases and ethical issues that arise from new technology. From the process in which tech products are made, to the lack of diversity in tech teams and how many new products are arguable made with only men in mind. The book offers a fascinating look into this growing issue, leaving the reader to make more informed and better choices when considering which tech to use.
Reset: My Fight for Inclusion and Lasting Change by Ellen Pao
Ellen Pao is a diversity and inclusion activist and former Reddit CEO. Reset is a first-hand account of a lost workplace discrimination lawsuit, which from the outset looks like a defeat, but instead sparks crucial conversations, which are similar to the powerful #MeToo movement. In 2015, Pao challenged Kleiner Perkins, one of Silicon Valley's top venture capital firms, reporting the alleged bias and discrimination she had experienced whilst working at the company. Following the lawsuit, a number of gender inequality lawsuits were subsequently filed against tech firms, which was described as the "Pao effect". Whether you have experienced gender discrimination, or been witness to it, this is a hugely powerful book and must read for women in tech.
Girl Code: Unlocking the Secrets to Success, Sanity and Happiness for Female Entrepreneurs by Cara Alwill Leyba
This book is perfect for female entrepreneurs, professional women and anyone who wants to work on improving their happiness at work. It aims to teach the reader how to build confidence, neutralise jealousy and learn the importance of building connections and networks with people in your industry. This book helps people find happiness both in their careers and personal life, enabling women to be champions of each other and think more positively.
Nice Girls Don't Get the Corner Office: Unconscious Mistakes Women Make That Sabotage Their Careers by Lois P. Frankel
Nice Girls Don't Get the Corner Office is a fascinating look at how women are perceived in the office, the language they use and the unconscious mistakes they make. This book questions whether women are 'too nice at work' and whether they act differently to men. It is an eye-opening read which will certainly make you think twice about certain office scenarios and how you could approach them differently in future.
Own It: The Power of Women at Work by Sallie Krawcheck
Next up is Own It, written by Sallie Krawcheck, CEO and co-founder of women's online investment platform Ellevest. In this book, Krawcheck draws upon her personal experiences as an entrepreneur and a woman in tech to give readers advice on how to gain the power to elevate their careers. She highlights how women have the right to play a significant role in business and that the power to do this is within their grasp.
Machine, Platform, Crowd: Harnessing Our Digital Future by Andrew McAfee and Erik Brynjolfsson
Not specifically for women in tech, instead this book focuses on the future of technology, highlighting the importance of keeping your finger on the pulse when working in this industry. It offers fascinating insights into integrating the strengths of humanity and technology to establish a better future. It features themes including machine intelligence, big data, and the sharing economy. If you are an AI enthusiast or would like to learn more, this is an essential read.
The Lean Startup: How Constant Innovation Creates Radically Successful Businesses by Eric Ries
Are you thinking of launching your own startup? The Lean Startup is a fantastic book which sheds light on how do to do it successfully, by testing the reader's vision. Ries provides a scientific approach to creating, launching and managing a startup, in a technologically advanced environment where companies need to constantly react to outside factors. A fascinating read for any budding entrepreneurs and one of the best books for women in tech.
STEM Women Events
At STEM Women we are on a mission to address the gender imbalance in STEM. We host a number of networking and careers events for STEM students and graduates for people who identify as female or non-binary. Our events allow attendees to network with STEM employers, hear inspiring talks from women working in STEM and take part in panel sessions.
View our upcoming events line up and sign up today! 
For employers looking to exhibit, get in touch with our Event Sales Manager, Lauren Jenkins at laurenj@stemwomen.com.
We also offer a range of digital services, from job board and social boosts, to sponsored creative content and newsletter inclusion.  Follow us on LinkedIn, Facebook and Twitter to stay up to date with all the latest news and event information.