Meet our Event Sponsors – Capgemini Invent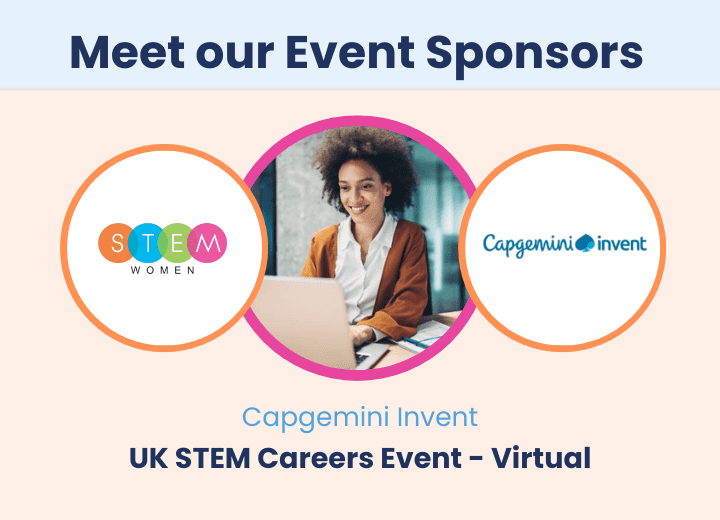 We are delighted to announce that Capgemini Invent will be sponsoring our upcoming virtual UK Wide STEM Careers Event on Wednesday 22nd February 2023!
Ahead of the event, we caught up with the team at Capgemini Invent to discover more about the company, the exciting graduate opportunities they have available, and why they are passionate about women in STEM.
Who are Capgemini Invent?
"At Capgemini Invent, we help our clients to embrace innovation and transformation to get the future they want."
"By combining strategy, technology, data science, and creative design expertise with an inventive mindset, we partner with our clients to innovate and transform their business, helping them navigate today, while plotting a course for the future."
"From visionary CEOs seeking the next market disruptor to CMOs reimagining engagement, we engage with clients to accelerate from ideation to prototype to scalable products, services, and experience. As part of Capgemini Group, we challenge and transform the status quo, drive growth, and help them get the future they want. Located in more than 36 offices and 37 creative studios around the world, it comprises a 10,000+ strong team of strategists, data scientists, product and experience designers, brand experts and technologists who develop new digital services, products, experiences and business models for sustainable growth."
Why have you chosen to sponsor this event?
"We foster an inclusive culture that enables everyone to achieve their full potential and enjoy a fulfilling career with us. Our comprehensive flexible benefits package and lifestyle policies enable our employees to balance their individual, family, and work-life needs."
"Capgemini Invent is committed to creating the conditions for women with STEM training to have equal employment opportunities, to carry out a profession that enhances their skills through company processes of selection, retention, talent development, total rewards."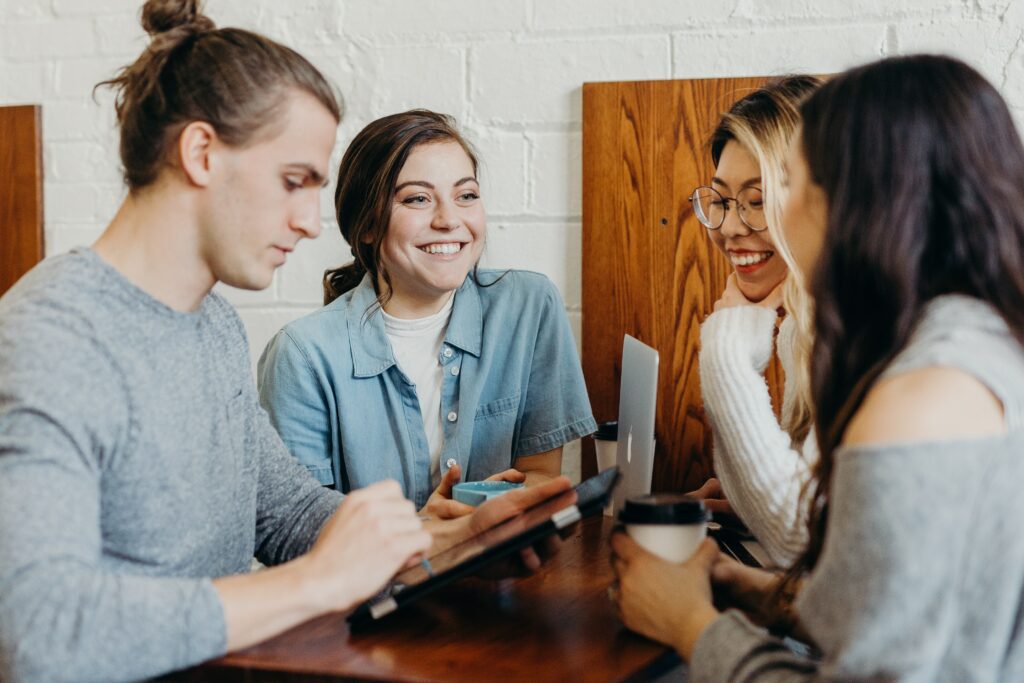 "The jobs of the future will be driven by technology and innovation and if the gender divide found in engineering and STEM subjects is not soon bridged, the general gender gap is likely to widen. We at Capgemini Invent, choose to support women in STEM to ensure everyone is empowered to realise their career potential. Our Women & Allies @ Capgemini Invent network, which is made up of some of our inspiring colleagues, actively works to push forward inclusive initiatives and champion our female talent."
What opportunities do you have available to attendees?
Applications are now open for our Accelerate Programme! We have 9 pathways for you to choose from this year, and places are filling up fast. The pathways that are currently open are:
| | |
| --- | --- |
| Area | Location |
| II | London |
| W&O | Glasgow |
| E&U | Glasgow |
| FS | Manchester |
| FS | Glasgow |
Please still register an interest for any areas that you like as you'll be notified when we're accepting applications again.
Capability Units
Analytics & AI – The Analytics & Artificial Intelligence (A&AI) team collaborate with our clients to improve their use of data and enable them to become truly data-driven enterprises. We've built a successful team of experts in a variety of fields such as Data Science, Data Strategy, Cloud Platforms, Data Visualisation, Intelligent Automation, Business Intelligence and Data Governance. By leveraging these capabilities, we solve complex industry problems across a variety of sectors.
Business Technology – We are a trusted technology consulting & transformation business partner to our clients' Chief Digital Information Officers (CDIOs) and the global Capgemini Group.  We combine emotional intelligence, human-centric design and technology expertise to digitally transform our clients' web and workplace experiences.  We are successful in achieving this through our end-to-end portfolio of digital transformation service offers – Strategy, Design, Delivery, Architecture, Security and Change Management.
frog – The frog pathway specialises in creativity, strategy, design, and data to re-invent businesses, drive growth, and orchestrate customer-centric transformation.
Intelligent Industry – The Intelligent Industry (II) pathway leverages a human-centric approach to transform and reinvent our ways of working, our connection with each other and our customers and suppliers. To stay ahead, leading industrial companies must transform and contribute to the world's sustainability agenda, rethink their entire value chain and look at the market with a new lens. Addressing fast paced technology disruption with Intelligent Industry means transforming innovation, design, manufacturing, supply chains and services. It also means doing so at scale and sustainably to create more value for all stakeholders incl. the society, customers and employees.
Workforce & Organisation – The Workforce and Organisation (W&O) pathway specialises in accelerating transformations across our clients' employee experience, workforce, and change programmes. We deliver this through people-led change empowering our clients to deliver transformations throughout their business. The day-to-day tasks can vary from designing workshops, creating engaging communication material, and mapping out user journeys.
Enterprise Model & Strategy – The Enterprise Model & Strategy (EM&S) pathway helps organisations to structure their operations and devise winning strategies across a range of industries and capabilities.
Sector Units
Financial Services – The Financial Services (FS) pathway is designed for talented graduates passionate about FS, who are looking to combine strategy, creative design, transformation and technology. The programme will instill an inventive mindset to help you shape and deliver our clients' most important strategic activities.
Public Sector – The Public Sector (PS) pathway is designed for those passionate about making a positive difference through the work they do with ministerial departments, agencies, and other entities in the Public Sector. The day-to-day tasks can vary from: assisting with the implementation of Government policy across Healthcare, Home Affairs, Policing, Justice, Defence, Education, Tax, Environment, and other areas.
Energy & Utilities – The Energy & Utilities (E&U) pathway focuses on driving change within companies that comprise our critical infrastructure, across all parts of the sector, including Nuclear, Energy Networks, Energy Transition, Energy Retail and Water. We create the future society needs by partnering with our Energy & Utilities clients to deliver sustainable change, helping them to navigate a transforming world.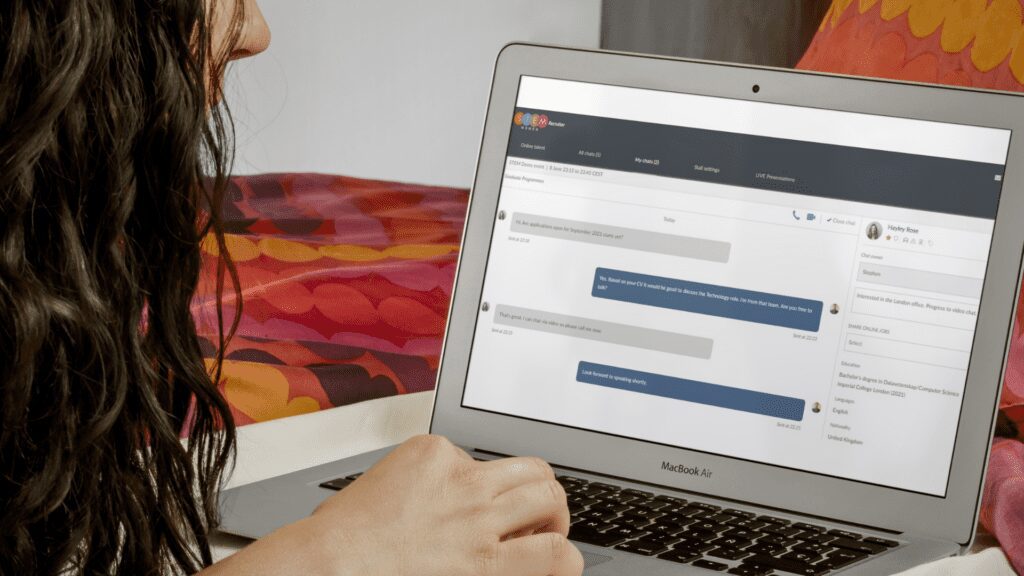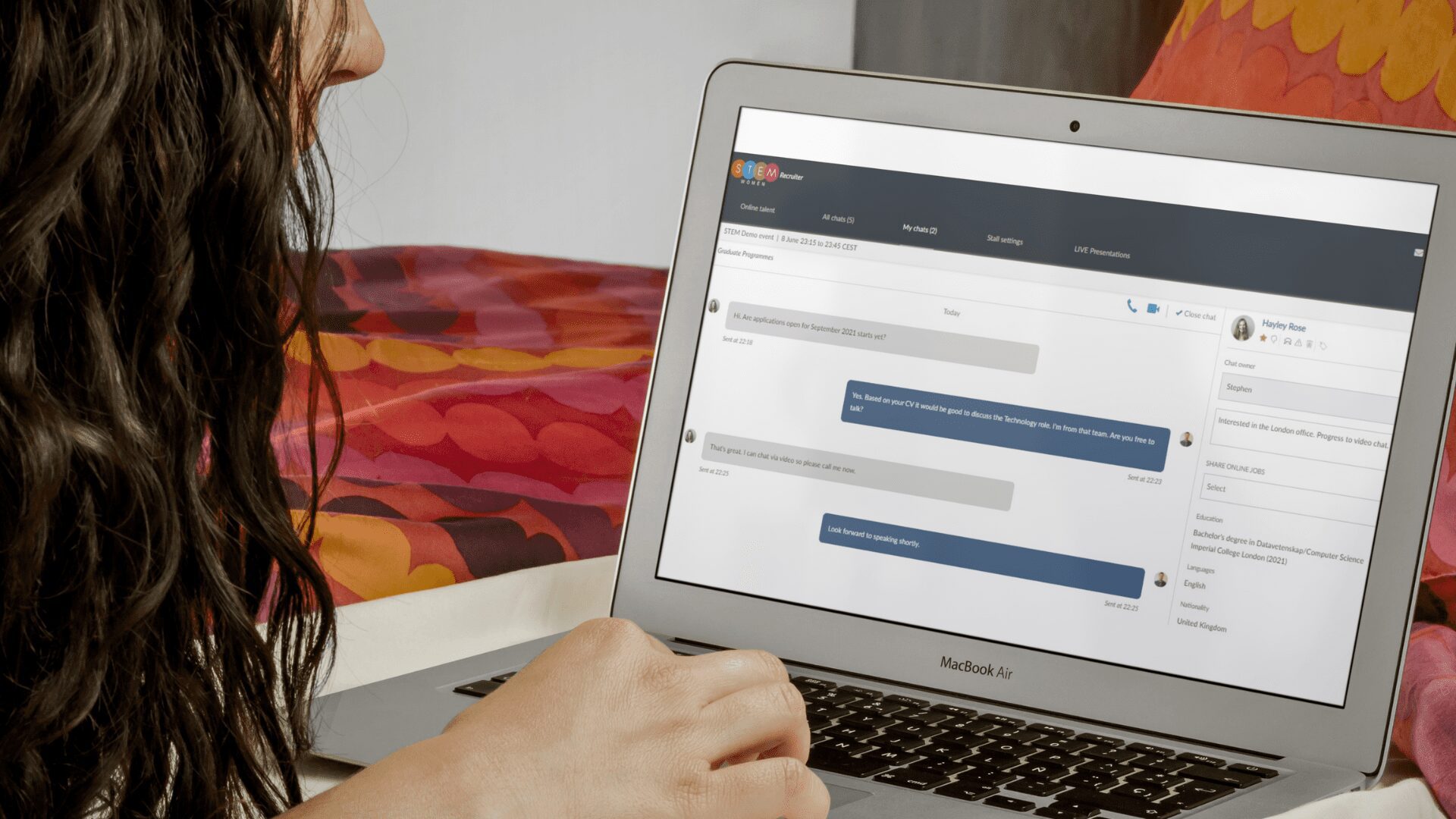 What can attendees expect to hear during your presentations?
"Emma Harvey (Director, Business Technology) will be providing a Welcome Talk to introduce Capgemini Invent. She will provide an overview of the company including our values, mission statement and share some insights on the Accelerate Programme."
"Elisa Sai (Senior director, Analytics & AI) will share her experience on working as a leader in data, driving solutions for clients and give her advice for new talent. Elisa will provide a deep dive into our STEM pathways offered at Capgemini Invent and then talk about her role within the Women & Allies @ Capgemini Invent network."
Do you have any tips for attendees visiting your stall / networking with the team?
"Feel free to visit our virtual stall and start a webchat with our team. You will be able to talk to our presenters, current graduates, and members from the Recruitment Team! We look forward to sharing more details about the opportunities available within the Accelerate Programme and the STEM pathways that are offered at Capgemini Invent. You could also find out about some of our exciting upcoming events that are being hosted in the Capgemini office. We look forward to meeting you virtually you on the 22nd. Come prepared with any questions you may have – don't be shy!"
Capgemini Invent
– At Capgemini Invent, we've partnered with Women in Data to join the movement and to be a force for positive change in the data science and analytics industry. We champion this platform for female and gender diverse data professions and encourage the sharing of technical knowledge and experiences as well as the illumination of women in the industry.
– We've been named on Glassdoor's best places to work 2023. This is our 3rd year running that we've been recognised for this.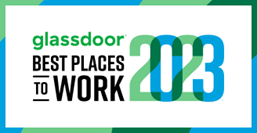 – Capgemini – Proud Worldwide Partner of World Rugby and Rugby World Cup 2021.
Capgemini is the global partner for the Women in Rugby program: https://www.capgemini.com/news/press-releases/womens-rugby-capgemini-becomes-worldwide-partner-for-rugby-world-cup-2021-and-2025/
– Applications for the Capgemini Invent Accelerate Programme 2023 are now open!
The Accelerate Programme is designed to support, guide and motivate the development of our talented graduates to enable them to partner with clients as future inventive minds to aid in transformation as well as provide them with the necessary tools and skills that they need to drive forward change.
Please visit our website to learn more about each pathway and to apply to the one that best aligns with your skillset and interests!
Learn more and apply here – Accelerate Programme – Capgemini UK
STEM Women Events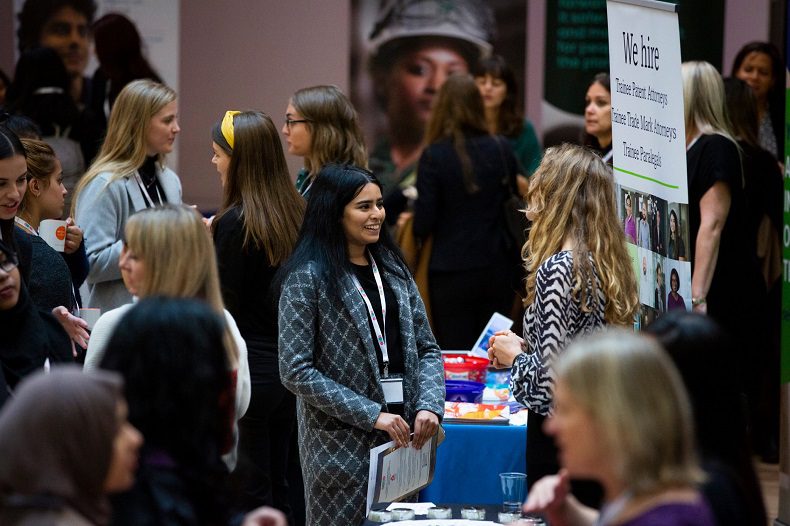 We can't wait to hear from Capgemini Invent at our event! They will be presenting a welcome talk, an employer speaker session, and will have a representative on the panel discussion. Attendees can also message the team through the webchat, set up video calls and apply for live opportunities on the platform.
If you are a STEM student or recent graduate and would like to attend a STEM Women event, check out our events page and register your interest. All our events are completely free for attendees and offer exclusive access to amazing graduate opportunities.