Kick start your career at Assystem, the world's second largest independent nuclear engineering consultancy!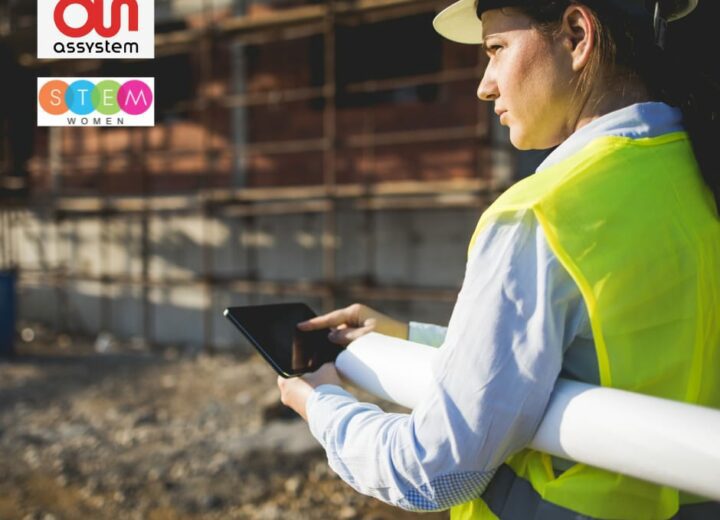 On Wednesday 2nd February, STEM Women are hosting an exciting insight event with nuclear engineering consultancy, Assystem. During the event, attendees will gain a fascinating insight into the nuclear industry and hear about exclusive career opportunities from the recruitment team.
Alongside live networking opportunities, there will also be live sessions presented by the team at Assystem. They will focus on a wide range of nuclear projects that the company work on, the people who make these projects possible and the ways in which Assystem are looking to address the gender imbalance in engineering through their #INCREDIBLEWOMEN initiative.
Attendees will hear from three women working in nuclear at different career stages who will answer live questions from the audience and help debunk any myths about the industry. Plus, there will also be a live panel discussion featuring four Assystem employees who will talk about their roles and the exciting projects they are currently working on.
The Speakers
The final part of the event will be a chance for attendees to use the knowledge they have learnt throughout the day to begin networking with the team and booking 1:1 chats with the recruiters.  In these chats, attendees will hear exclusive tips on the interview process, skills they are looking for and how to make applications stand out from the crowd.
Assystem is committed to the energy transition and digital transformation by promoting the development of carbon-free electricity. Graduates joining the company will enjoy exciting opportunities to support the development of the UKs new low-carbon projects such as Hinkley Point C, and the UK SMR programme as well as fusion energy.
The multi-national engineering firm is seeking to attract candidates who will not only be excellent in their respective field but possess behaviours and attributes that align with the company's culture, where team members are encouraged to collaborate, be agile, resilient and to dare.  Jillian Partington, UK Communications & Marketing Manager at Assystem highlighted the importance of this event to the company:
"This event will help graduates with STEM backgrounds to understand the benefits of a career with Assystem, which include exciting opportunities to support the development of low carbon energy projects such as Hinkley Point C, SMRs and fusion technology.

"We are looking forward to introducing our company to the many talented individuals who have registered for the event, as well as sharing the experiences of our 2021 graduate cohort. If you are interested in a career with an engineering firm that is championing diversity and a key player in the global energy transition, be sure to join us."
Meet Carolina, a past event attendee who now works at Assystem
We hosted a similar event with Assystem last year and we are delighted to be welcoming back an attendee who secured her current role during our event!
Carolina is a Graduate Commissioning Engineer, HPC and will be presenting a session during the day and answering questions on what it's like to work at Assystem.
Could you tell us more about how you got your current role at Assystem?
"I actually first discovered Assystem during my master's degree studies, when I was working on a project relating to the work Assystem had been doing at Sellafield for a nuclear fuel cycle module.
"In my studies, most of the exposure I had to nuclear industry was all about the theory, safety, and the importance of nuclear to achieve energy transition, but it wasn't until the STEM Women event that I understood the magnitude of the role that nuclear and Assystem play to support the UK's Net Zero targets. Learning about the technology that's available to change the way we power our lives made me want to get involved and find out more."
How did you find the Assystem event last year?
"The event last year was very interesting because it gave me an insight into the nuclear industry and what the focus was at that moment for Assystem, and it also showed me that Assystem has women in positions of authority across the whole organisation. It was nice to speak to people of different backgrounds and across different projects and feel that Assystem is a family at its core."
What are you most looking forward to on the event day this year?
"To be able to share with attendees my experience in the graduate scheme so far, what they can expect and what different opportunities they can get involved in as graduates.
"In my work at HPC, I'm currently focusing on the Nuclear Vents and Drains System within the power plant to get ready for the commissioning phase. There's a lot of training at this stage, but it's exciting to be part of the project. Since joining, everyone's been supportive, and I've been made to feel really welcome."
We can't wait to hear from Carolina and all of the representatives from Assystem talk about this exciting industry and their roles within it.
The Event Agenda:
1pm – Introduction to Assystem – Get to know the ins and outs of Assystem as a business, the projects we work on and the commitments that drive the work we do. Presented by Kason Bala, Senior Business Unit Director for Nuclear New Build.
1:15pm – An insight into 'our people' in conversation with Assystem's UK HR Director". Emma Gibbons, HR Director.
1:30pm – Insider perspectives: Want to know what it's like to play a part in solving engineering's biggest challenges? Hear from members of the Assystem team at different stages of their career to give an insight into life at Assystem and ask your questions in our Q&A.
2:00pm – Understanding the recruitment process: A 30-minute talk covering our live roles, what we look for in our candidates and tips on how to stand out from the crowd.
2:40pm – Ask Assystem – Panel style format which sees four representatives from Assystem asked questions about their roles, the projects they work on and what to expect from a career in the nuclear industry.
3:10pm – Opportunity to visit the company stand, watch videos, learn more about Assystem and book your one to one session with a member of our recruitment team!
Register for your free ticket!
If you are interested in attending this event, you can register for your free ticket today!
https://stemwomenevents.com/event/5893
Are you an employer looking to host a similar bespoke event? Get in touch with our team today to find out more information, info@stemwomen.com.