Introducing the STEM Women Assystem Insight Event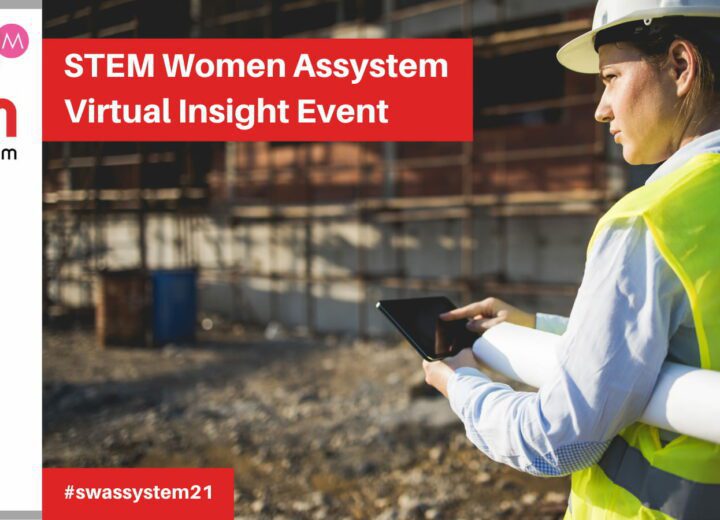 On Wednesday 3rd February 2021, we are partnering with international engineering group, Assystem, to host an exclusive virtual insight event!
This unique recruitment event is part of Assystem's pledge to attract 100 women to UK nuclear roles between 2021 and 2025, as they work towards tackling the industry's gender imbalance.
According to UCAS data, only 19% of those studying engineering at university were women in 2017/18 and this has a major impact on the percentage of women working in technical roles in the nuclear sector – with women today representing 22% of the workforce.
Discover Assystem and gain a fascinating insight into the nuclear industry!
Assystem has been key player within the nuclear industry for over 50 years. Our bespoke event will allow attendees to discover who Assystem are, what they do and what it's like to work at the nuclear industry. The day will feature a series of talks from Assystem's senior leaders, graduates and recruiters, an exciting panel discussion and one-to-one chats with the recruitment team.
The event will highlight the importance of the Assystem culture and the people they employ. The company pride themselves on pushing the boundaries in developing the best technologies for their clients, and ensuring their new employees receive internal training to kick start their careers in nuclear.
The event will attract female STEM students who are interested in starting their careers within the nuclear sector in the South West of England.
Simon Barber, Managing Director Assystem said: "This programme is about doing a better job of promoting the nuclear industry to women with the aim of increasing the number that apply for jobs with us. 

"Nuclear can create low-carbon electricity and climate neutral hydrogen, energy that is vital to power healthcare, our economy and save the planet. 

"Our message to women in STEM is, if you want to be a part of a critical industry that helps to fight climate change, nuclear is it."
New opportunities at Assystem
We have partnered with Assystem to help them promote their new structured technical development graduate opportunities. These new roles mix on-the-job training with Assystem's in-house technical training, mentoring and wider industry recognised training.
They will focus on cultivating technical excellence in specific areas of engineering support to the European Pressurised Water Reactor (EPR), nuclear technology at the heart of the nuclear power stations Hinkley Point C (HPC) and Sizewell C.
This is part of Assystem's gender diversity programme, #INCREDIBLEWOMEN that focuses on the recruitment, retention and evolution of women in the business.
Check out the Event Agenda:
1pm – 'An Introduction to Assystem' with Simon Barber, UK Managing Director.
1.15pm – 'An insight into 'our people' in conversation with Assystem's UK HR Director' with Emma Gibbons, HR Director.
1.30pm – 'An insight into the nuclear industry from three different perspectives. Each speaker will present for five minutes, followed by a Q&A session with the audience.' Rachel Atherton, AXIOM Security and Business Support Manager, Amna Jelani, Graduate Engineer and Fanny Fouin, Mechanical Engineer.
2pm – 'Understanding the recruitment process: A 30-minute talk covering our live roles and tips on how to apply for them, followed by a Q&A session with the speakers.' David Price, Business Unit Director and Callum Latham, Recruitment Consultant.     
2.40pm – 'Ask Assystem – Panel style format which sees four representatives from Assystem asked questions about their roles, the projects they work on and what to expect from a career in the nuclear industry.' Vicki Walsh, QHSE Manager, Chris Unsworth, Graduate Engineer, Amna Jelani, Graduate Engineer and Joe Ghayour, Recruitment Manager.
3.10pm – 'Networking and career guidance: The virtual stand is opened up and candidates get a chance to learn more about the company through bookable 1-1 sessions with members of our recruitment team.' The Assystem Recruitment Team.
5pm – EVENT ENDS
If you're interested in starting your career with Assystem and would like to attend this event, register your interest here.  This is a truly unique opportunity, with limited spaces available, so please register for your place today!
Interested in hosting your own bespoke insight event? Get in touch with Lauren to find out more – laurenj@stemwomen.co.uk.
We have previous hosted insight events for Bloomberg and Graphcore. Check out our case studies to find out more.