Event Review – UK Wide STEM Careers Event – October 2022
On Wednesday 5th October, we ran our UK Wide STEM Careers Event, attracting 44 exhibiting employers and over 2,000 student sign ups, our biggest number ever!
The event began at noon with a welcome talk from STEM Women events host, Sophie Chadwick. We then heard a fascinating panel discussion featuring women working in industry, and 12 speaker insight sessions from exhibiting companies.  Throughout the event, attendees could also network with employers via webchat and video call, browse company stalls and apply for opportunities.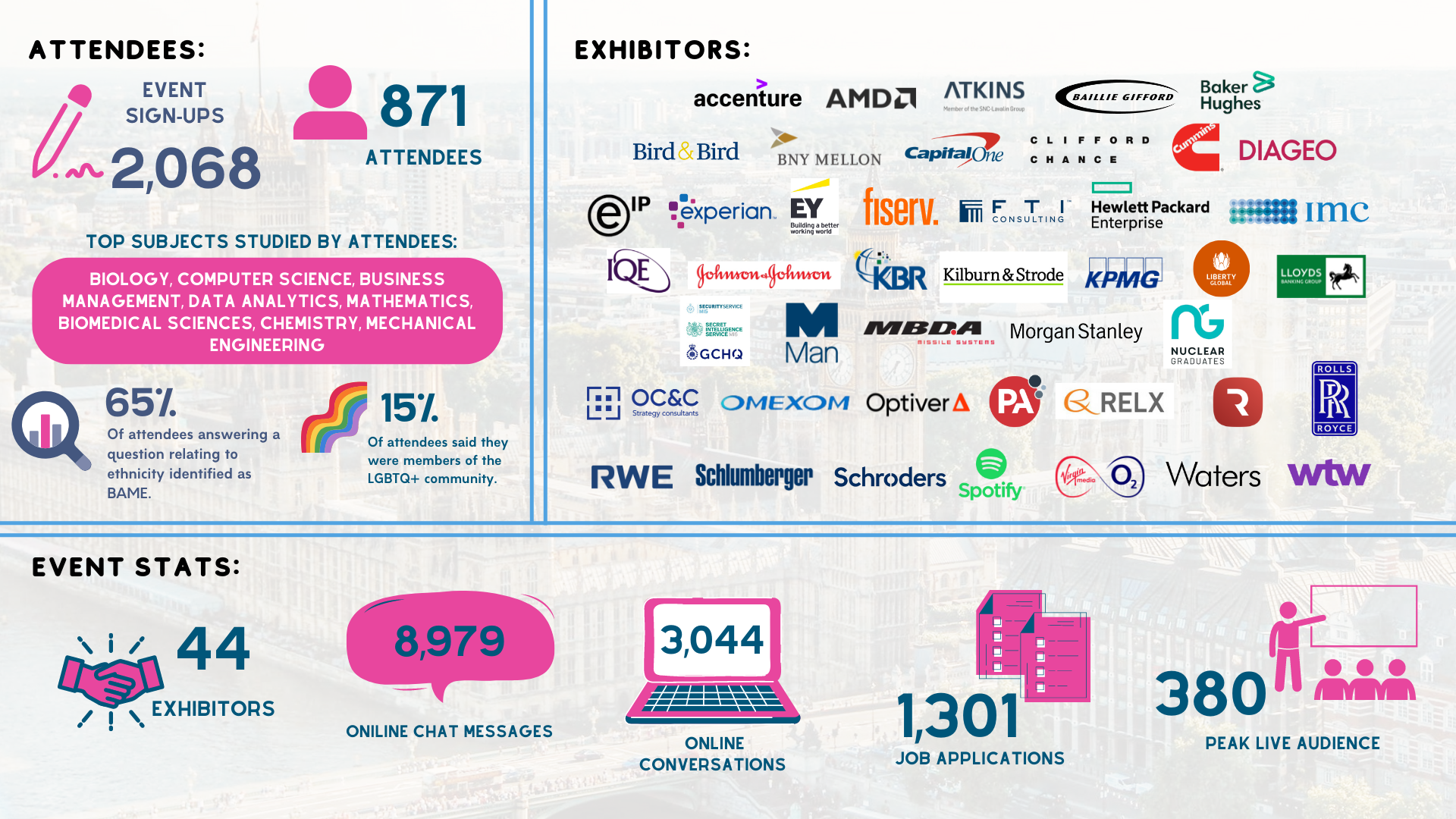 The Panel Discussion
Our panel for this event was made up of Ruth Cumming from Baillie Gifford, Emma Marsden-Edwards from Waters, Marisa Patel from MBDA, Georgia Rolfe from PA Consulting, and Beth Mullen from Capital One. We heard some great tips on how to find a mentor, the best way to show your personality during video interviews and the importance of being authentic and true to yourself! And, don't forget to celebrate those mini milestones!
"It's not just about the technical skills, it's more about showing that you're willing to learn and you want to pick up new skills." – Ruth Cumming.
"The more honest and authentic you are the better your reputation is – act with integrity – be brave and be bold." – Georgia Rolfe.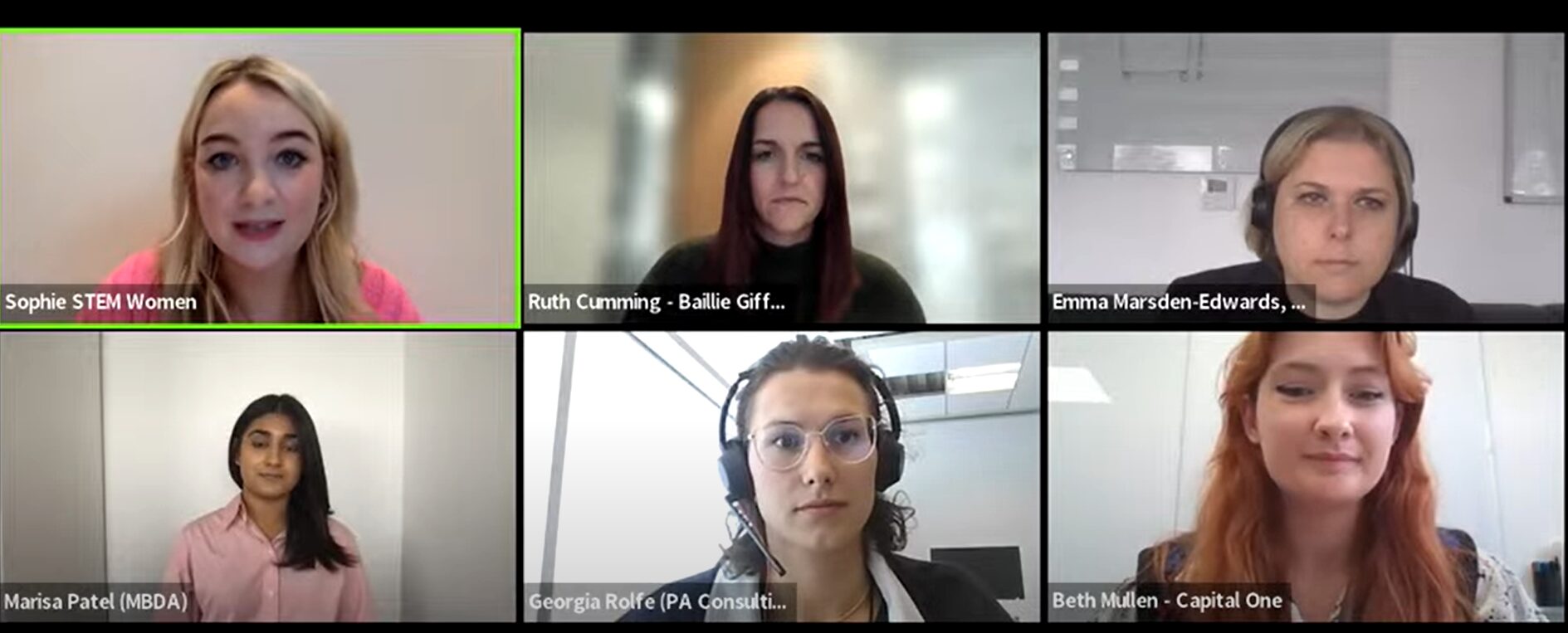 The speaker sessions
Throughout the afternoon, our STEM Women co-host Pam McGee took over to introduce 12 employer presentations.
We heard from:
MI5, MI6, and GCHQ – A representative
Key topics: Personal experience of working for the organisations, how they got their role at the company and the great training they offer at the agencies.
Schroders – Zoe Radics-Saunders, Engineering Lead, Enterprise Technology.
Key topics: Working as a data engineer and a very honest and insightful overview of Zoe's career journey after studying computer science at university.
MBDA – Marisa Patel, Graduate Software Engineer and Alison Poulton, HR Advisor – Early Careers.
Key topics: The importance of diversity at their company, and how they are looking to the future. Marisa's experience on the graduate scheme at MBDA.
Waters – Emma Marsden, Product Manager.
Key topics: About Waters and what they do, personal career journey from school to now.
KBR – David Cole, Director of Project Solutions and Nicola Wood, Strategy and Innovation Project Solutions Manager.
Key topics: Who KBR are and the projects they work on within the energy sector, plus the importance of sustainability.
RWE – Hope Jack, Team Lead MFP-ED.
Key topics: Hope's career overview and what it's like being a woman at a company like RWE.
Clifford Chance – Chloe Hatchet Sparkes, Graduate Recruitment Specialist.
Key topics: The opportunities available to graduates at the company, the graduate scheme and the rotations, internships, and the application process.
Baillie Gifford – Russell Glencross, Information Systems, Talent and Development Lead and Jackie Anderson, Early Careers Consultant.
Key topics: Overview of the business and the Technology Solutions program, how to stand out during the application process.
Capital One – Harley Everett, Alice Richardson, Kyra Birkett, Laura Loboda, Amy Davison.
Key topics: Personal experience from moving from university to industry, different experiences from the first few weeks as a graduate, the company culture.
PA Consulting – Joanna Starkie, Chemistry Consultant.
Key topics: About Joanna, her love of chemistry and how that led to a role in consulting, plus a typical week as a chemist consultant at PA Consulting.
Virgin Media 02 – Charlotte Longden, Brand Marketing Graduate.
Key topics: Benefits of joining the Virgin Media graduate scheme, and Charlotte's experience of the graduate scheme rotations.
EY – Ellie Cox, Technology Risk Consultant.
Key topics: Ellie's journey from attending a stem women event in 2019 to securing her role at EY, and her experience on the two-year graduate scheme.
This event was one of our largest to date, with 44 employers and a record 2,068 students signing up!
"A great event to match with suitable candidates and have one on one time to share insights into our programmes and give advice on career paths!" – Vicki Gallacher, University Recruiter, Spotify.
"It was really motivating to see a panel of exclusively women connect over their experiences and career ambitions!" – Hannah Gale, Mathematics, University of Bath.
"An extremely inspiring women in STEM careers event showcasing what is possible for all of us!" Rebecca Taylor, Biomedical Science, Manchester Metropolitan University.
Join us at a STEM Women Event!
We run a range of industry specific, general STEM and location specific careers events each year.
If you're a student looking to register for your free ticket, take a look at our events line up – careers.stemwomen.com, and follow us on LinkedIn, Instagram, Twitter and Facebook for event updates.
If you're an employer interested in exhibiting at an upcoming event, please don't hesitate to get in touch with Event Sales Manager, Lauren Jenkins by emailing laurenj@stemwomen.com, or fill out the form below. www.stemwomen.com.
Sign up to hear about our next event