Event Review – UK Technology Careers Event 2022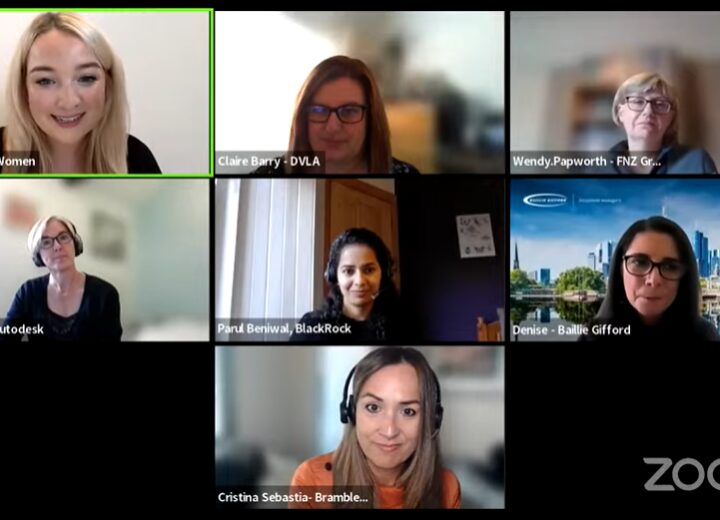 On Tuesday 20th September, we ran the second event of the autumn 2022 season, our UK Technology Careers Event. Taking place on our virtual events platform, we welcomed 25 exhibiting companies and signed up over 1100 students and recent graduates.
STEM Women events host, Sophie Chadwick, opened the event at noon with a welcome talk, which was followed by an inspiring panel discussion featuring women working in the technology industry. Throughout the day, we also heard 11 insightful talks, and attendees could also network with employers via webchat and video call, browse company stalls, and apply for roles and opportunities.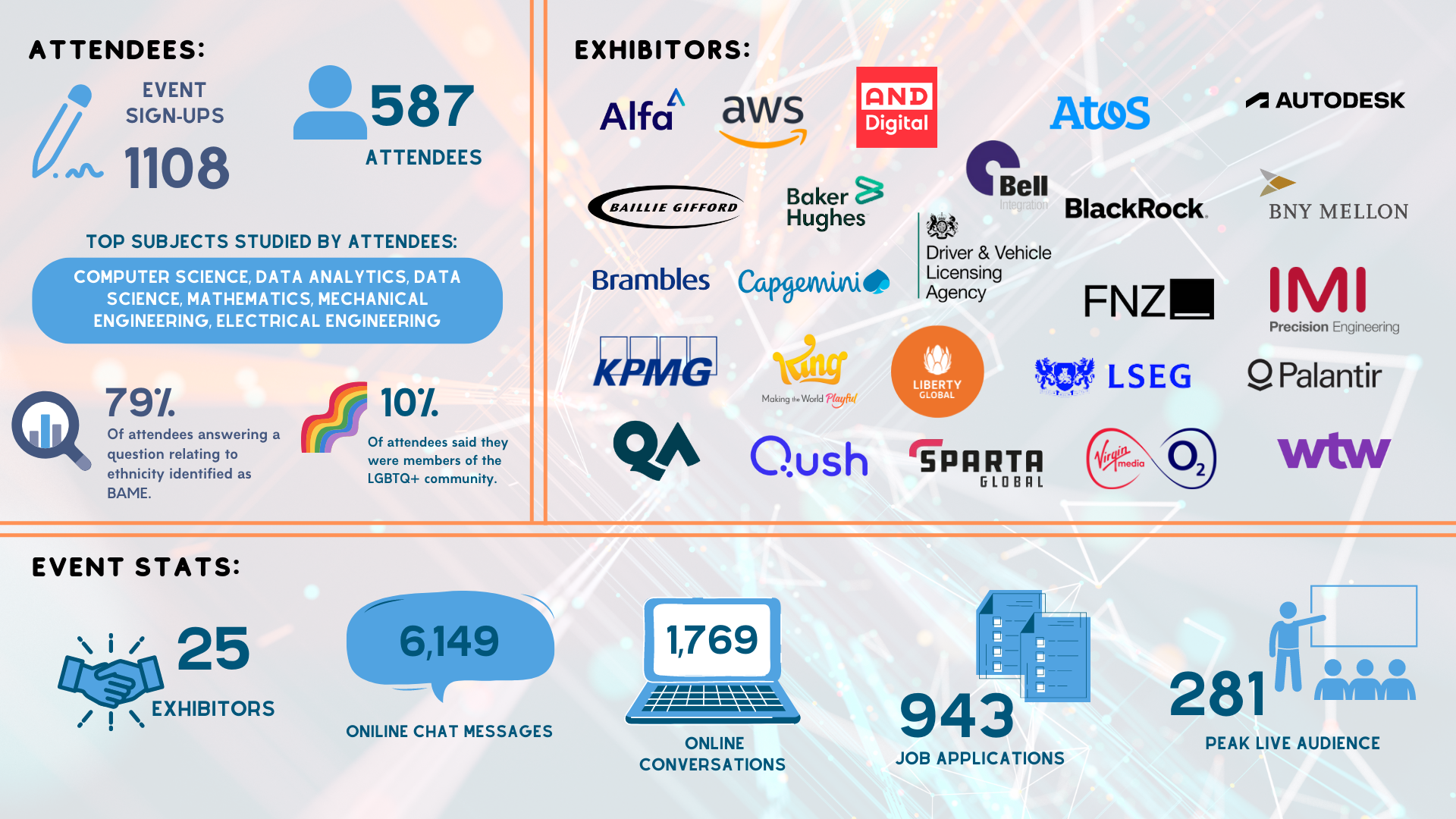 The panel discussion
Chaired by STEM Women events host, Sophie Chadwick, our panelists included Denise Symons from Baillie Gifford, Parul Beniwal from BlackRock, Susan Tate from Autodesk, Cristina Sebastia Botet from Brambles, Claire Barry from DVLA, and Wendy Papworth from FNZ. We heard some fascinating advice around career confidence, the key skills to develop when entering the industry and the importance of always staying curious.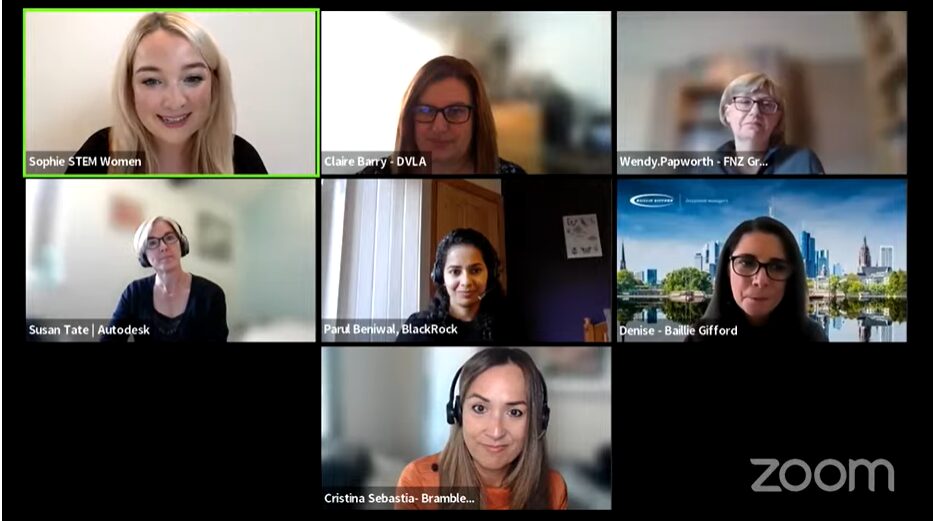 The speaker sessions
Throughout the afternoon, 11 employers presented speaker sessions which introduced the attendees to the companies and highlighted what opportunities they offer to students and graduates.
We heard from:
BlackRock – Rachel Robinson, Campus Recruiter
Key topics: Early careers roles and opportunities currently live across the business, the application process and tips on how to write a virtual cover letter.
Baker Hughes – Holly Donald, Project Manager
Key topics: An insight into Baker Hughes as a company, Holly's personal career journey, and the importance of asking for feedback.
Baillie Gifford – Russell Glencross, Information Systems, Talent and Development Lead and Jackie Anderson, Early Careers Consultant
Key topics: Overview of the business and the Technology Solutions program, how to stand out during the application process.
Autodesk – Rose Kirtley, Software Engineer
Key topics: What it's like to work in the graduate rotation scheme, the different rotations available, and Rose's role as a scrum master in software engineering.
Brambles – Cristina Sebastia Botet, Digital Serialisation Lead
Key topics: Ways of working at Brambles Digital, the Graduate Development Program, and how to succeed in your career.
DVLA – Claire Barry, Technical Product Manager, Lucie Bastin, Delivery Manager, and Karen Clark, Agile Delivery Manager
Key topics: A mini panel discussion chaired by Sophie Chadwick covering career highlights, the culture at the DVLA and why it's important to inspire more women to start careers in the technical sector.
FNZ – Jennifer McArthur, Group Head of Platform Conversions
Key topics: About FNZ and what they do, Jennifer's unique career journey and the advice around exploring new industries in technology.
Virgin Media 02 – Charlotte Longden, Brand Marketing Graduate
Key topics: Benefits of joining the Virgin Media graduate scheme, and Charlotte's experience of the rotations.
London Stock Exchange Group – Akua Ongong, Senior Analyst
Key topics: What it's like to work as a senior analyst, the different roles at the company, and how to enter into a technical role.
Palantir – Clara Planegger, Deployment Strategist
Key topics: Overview of Palantir and their company values, a day in the life of a Deployment Strategist.
Capgemini – Suzy Style, UK Head of Early Careers Talent Acquisition
Key topics: About Capgemini, the culture and the great training they provide to graduates. Concluded with how to be successful when apply for roles.
"I really loved the panel discussion! It was wonderful to listen to great women speak about their journey in such relatable terms, I really felt like I could achieve my dreams."– Kudoro Esther, Electrical and Electronics Engineering.
Join us at a STEM Women Event!
We are running another 5 events this autumn season, continuing with an industry focused engineering careers event on 22nd September. This is followed by a STEM Careers Event for the Benelux Region, a UK wide STEM careers event and a Hybrid STEM Careers event in Ireland. Our autumn season will finish with an In-Person STEM Careers Event in London in October.
If you're a student looking to register for your free ticket, take a look at our events line up – careers.stemwomen.com, and follow us on LinkedIn, Instagram, Twitter and Facebook for event updates.
If you're an employer interested in exhibiting at an upcoming event, please don't hesitate to get in touch with Event Sales Manager, Lauren Jenkins by emailing laurenj@stemwomen.com or visit our website www.stemwomen.com.
Sign up to hear about our next event