Highlights from our Australia and New Zealand STEM Careers Event – August 2022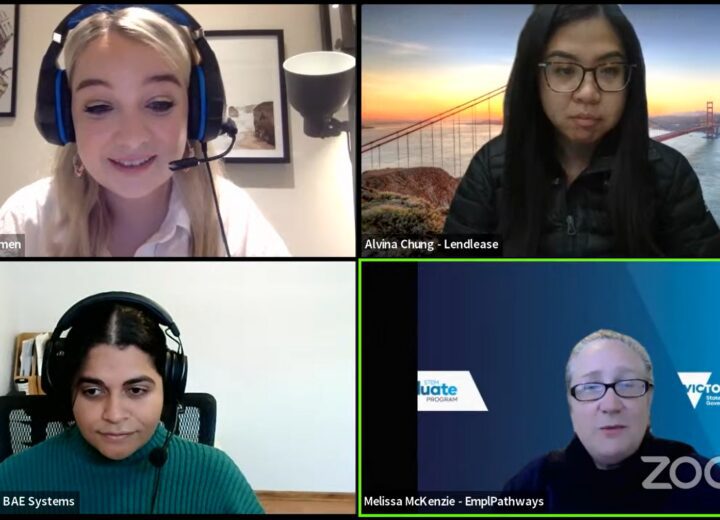 On Thursday 4th August, we ran our second Australia and New Zealand STEM Careers event of 2022. Taking place on our virtual events platform, we welcomed 16 top employers and signed up over 500 students and recent graduates.
This event was sponsored by Department of Transport Victoria, who opened the event with a welcome talk presented by Angela Grice, executive Director of Network Change at DoT. We also heard insightful speaker sessions presented by DoT, Amazon Web Services, Schlumberger, Westpac, Lendlease and BAE Systems, plus an inspiring panel discussion with women working in industry!
During the event, attendees could network with employers via webchat and video call, browse company stalls, apply for jobs and opportunities, and watch the live presentations.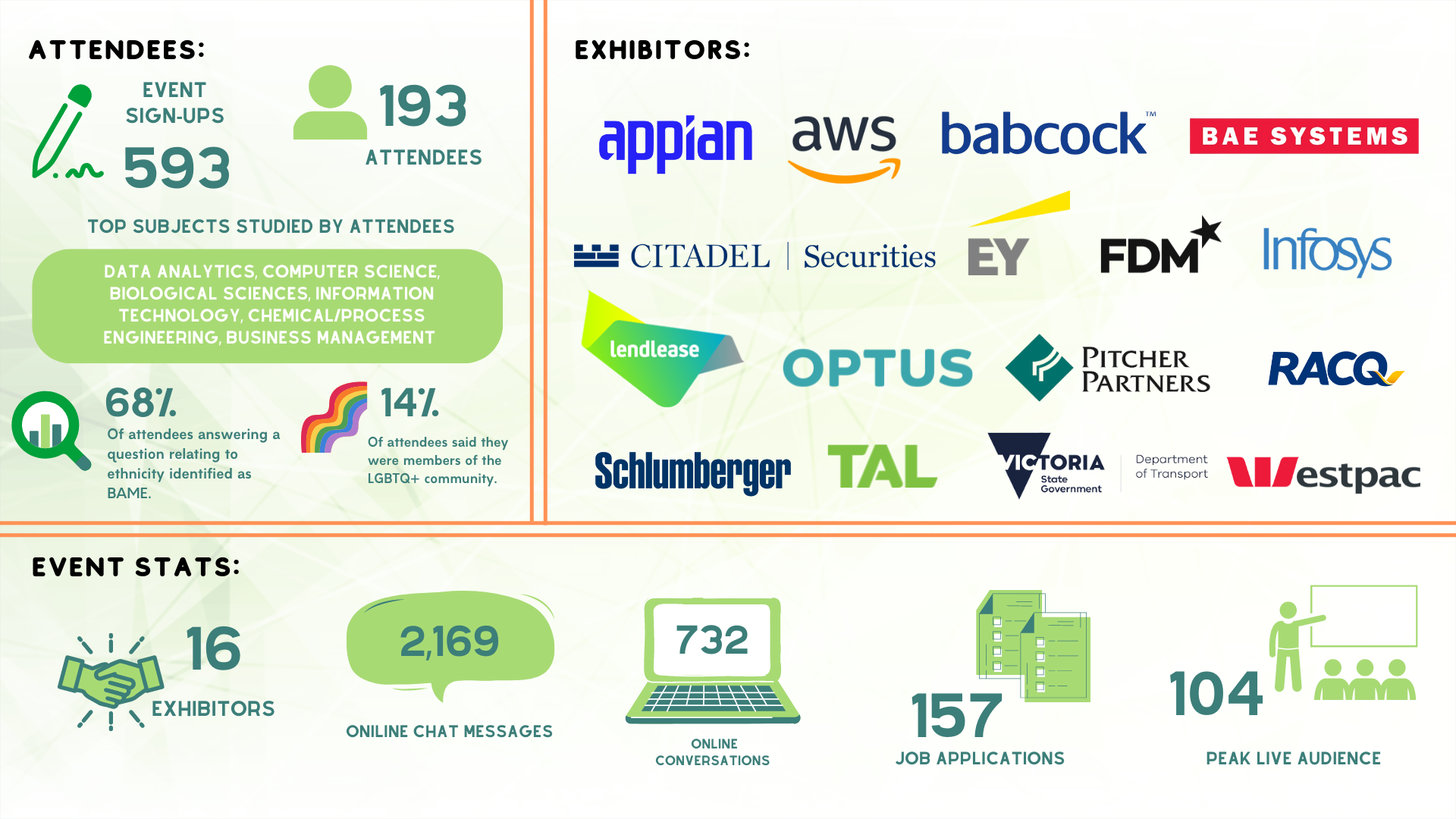 The panel discussion
Chaired by STEM Women Events Host, Sophie Chadwick, our panellists included Alvina Chung from Lendlease, Rebekah Taylor from BAE Systems, and Melissa McKenzie from the Department of Transport Victoria. Attendees were invited to ask the panel a selection of questions, which covered topics including moving into different industries within STEM, tips for networking and gaining professional relationships, and how to overcome fears like public speaking.
The speaker sessions
Throughout the afternoon, 6 employers presented speaker sessions which introduced the attendees to the companies and highlighted what opportunities they offer to students and graduates.
We heard from:
Emma Miller-Olsen and Esther Warren from the Department of Transport (Victoria) (DoT)
Key topics: An overview of the Department of Transport and what it's like to work as a civil engineer, plus the broad range of opportunities at DoT.
Aurika Imtiaz from Lendlease
Key topics: Aurika's personal career journey from university to becoming a project engineer, with an introduction to what Lendlease do.
Hayley Thompson-Hill from BAE Systems
Key topics: The fantastic work culture at the company, some of the projects they work on, and their early careers graduate programmes.
Elizabeth Karpathiou from Westpac
Key topics: Elizabeth's career journey to becoming an Information Security Consultant, technology at Westpac, plus the graduate and internship programmes.
Gabriela Soter Roxo from Schlumberger
Key topics: The exciting opportunities the company has to offer attendees, what they do and Gabriela's unique career journey.
Alice Farr from Amazon Web Services
Key topics: The vast reach of AWS, the amazing workplace culture and more about Alice's role as a Solutions Architect Manager.
How did our exhibitors and attendees find the event?
"The virtual STEM Careers Event was an exciting opportunity with knowledgeable panellists, a very interactive platform and an abundance of opportunities. You wouldn't want to miss out on the next event!" – Khushi Daga, Advanced Science, UNSW
Join us at STEM Women Event!
We are running 7 events this autumn season, beginning with three industry focused events for financial services, technology and engineering. These are followed by a STEM Careers Event for the Benelux Region, a UK wide STEM careers event and a Hybrid STEM Careers event in Ireland. Our autumn season will finish with an In-Person STEM Careers Event in London in October.
If you're a student looking to register for your free ticket, take a look at our events line up – careers.stemwomen.com, and follow us on LinkedIn, Instagram, Twitter and Facebook for event updates.
If you're an employer interested in exhibiting at an upcoming event, please don't hesitate to get in touch with Event Sales Manager, Lauren Jenkins by emailing laurenj@stemwomen.com or visit our website www.stemwomen.com.