Event Review – UK Wide STEM Careers Event – February 2023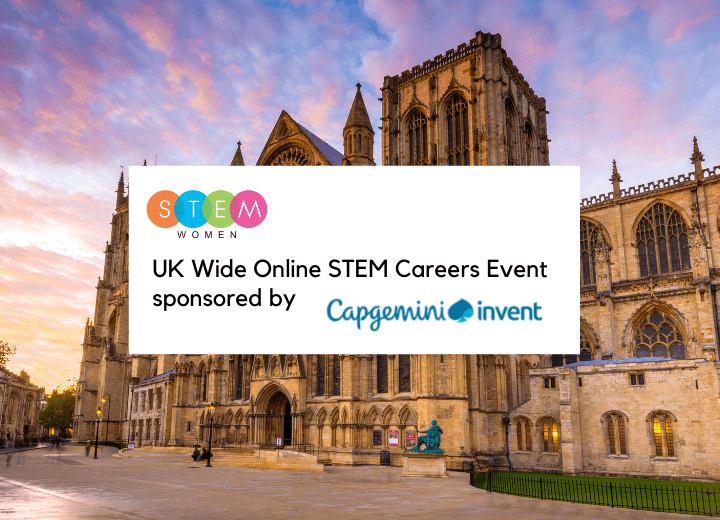 On Wednesday 22nd February, we ran our UK Wide STEM Careers Event, sponsored by Capgemini Invent, attracting 15 exhibiting employers and over 1,600 student and graduate sign ups.
The event began at noon with a welcome talk from STEM Women events host, Sophie Chadwick, followed by a welcome address from Emma Harvey, Director, Business Technology from Capgemini Invent. Emma provided an overview of the company including their values, mission statement and shared some insights on the Accelerate Programme.
We then heard a fascinating panel discussion featuring women working in industry, and 8 speaker insight sessions from exhibiting companies.  Throughout the event, attendees could also network with employers via webchat and video call, browse company stalls and apply for opportunities.
The Panel Discussion
Our panel for this event was made up of Marlene Osei-Asante from Capgemini Invent, Lucy Chieffo from DVLA, Danielle Hamel from Technip Energies and Ruchika Kogimtzis from Waters. We heard some great advice on entering STEM roles through diverse routes, tips on how to succeed during interviews and career confidence.
The speaker sessions
Throughout the afternoon, our STEM Women co-host Pam McGee took over to introduce 8 employer presentations.
We heard from:
MI5, MI6, and GCHQ – A representative
Key topics: Personal experience of working for the organisations, how they got their role at the company and the great training they offer at the agencies.
SEFE Marketing and Trading – Anastasia Klemaka.
Key topics: Personal career journey, advice on how to advance your career, about SEFE and what opportunities they offer to graduates.
Capgemini Invent – Elisa Sai.
Key topics: Experience on working as a leader in data, driving solutions for clients and invaluable advice for new talent.
DVLA / DfT – Agnes Bevis, Lucy Chieffo and Andrea Dale.
Key topics: About the DVLA and what opportunities they offer, overview of three different roles in the company.
Technip Energies – Danielle Hamel and Emily Crowley.
Key topics: An insight into the company, what they do and their personal career journeys.
Mercedes AMG Petronas Formula One Team – Tom Lynch and Angela Green.
Key topics: Industrial Placement and Graduate Opportunities at Mercedes AMG Petronas Formula One Team.
Waters – Ruchika Kogimtzis.
Key topics: About Waters and what they do, the opportunities they have available to graduates.
Kubrick – Amy Aspinall.
Key topics: Her professional journey into data, how to enter the industry with no prior experience, and how to face challenges in new roles.
"I learnt that I shouldn't doubt my abilities, I am capable of anything I set my mind on. I shouldn't be afraid to fail or take risk as it's all part of the process. I am determined to take on a new challenge in the STEM industry." – Precious Osime-Oigiangbe, Msc Artificial intelligence and Data Science.
"Thank you for this event. I needed to hear such motivational words from women in this industry. It inspired me to keep studying for a better future. Looking forward other events by STEM Women." – Stanimira, BSc Cloud Computing, University of Wales Trinity Saint David.
Join us at a STEM Women Event!
We run a range of industry specific, general STEM and location specific careers events each year.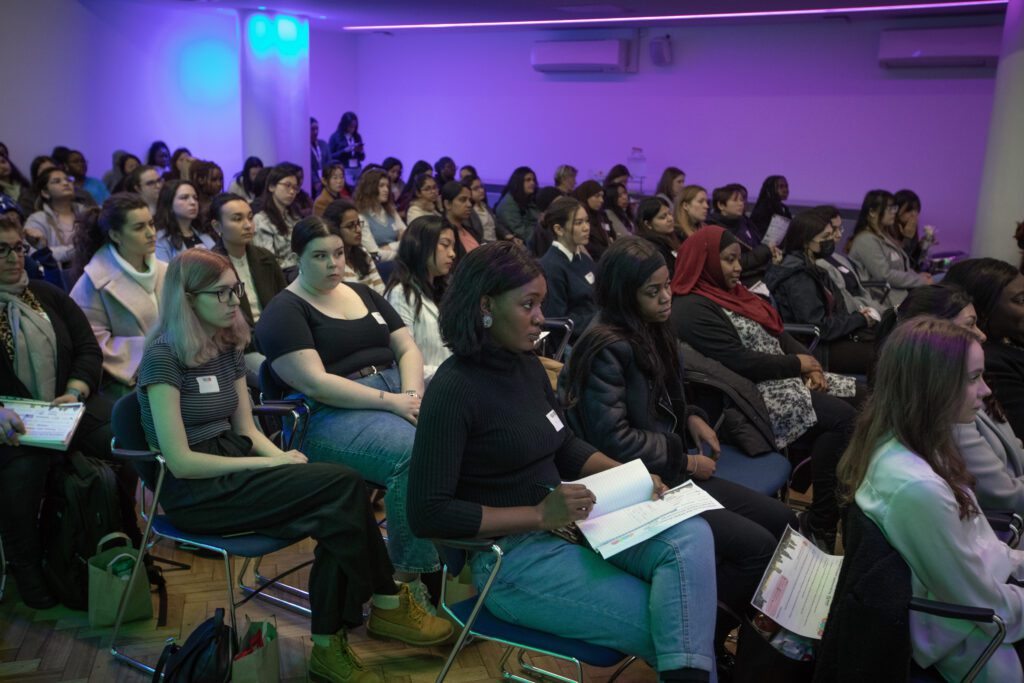 If you're a student looking to register for your free ticket, take a look at our events line up – careers.stemwomen.com, and follow us on LinkedIn, Instagram, Twitter and Facebook for event updates.
If you're an employer interested in exhibiting at an upcoming event, please don't hesitate to get in touch with Event Sales Manager, Lauren Jenkins by emailing laurenj@stemwomen.com, or fill out the form below. www.stemwomen.com.
Sign up to hear about our next event