Event Review – Ireland Hybrid STEM Careers Event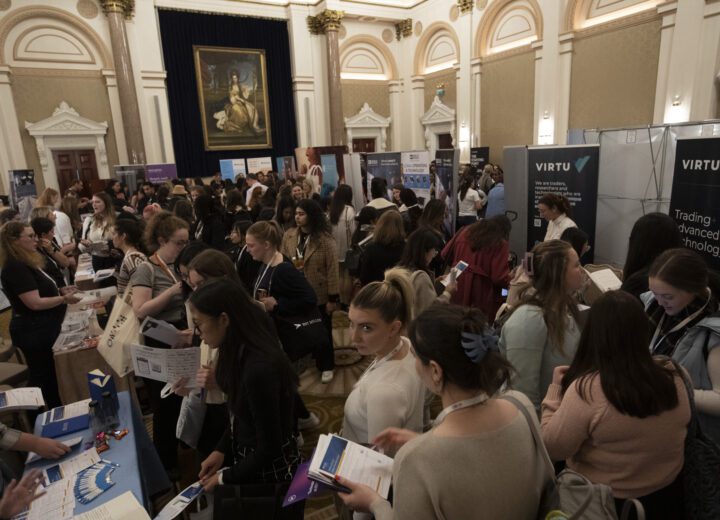 On Wednesday 12th October, we ran our Ireland Hybrid STEM Careers Event, sponsored by NetApp. The event attracted 35 exhibiting employers and over 1,600 student sign ups!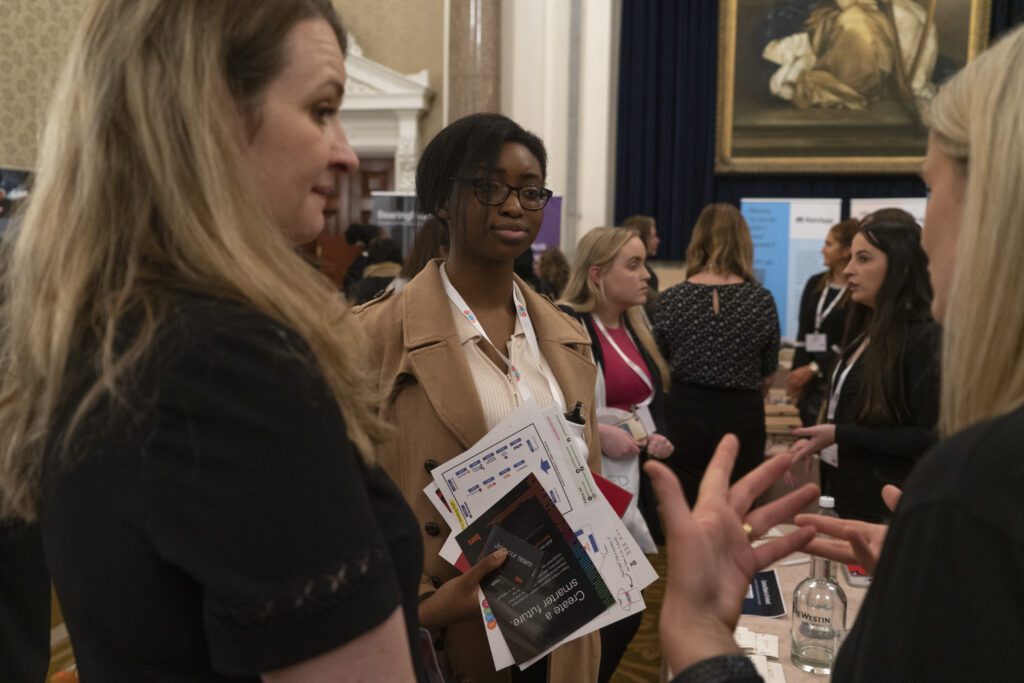 The event began at 12.15pm with a welcome talk from STEM Women events host, Sophie Chadwick. We then heard presentations from 8 exhibiting companies throughout the afternoon. During the day, attendees could network with employers in the Banking Hall and The Reserve, and online on our virtual events platform.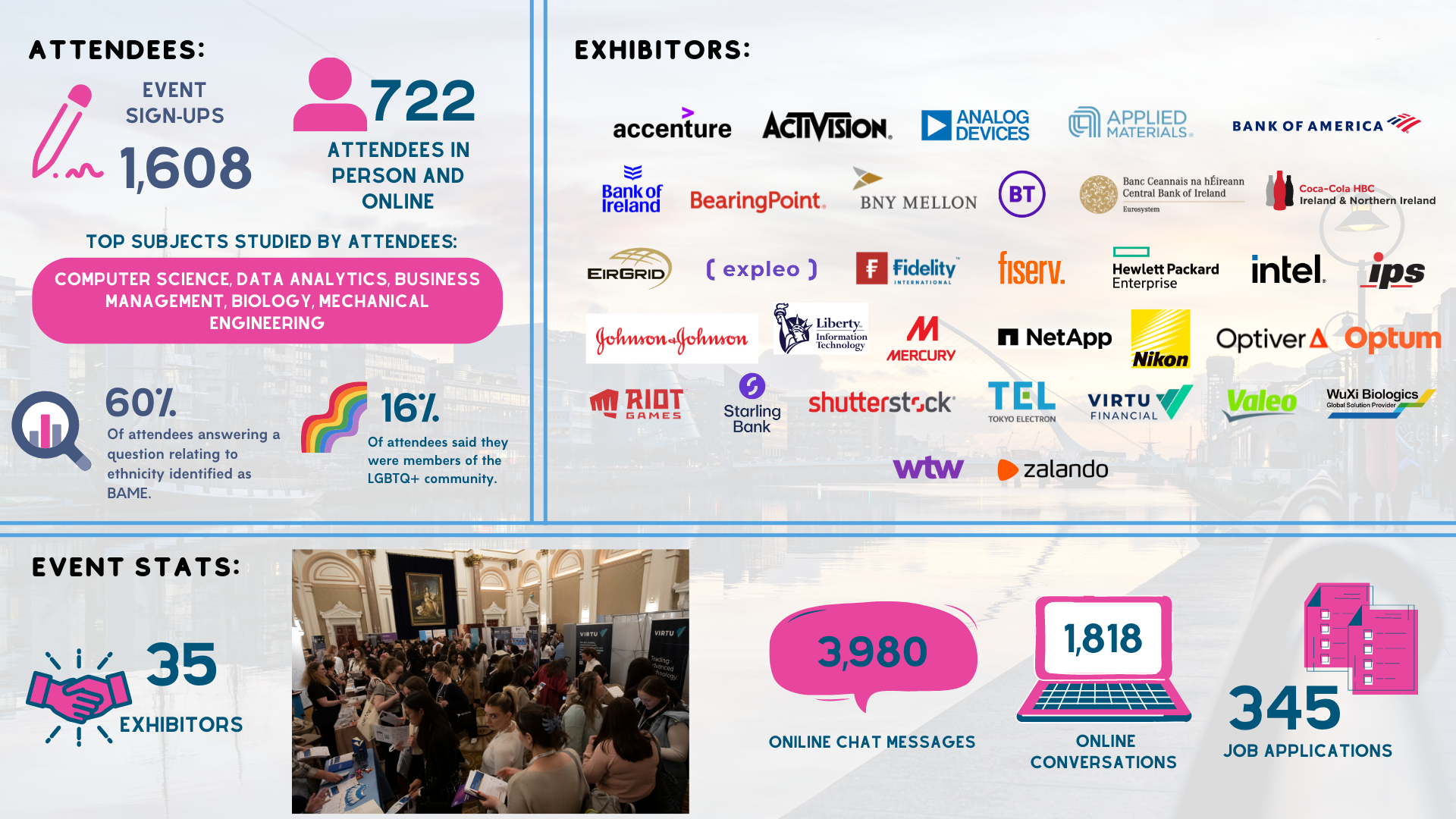 The Speaker Sessions
Our first speaker session began just after 12:15pm with a welcome talk from our event sponsors NetApp. Tamsin Minton, Service Delivery Manager, TPM UK presented this session which covered who NetApp are, why they sponsored the event and the opportunities they have available to attendees.
Following this, the audience heard insight talks from Dearbhla O'Shea, Senior Technology Consultant from Bearing Point, Claire Bantegnie, Head of Function Internal Models and Financial Resilience, and Helen Daly, Head of Function – Financial Risks from Central Bank of Ireland, Violet O'Brien, Junior Software Engineer and Amanda Sampaio from Zalando, and Lauren Burnham-King, Data Scientist from Shutterstock.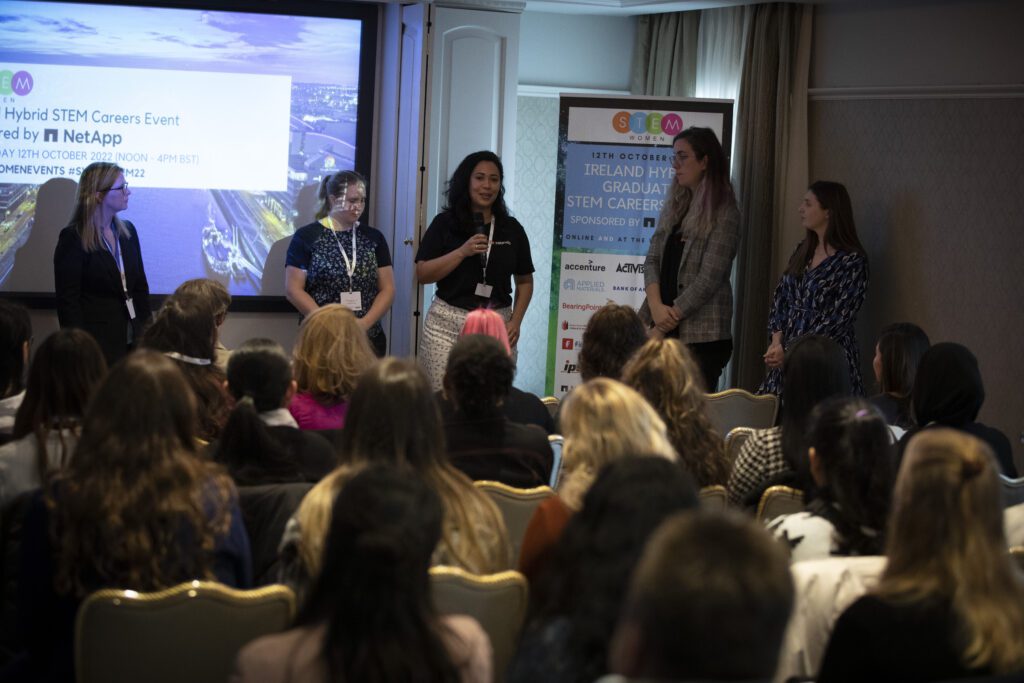 These presentations were followed by a live Q&A where audience members asked questions to the speakers. We heard some great insights into why each speaker joined their company and advice each speaker would give themselves if they could go back to when they were students.
The second speaker session began at 1:45pm and featured talks from Niamh O'Hare, Security Delivery Specialist and Eimear Kelly, Business & Integration Arch Senior Analyst from Accenture, Cassandra Kauer, Senior Mechanical Engineer from IPS, Tamsin Minton, Service Delivery Manager, TPM UK from NetApp, and Catherine Enright, Functional Architect and Valeo Senior Expert from Valeo. These sessions were also followed by a Q&A session where we heard more about how to battle unconscious bias and what inspires the speakers in their roles.
Networking
Throughout the whole day, attendees could network with our exhibiting employers in the two main halls and online on our events platform. The two main networking halls were populated with company banners, free goodies, leaflets and employers waiting to start discussions and offer advice to prospective candidates. Attendees and employers taking part in the online part of the event began their webchats and one to one video chats. There was a fantastic atmosphere throughout the event, with lots of attendees taking pictures with the event banners and building their professional networks.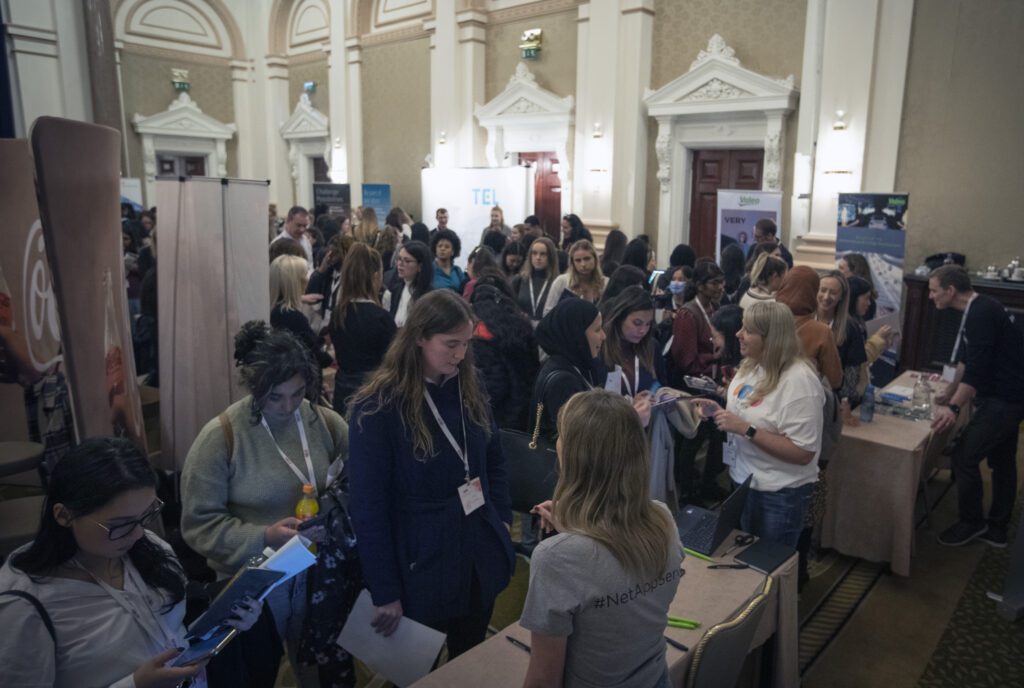 Amazing Feedback
"Very well organised event, great footfall, lots of suitable female STEM graduates who were interested in job opportunities in STEM companies". – Niamh Byrne, Manufacturing Lead, WuXi Biologics
"I just would like to say thank you for this rich opportunity, it was a very nice event full of inspiring women. I applied for at least 8 companies today, and I'll keeping applying!" – Priscila Flores, Computer Science student
"It was a great event! I really enjoyed the interaction with all the industry tech women, and I was inspired by all of them a lot. Hopefully one day I will be on the same team with some of the people I met today." Tina Thom, General Business at TUDublin
Join us at a STEM Women Event!
We run a range of industry specific, general STEM and location specific careers events each year.
If you're a student looking to register for your free ticket, take a look at our events line up – careers.stemwomen.com, and follow us on LinkedIn, Instagram, Twitter and Facebook for event updates.
If you're an employer interested in exhibiting at an upcoming event, please don't hesitate to get in touch with Event Sales Manager, Lauren Jenkins by emailing laurenj@stemwomen.com, or fill out the form below. www.stemwomen.com.
Sign up to hear about our next event