Celebrating Pride Month with STEM Women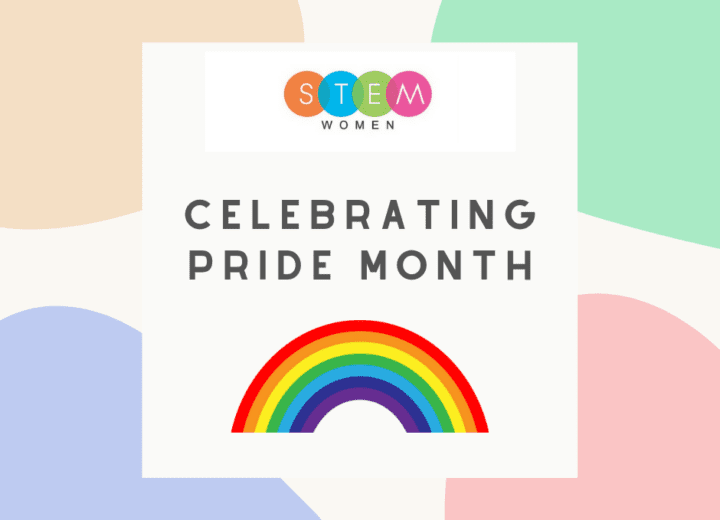 To celebrate Pride Month, we wanted to highlight the amazing events, initiatives, courses and webinars that some of our regular STEM Women clients have organised to support the LGBTQ+ community in STEM.
Happy Pride Month!
Softcat
Softcat have a very established Pride Network who meet monthly to celebrate, elevate and educate around Pride related topics. They have arranged some great activities and games for staff including Drag Bingo with Charlie Hides, Terrance Higgins Trust 'It's a Sin' Discussion, Being Trans' Panel Discussion, #StrideforPride March, and Story Time with Pop 'n' Olly. Pop'n'Olly is an LGBTQ+ equality educational resource used by children, parents, carers and teachers. Olly's videos and books are used in primary schools across the UK, and beyond, to teach about equality, diversity and acceptance.
Barclays
Barclays' LGBT+ colleague diversity network, Spectrum, is one of their longest-standing networks. Set up nearly 20 years ago, it's open to all colleagues, regardless of sexual orientation or gender identity, who are interested in the lesbian, gay, bisexual and transgender (LGBT+) community. Barclays have a huge range of initiatives that support the LGBTQ+ community including an inclusive hiring process, pronouns guidance, events, unique support, Pride sponsorship, an Allies Toolkit and lots more!
Barclays are also proud partners of Open For Business, a coalition of global companies making the case that inclusive, diverse societies are better for business and economic growth, a Stonewall Top 100 employer, and members of TeamPride, supporting Stonewall's Rainbow Laces campaign to champion LGBT+ inclusion in sport.
Every year, their Spectrum fundraising dinners raise over £200,000 for LGBT+ charities, they support the Terrence Higgins Trust's 'Work Positive Programme' which helps those living with HIV get back into work, and they are a founding partner of LGBT+ Foundations with Pride in Ageing in the North West.
VMware
This Pride month VMware is again adapting to celebrating Pride virtually. Over the course of this month, VMware has planned many great events such as Psychological Safety and Professional Development Workshops including training on" How to Build your Network" with Jayzen Patria and some amazing celebrity guest speakers.
There is a screening of the movie "Who's on Top", and employees will even take a moment to enjoy a virtual live comedy night, as well as a lip sync battle.
All of the company's events are accessible to our employees around the world and when possible, the company has hosted events twice so that they can accommodate employees across different time zones. It's been crucial for VMware that they don't only focus on fun activities. They are also taking time to educate, remember, and connect with each other so that they remain one of the top LGBTQ+ employers in the world. VMware achieved 100% on the 2021 Human Rights Campaign Corporate Equality Index, and they are one of the best places to work for LGBTQ+ equality.
General Dynamics UK
In support of Pride month, General Dynamics UK will be flying the Pride flag across all their sites, as well as organising a series of virtual activities for their colleagues to participate in. They believe in maintaining a diverse workplace – inclusive of beliefs, cultural background, job experiences, thoughts and ideas – and as part of this, their Pride activities will continue beyond the month of June.
LCP
LCP is committed to offering equal opportunities to all, they have a dedicated LGBT+ network who strive for diversity, inclusion and equality across the firm, by leading initiatives and providing support to ensure that they provide an accepting environment for LGBT+ individuals to thrive and prosper.
To celebrate Pride 2021, LCP are running a number of events including:
A Rainbow Day to fundraise for an LGBT charity
Bingo social to fundraise for an LGBT charity
Incorporating an LGBT+ themed book at Book Club
Publicising events throughout the month including the launch of LGBT Great's 2021 Global Top 100 Executive Allies List
Take a look at all of LCP's D&I networks here: https://vimeo.com/330799422
LIDL
LIDL will be marking Pride month by highlighting some inspiring colleague stories. These stories will highlight LGBTQ+ colleagues lived experiences in the workplace and outside. They will also be signposting colleagues towards resources on their new D&I resource hub. These resources will feature topics such as 'how to be a better ally' and 'where to find more information on LGBTQ+ issues.'
LIDL are also part of Stonewall, an LBGTQ+ charity, "Diversity Champions" programme. Through this partnership they have reviewed their policies and procedures to ensure that they are using inclusive language and are LGBTQ+ inclusive.
Willmott Dixon
​
Willmott Dixon will be celebrating Pride month with a range of activities for their staff. Their Interiors business will be delivering a toolbox webinar with a fun follow up quiz, and the company will be taking part in Manchester and Birmingham Pride in August and September.  As well as participating in the events, Willmott Dixon is also helping to organise and sponsor them.
They are also supporting with some digital pride activities to supplement the usual Pride events this year. These will include speakers on a host of issues relating to equality, diversity and inclusion from an LGBTQ+ point of view.
Adobe
In partnership with the Pride at Adobe employee network, Adobe is celebrating Pride Month with inspiring and engaging events centred around the theme: Glow Up! Show Up! Lift Up! 
Throughout the month, they will be inviting employees to a series of events to:
Glow up with a virtual event highlighting the history of the Pride at Adobe employee network, music, lip syncing and dancing that celebrates the global LGBTQ community.
Show up to listen, learn and put advocacy into action. Events include a storytelling panel with trans servicemembers, an all-abilities workout session with a trans-inclusive personal trainer, spoken word, and discussions with public LGBTQ+ advocates.
Lift up the community by hosting a global fundraising event where members of Adobe leadership compete in a live baking challenge to raise funds for various LGBTQ+ charities. Employees can also support small LGBTQ-owned businesses via the Pride Marketplace.
Additionally, as part of Adobe's commitment to creativity for all, you'll see external campaigns to support, amplify, and celebrate LGBTQ+ creators including engagement around #CreateWith Pride and #WomenCreateWednesday focusing on what inspires the LGBTQ+ community. Learn more here.
KPMG
This year KPMG firms across the world are coming together to celebrate Pride with their second annual Global Pride Conference. In the UK specifically, Breathe (KPMG's LGBT+ employee network group) are planning a range of events with a focus on intersectionality. For example, their WorkAbility network will be presenting a talk on Disability and LGBT identities, and their China club will be screening a documentary about the LGBT Chinese experience during the Covid-19 pandemic.
Outside of these Pride events, KPMG have several activities and initiatives to support LGBT+ inclusion in the workplace. Their LGBT+ Network, Breathe, has over 1,000 members and organises dozens of events across the year. These events have covered a range of topics around LGBT+ inclusion, including Trans experiences on public transport and experiences of Living and Working with HIV, to name a few.  They also offer multiple LGBT+ specific e-Learning modules to all colleagues and have developed and delivered unique Inclusive Leadership Certification training with 500+ participants so far. Furthermore, they have several LGBT+ specific mentoring programmes, including structured peer mentoring (LGBT+ mentor and mentee), reverse-mentoring (junior LGBT+ mentor, senior straight mentee), and ally-mentoring (LGBT+ mentor, Ally mentee).
SLC
The Student Loans Company's LGBT+ Network, Arcus, will be holding virtual events throughout June to celebrate Pride Month. These include a cross site challenge where teams from their offices in Glasgow, Llandudno Junction and Darlington walk the length of their local Pride march.  There will also be opportunities for network members to catch up socially and participate in virtual activities including quizzes and bingo nights.
Edwards and Leybold 
At Edwards and Leybold they are celebrating Pride month in partnership with the LGBT+ employer network Fusion. They will be hosting a Fusion Network Sponsors interview, welcoming guest speaker Nigel Owens, LGBT advocate and iconic rugby legend, and holding a lunch and learn webinar on being an LGBTQ+ ally.
STEM Women
At STEM Women we are passionate about addressing underrepresentation in STEM. We host networking and careers events for people who are interested in pursuing a career within a STEM industry. Our events are safe places for people to explore their passions and find the best company and role for them.
During our events, we have a range of speaker sessions and panel sessions featuring a diverse mix of individuals who all work within STEM industries, and who give inspiring advice and tips to attendees.
Check our events page for more information on our upcoming events, and follow us on social media to keep up to date with news and events.