Celebrating BAME Women in STEM Innovators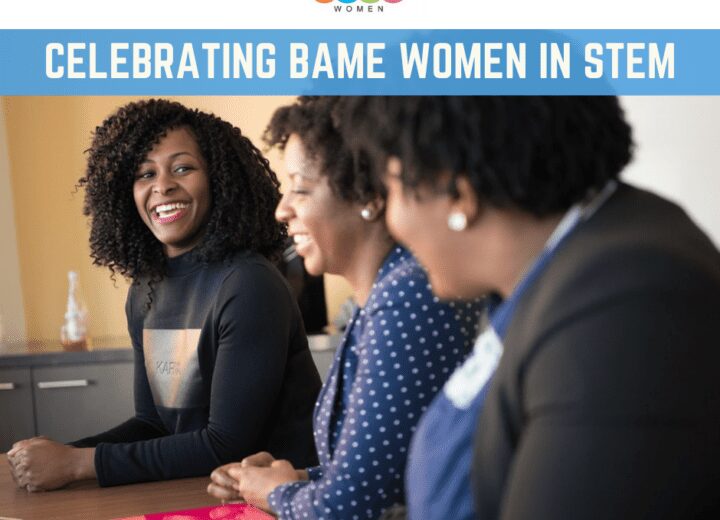 This month is Black History Month, so we wanted to celebrate some BAME Women in STEM innovators making history today. From influential scientists to incredible engineers, mathematicians, technologists and much more, these amazing women are sure to inspire you.
We hope by learning more about these incredible women, we can help more young women from minority backgrounds get involved in STEM and be the innovators of tomorrow.
BAME Women in STEM
Mae Jemison
Follow: @maejemison
First up we have Mae Jemison, the first African American woman in space. Before she become an astronaut, Jemison studied at medical school and became a physician, serving in the Peace Corp. She then became a NASA astronaut and holds 9 honorary doctorates in science, engineering, and the humanities.
Dr Anne-Marie Imafidon MBE
Follow: @aimafidon
Next up is Dr Anne-Marie Imafidon, co-founder of STEMettes, an award-winning social enterprise dedicated to inspiring and promoting the next generation of young women in STEM careers. With a wealth of impressive qualifications and achievements, Dr Imafidon is a hugely inspiring figure in the STEM world today. She also hosts Women Tech Charge, the Evening Standard's podcast.
Dr Nike Folayan
Follow: @nikefolayan/
Dr Nike Folayan is a chartered engineer and telecommunications engineering consultant. She has worked for Mott MacDonald, Parsons Brinckerhoff, and now WSP as Technical Discipline Leader – Communications & Control (Rail). Her passion for diversity in engineering led her to become the co-founder and chair of the Association for Black and Minority Ethnic Engineers and campaigns for more ethnic diversity in engineering in the UK.
Angelica Ross
Follow: @angelicaross
Angelica Ross is an influential businesswomen and transgender rights activist. She is a self-taught coder, which led her to become the founder and CEO of TransTech Social Enterprises, a company which focuses on helping people living in poverty through social work and technical training, and helping gender-nonconforming people get opportunities in technical roles. Ross, a transgender woman, is one of the leading voices for transgender opportunities in technology.
Heather Melville
Follow: @dr-heather-melville-obe-ccmi-8ab8a810
Heather Melville is Director and Head Client Experience at PwC, the chairwoman of CMI Women for the Chartered Management Institute and the founder and Global Chair of the Royal Bank of Scotland's Focused Women's Network. Melville is known for being an inspirational leader in diversity and inclusion, and has been awarded an OBE for her 'service to Gender Equality.' She is also on the list of the 100 most influential Black Britons.
Charlene Hunter
Follow: @charlenephunter
Charlene Hunter is one of the biggest names in the coding world, dedicating her time to educating and supporting the community of black female developers. She is the founder of Coding Black Females, the largest platform for black female coders in the UK. Hunter is also the co-host of Meetup and Code, a safe space for devs to meet and exchange knowledge.
Jessica Okoro
Follow: @jessicaokoro
The founder of BeScience, a multi-award winning organisation which aims to engage communities in STEM by using innovative techniques, Jessica Okoro is a huge inspiring role model to many young women. She manages a charity, alongside sharing stories of #DyslexicApologies and helps young women to be confident and bold in their daily lives.
Annie Mbako
Follow: @anniembako
Annie Mbako has had a 10 year career in Investment Services and has been awarded accolades for leading company-wide initiatives on Diversity and Inclusion. These include the Northern Power Women Future List and the WeAreTheCity Rising Star award. She was also recently named among Tech Nation's 50 Most Inspiring, Prominent and Influential Black Voices in UK Tech 2019.
Jacky Wright
Follow: @jacky-wright/
Next up is Jacky Wright, the Chief Digital and Information Officer at HMRC, having previously worked as CIO and vice president for companies such as Microsoft. Wright is passionate about promoting diversity in tech and working towards a diverse and inclusive future.
Kimberly Bryant
Follow: @kimberlybryant/
A coding champion, Bryant is the Executive Director of Black Girls Code. At college in America, she actually studied electrical engineering, however, was discouraged from pursuing that career path due to a lack of African American women in her classes. She is now a strong advocate of diversity in the tech sector, launching Black Girls Code in 2011 to increase access and exposure to computer programming and game design.
Sheree Atcheson
Follow: @nirushika
Atcheson is an inspiring advocate for diversity and inclusion both inside and outside of the tech industry. She is the director of diversity, equality and inclusion at Peakon, having previously worked as Head of Diversity at Monzo and as the UK expansion director of Women Who Code.
Annette Joseph
Follow: @diversenett
Annette Joseph is the founder of Diverse and Equal, an organisation based in the North West that aims to change the narrative of the diversity conversation to demonstrate the scope for profitability. They host workshops in the North West to encourage under-represented backgrounds to work in tech by offering resources and immersive learning. Joseph has worked within tech for over 20 years and is currently a Delivery Manager/Agile Coach at Co-op and the Chair of Rise Network, Co-op's network for colleagues from BAME backgrounds.
Abadesi Osunsade
Follow:  @abadesi/
Osunade is the Founder of Hussle Crew, a social enterprise which helps under-represented groups advance their careers in tech. She also co-hosts the influential podcast Techish, which covers an intersection of tech, pop culture and life, and holds several roles aimed at improving diversity in the tech sector, including advisory board member for Your Startup your Story (YSYS).
Sana Khareghani
Follow: @sanakb
Khareghani is the Head of UK Government's Office for Artificial Intelligence and has been working in the tech sector for almost 20 years. Previously, she worked as a software engineer for MDA, system engineer for Hemedex and product manager for Viisage Technology.
Dupsy Abiola
Follow: @dupsyabiola
A former barrister, Abiola is the Head of Global Innovation at International Airlines Group, working on the digital transformation team. She is also proud to have been selected as one of the top 100 influential Black Britons by the Observer as she is a passionate advocate for diversity and inclusion within leadership and organisations. Abiola is also an advisory board member for F-Lane Global Social Impact Accelerator for Female Founders.
Suki Fuller
Follow: @sukifuller
Suki Fuller founded Miribure in 2015, a company which uses innovative data gathering and analytics to promote strategic decision-making in businesses. Fuller is passionate about encouraging more women into the venture capital arena and is the founding ambassador of the FiftyFiftyPledge, plus the co-founder of Salaam Ventures, which assists ethical start-ups. She is also a mentor ambassador and lead for TLA women in tech, and a committee member for the TLA Black Women in Tech group.
Lola Odelola
Follow: @lola-odelola-6b27a194
Lola Odelola is the founder of blackgirl.tech, an organisation which provides an avenue for women to learn to code products from new perspectives. Blackgirl.tech was started because Odelola believed certain needs were not being met in the tech world, especially those of black and ethnic minorities. She is currently a Developer Advocate for Samsung.
Dr Hayaatun Sillem
Follow :@hayaatun-sillem-921b4715
Sillem is the CEO of the Royal Academy of Engineering, bringing together the UK's leading engineers and technologists to promote engineering excellence for the benefit of society. She is also the chair and commissioner of the expert stakeholder's panel for Made Smarter UK, chairs the judging panel for the St Andrews Prize for the Environment and is a trustee of EngineeringUK.
Kisha Bradley
Follow: @kisha_bradley
Next is Kish Bradley, an engineer and activist for inclusive skill building and innovation. She is the founder of Bright Box, an organisation for socially excluded young people, that encourages them to explore tech and engineering.
Kriti Sharma
Follow: @kritisharma3
Last but certainly not least is Kriti Sharma, the vice-president of product for market researcher GfK. Prior to this, Sharma was vice-president for AI at Sage, and founded the tech company AI for Good which works to provide ethical AI-driven technology.
During her time at Sage, she founded Messaging Bots London, a community of chatbot developers. She is also an advisor for the United Nations and a member of the board for the Centre for Data Ethics and Innovation.
STEM Women
We hope you've been inspired by some of the most influential BAME Women in STEM today. Of course, there are so many to choose from, we sadly couldn't include everyone, however if you think we've missed anyone, please let us know by emailing info@stemwomen.co.uk.
At STEM Women we are passionate about addressing the diversity imbalance in STEM industries. We host regular graduate careers events for students and graduate across the UK, Europe and Australia to work towards bridging the diversity gap. For more information about our upcoming events, visit stemwomen.com.