Women Working in STEM Encourage Female Students to 'go for it' at Inspiring STEM Women Careers Event in Manchester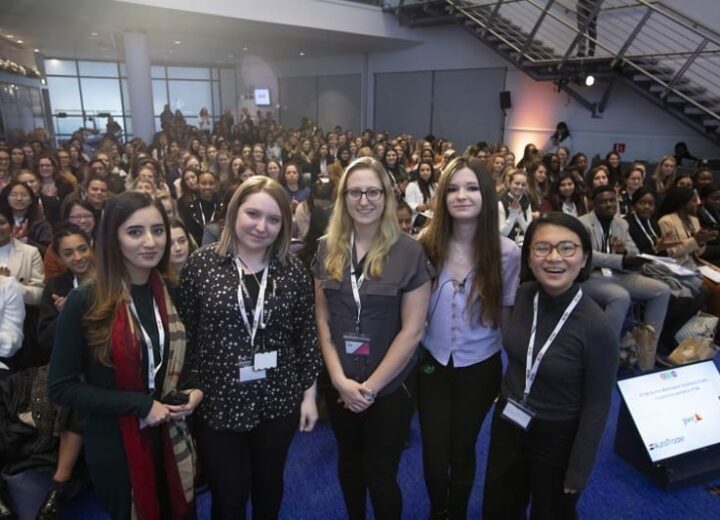 On Wednesday 30th October over 200 female STEM students enjoyed an inspiring day at the STEM Women Manchester Community Event. The day featured encouraging talks from women who were either recent graduates or senior professionals working in STEM, alongside networking sessions and an engaging panel session covering topics including imposter syndrome, diversity and how to succeed.
Female students studying a range of STEM courses from universities in Manchester, Liverpool, Leeds and Sheffield were invited to the Bridgewater Hall in Manchester, with free coaches arranged to take them to and from the venue. The students were eager to meet with representatives from 23 top companies, including Novelis, PwC, EY, IBM, Autotrader, Goldman Sachs, Capita, AND Digital, TPP, Altius, ANS, Sky Betting & Gaming, ARM, Bloomberg, Bosch, Citrix, Moody's, KPMG, Accenture, FDM, Morgan Stanley, Instron and Fichtner.
The event venue was set in the beautiful Deansgate area of Manchester, with large floor to ceiling windows that looked out over the city's tramlines and beyond. The glorious morning sun shone onto the exhibition space as the employers set up their stands in preparation for the student arrival.

Student check in
As noon approached excited students began arriving, checking in and taking their seats in the large theatre space where they enjoyed a motivating welcome video and talk from STEM Women. After this, we welcomed five women to the stage, each from a different leading company, to talk to the students about their personal experiences of working in STEM and offer application and interview advice.
First up was Lubna from AutoTrader, a Senior Front-end Developer who has been working at the company for 4 and a half years after originally joining on the graduate scheme. She spoke about enjoying the graduate programme and learning to never be afraid of asking for help.
Next up was Megan, a very recent graduate who joined Novelis just a month ago as a Mechanical Engineer in the EDP programme. She gave the students a great insight into what the company does and described what her typical day looked like.
We then heard from April, an Associate in Data Analytics for PwC. She spoke about exciting new industry trends such as Machine learning, AI and Cloud, and highlighted the importance of mentors:
"My mentors have given me the ability to see outside of my immediate surroundings. I might be struggling with a problem or lacking the confidence to do something, but they are always there to help. It's also easy to find mentors, you can just say, 'I think what you do is really great, I'd like to hear more about it', and just go for a coffee. That's something that I've learnt whilst being a professional, everyone loves coffee!"
After this, we welcomed Emma, a Technology Risk Consultant from EY. She gave the students some interesting insights into the company, how she found the assessment day and advice for the future:
"A couple of years ago when I was going to events like this, I would sit in the audience and hear about all these amazing people doing these amazing things and I would think, 'well I can't do that.' Be confident, there are employers that will recognise you and notice diversity of thought."
We ended our engaging interview session with IBM Business Consultant, Ramal. She explained how she'd successfully navigated from a graduate position to a leadership role and the importance of attending careers fairs, talking to everybody and fully researching opportunities.
When the session ended, students were guided upstairs to the large networking space where employers were waiting to speak to them and answer questions. There was instantly an excited buzz in the room as conversations were started, CVs were passed over and people connected.
During the day we met with Alexandra and Megan, two women who had originally attended the STEM Women event in Manchester as graduates and secured jobs in the Sky Betting and Gaming Tech Academy after speaking to employees on the stand.  They were now back, but this time, they were representing Sky as employers. Megan expressed how happy she was to return:
"I'm really pleased to be back here at the STEM Women event because I know what it feels like to be a fresh graduate, I was in their shoes this time last year! So today, I've been able to engage with them and tell them a little bit about how I've got to where I am right now."
Alexandra added: "I wouldn't be in the role I have now without the STEM Women event, I wouldn't have known about the role or that Sky wanted to recruit people like me. I just didn't know about the opportunities that were available to a woman wanting to go into tech."

Megan and Alexandra at the Sky Betting and Gaming stand
As networking continued, a panel session began in the theatre with the women from the interview session ready to answer questions from students in the audience. There were a selection of excellent questions ranging from practical advice for the application process, to the one skills or trait that has contributed to their career success.
The session ended with a powerful discussion about imposter syndrome, with many of the speakers talking about their own personal experiences and how they went about combating it. Emma from EY spoke about how she handles imposter syndrome:
"It's still something I suffer with now. When I'm given something new to do at work, I automatically think I can't do it because it's new. In my experience, the only way to get through it is to continually prove to yourself that you can do these things. Remember that you're not the only one feeling that way, acknowledge it, you don't have to pretend that you're okay with something if you feel like you don't know what you're doing. Just try and persevere, because it will get easier."
STEM Women Events Manager, Sophie, wrapped up the discussion with a very powerful quote from Gemma Milne, a keynote speaker who had previously spoken at a STEM Women event: "The way to really combat imposter syndrome is not to think 'why me', instead think 'why not me'."
With both employers and students extremely happy with how the event went, we are so proud to be introducing so many female STEM students to inspirational employers. And with more events to come, we can't wait to meet even more women in STEM. Check out our events page to find out where the next STEM Women event is taking place. You can also become a STEM Women member and hear news of our upcoming events first.
Are you an employer looking to exhibit and talk at one of our events? Get in touch with our team today and be part of the next STEM Women event.