Highlights from the Virtual STEM Women Ireland Event 2020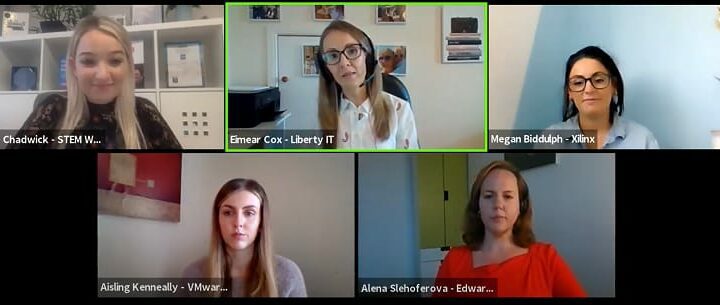 On Wednesday 26th October, we hosted our STEM Women Ireland Event. This event was targeted towards female students and recent graduates based across Ireland and looking to start their careers in STEM industries.
Sponsored by Xilinx, the event enabled attendees to network with impressive employers, hear insightful speaker sessions and engage with a Q&A featuring representatives working within STEM industries.
We welcomed a record 376 attendees and 14 exhibiting companies, which included Xilinx, VMware, Liberty IT, Edwards, Microsoft, Avanade, Eirgrid, Citrix, Bank of Ireland, Amazon, Cubicle Telecom, Workday, Google and Dornan Group.
During the event, attendees and employers had 810 conversations, sending 5,326 chat messages in total. Whilst browsing company stalls, attendees also submitted 271 job applications. We enjoyed a range of speaker and panel sessions throughout the day and had a peak live presentations audience of 249.
The most common degree subject studied by attendees was Computer Science and Data Science followed by Data Analytics.
Our event day began at noon, with a welcome talk from Sophie Chadwick, STEM Women Events Manager, followed by a talk from our event sponsor Xilinx. Libby Gribben, Vice President Global HR presented a talk which gave attendees an overview of who Xilinx are, the markets they cover and the importance of diversity and innovation within the company. Libby also spoke about her personal career journey, including some invaluable hints and tips on navigating a successful career and the importance of never saying no to new opportunities.
At 1pm, our speaker sessions began with a presentation from Michael Reeve, General Manager EMEA Semiconductor and Joe Dillon, Manager STC Operations from Edwards. Michael and Joe began their presentation with a company video which covered what Edwards do and the semiconductor industry. Michael then went on to explain the history of the company and his personal career journey, from studying engineering at university to becoming a general manager at Edwards. Joe then took over to speak about the new Service Technology Centre in Dublin which has recently created 120 new jobs. He covered his experiences in the first few weeks at the company and highlighted the strong inclusive culture at Edwards.
This was followed by a talk from Megan Biddulph, Senior Business Systems Analyst at Xilinx which covered her journey at the company, from graduate to professional. Megan gave attendees an overview of her first few week at Xilinx and how she entered a job that required her to use tools she had no experience in. She explained how she overcame her fears and realised she was only expected to learn new skills, not be an expert in everything straight away. She gave attendees great advice on how to progress in their career and the importance of being eager to learn.
At 2pm we welcomed Aisling Kenneally, EMEA Premier Services Manager at VMWare. Aisling has worked at VMware for the last 5 years and gave attendees an insightful overview of how she has progressed through the company. From starting as a Technical Support Engineer, to Technical Support Supervisor and finally being promoted to Premier Services Manager. Her presentation ended with some great advice on the best ways to stay connected, especially during the pandemic.
Our speaker sessions ended with an insight into a career in IT from Eimear Cox, Delivery Lead at Liberty IT. Eimear covered her career path, from completing the graduate scheme at Accenture, to her experiences travelling the world and the important skills she learnt along the way. She spoke about how she was nervous returning to work after having children, but that Liberty IT were hugely supportive and provide amazing help for women and flexible working hours. Today, Eimear is responsible for managing a team of 17 engineers.
In between networking, attendees were then invited to join the audience of a panel session featuring women working in STEM industries. On the panel we welcomed Megan Biddulph from Xilinx, Aisling Kenneally from VMware, Eimear Cox from Liberty IT and Alena Slehoferova from Edwards. The panelists offered some helpful advice, covering topics including what success looks like, the best way to secure a job after graduating and tips for succeeding in a virtual environment. We also heard about how to deal with negative feedback and advice on coping with application rejections.
We are delighted with how our Ireland event went and have already received some amazing feedback from both attendees and employers. A representative from event sponsors Xilinx commented:
"A very well run virtual event that encouraged engagement from all students through chat/video tools. There were excellent talks and panel discussions which provided students with real life insights into the commercial world."
Veda Mandavkar , an attendee studying MSc Cyber Security added:
"It was an amazing event. It was well organized including the before, during and after process of the event. I loved the aspect of having interview slots available for some companies which allowed me to talk with the company representatives via video call. I was very happy with the career fair and have made some amazing connections."
Another attendee, Archana Radhamony studying MSc Big Data Analytics at Sheffield Hallam University said:
"I am so grateful for this event. I got valuable insights, motivation and a lot of good advice about job seeking, career journeys and interview skills from each of the speakers and from the panel discussion."
We now have just two events left in our autumn season, Scotland and the Netherlands! For more information, visit our events page and follow us on LinkedIn, Twitter and Facebook for updates. Look out for announcements of our 20201 events schedule.
There are still spaces left for employers for our upcoming events, if you're interested in exhibiting, get in touch with laurenj@stemwomen.co.uk.