We're excited to announce our early 2021 STEM Women Events!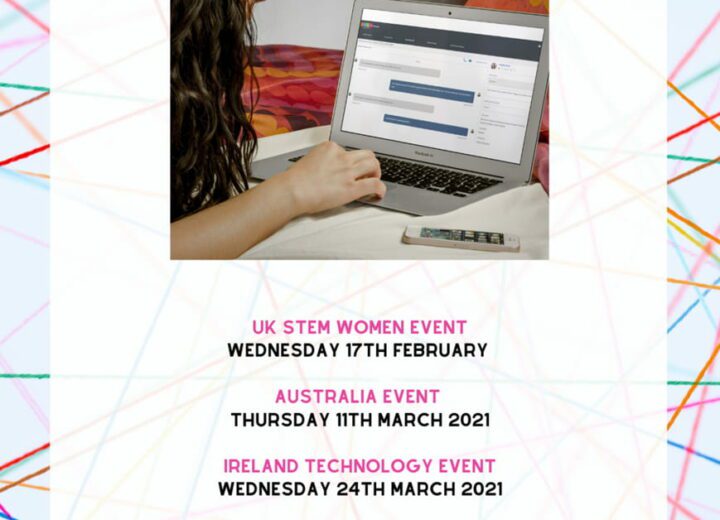 After the amazing success of our Autumn 2020 STEM Women events, we are excited to announce our early 2021 virtual events. Taking place between February and April, we will be hosting events in new countries, extending our STEM Women communities even further across the world!
Our line up features a range of different virtual events targeted towards female STEM students and recent graduates looking to start their career within a STEM industry. Two of our events will be industry focused, namely our Ireland Technology Event and our UK Technology Event. Students attending these events will be studying a STEM degree, with a passion for starting a career in technology. The other events will be location focused, meaning attendees will be based within a particular region or country, studying a STEM subject and interested in working in a range of different STEM industries.
Take a look at our line up!
Early 2021 Events Line Up


Our first event will attract students and recent graduates based across the whole of the UK, looking to start roles in STEM industries.  Our autumn event season saw us host events for UK regions including the Midlands, the North West, Wales, North East, London, Yorkshire, South West, Scotland and many more. For our early 2021 we have combined the regions to form one fabulous event which promises to be one of our largest yet!
In 2021, we will be branching out to Australia to host our first ever event outside of Europe! This event will be targeted towards final and penultimate year female STEM students studying across Australia.
Following the huge success of our Dublin Graduate event in 2019, and our Virtual Ireland event in 2020, we will be hosting a technology industry specific event in March. The event is aimed at students and recent graduates looking to start a career in technology.
Finally, we will be hosting a technology industry specific event for female STEM students and graduates based in the UK. In 2020, we held our first event dedicated to technology, which welcomed a record number of attendees and received glowing feedback. In 2021, we are hoping to beat our records once again!
Join us at a STEM Women Event 2021
If you are an employer interested in exhibiting at one of our early 2021 events, please get in touch with our Event Sales Manager Lauren, laurenj@stemwomen.co.uk
For students and graduates interesting in attending any of these events, head over to stemwomenevent.com and register your interest.
You can also follow us on LinkedIn, Twitter, Facebook and Instagram for event updates, news and information.