STEM Women End on a High with Final Autumn Event at The Science Museum, London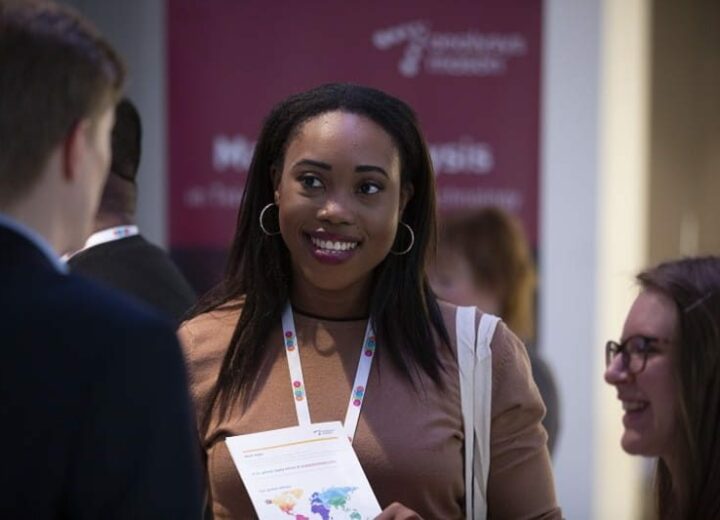 After an amazing Autumn event season, it was time for the final STEM Women community event of the year!  Hosted at the famous Science Museum in the heart of London, over 250 female students studying STEM subjects came along to meet and network with 21 top companies.
Taking place on Wednesday 27th November, the event was sponsored by NatWest Markets and began with a welcome talk from STEM Women followed by an inspiring presentation by Sarah Walker, Head of Data at NatWest Markets. She described her personal career path and her experience working at NatWest Markets.

Sarah Walker, NatWest Markets
After watching an insightful video about the company, students were then invited to head upstairs to the spacious networking hall, where lots of company representatives were waiting to answer questions, discuss opportunities and sign up candidates. The venue was the perfect setting for this inspirational day, with grand floor to ceiling windows that looked out over the iconic London skyline.
Exhibiting companies represented a range of different STEM industries, they included NatWest Markets, TUI, MathWorks, Vodafone, Framestore, Edwards, Openmarket, Daiwa, Newton Europe, Wunderman Thompson Commerce, Axis, HSBC, Capita, Willmott Dixon, And Digital, Dunnhumby, Direct Line Group, Kubrick, Analysys Mason, Bosch and Cirrus Logic.
As the buzz of networking began to grow, refreshments were served, which included delicious cookies, teas, coffees and soft drinks.
During the day two panel sessions took place featuring women working in various STEM disciplines. The first was sponsored by NatWest Markets and had a focus on Financial Services with representatives from NatWest and HSBC.
We welcomed back Sarah Walker, Head of Data, alongside Lucy Emptage, eFX Sales, from NatWest Markets, and Y'ael Vorster, an Enterprise Architecture Transformation Manager from HSBC. They explained their roles and their personal career paths, whilst giving the students some really great advice for the future.

Lucy Emptage, NatWest Markets 
The speakers also discussed imposter syndrome, an issue that a lot of people deal with daily. Sarah from NatWest Markets explained:
"I've suffered from it because of my education. I had this experience working in financial services and I knew I was good at it, but because I didn't have a degree, I thought no one was going to hire me. I think, no matter how confident you are with your skills, there's always a part of you that thinks you're not good enough."
Y'ael Vorster from HSBC also spoke about how many exciting opportunities there are in emerging tech:
"I think we're in a really exciting time for technological advancement. We're really at the forefront of innovation with things like cloud transformation, AI and Blockchain. If you pick an area that you're passionate about, you can establish yourself as someone reputable within that field if you stick with it. Pick one field, learn about it, keep climbing and the cliff of knowledge will level out."
Following these introductions, the panel session was opened up for the students in the audience to ask questions. The employers were asked a great range of questions, from the best way to approach certain projects at work, to whether being a woman ever affected the way they would manage a team.
Sarah from NatWest provided the students with some amazing advice: "I've always found being a woman in our industry as advantageous because you're different, unfortunately. I look forward to the day when I'm not, but for me, it's been an opportunity to be noticed. I've rarely felt that I've had to change my behavior, because if I'm not authentic in what I do or how I come across it's very hard to get a point across that anyone would believe in. You lose your effectiveness."
As the first panel session drew to a close and the conversations were flowing in the networking hall upstairs, we readied ourselves for the final panel session, sponsored by TUI. This session had a focus on technology and featured women working at TUI, Wunderman Thompson Commerce and MathWorks.
We began with a presentation led by Katie McAlister, Chief Marketing Officer at TUI. She outlined the core values of the company, her personal journey from overseeing technology developments, website builds and the introduction of apps, to the opportunities that are available for graduates.

Katie McAlister, TUI
Katie then went on to describe how she worked her way up from a graduate scheme, to setting up a very successful hotel-only business. She also gave the students some great advice for when they start their careers:
"I think what has served me well is to always be authentic. I think as a woman, especially as you get more senior in a company and things get a bit more corporate, it's very easy to harden your edges. But it's important to stay true to yourself!"
We then welcomed Rebecca Leon, a Test Lead at Wunderman Thompson Commerce and Katja Mogalle, a Software Developer at MathWorks. Both women talked about their roles, the most exciting trends they've seen in their fields and what challenges they faced to get to where they are now.
Rebecca explained how she got her job: "I actually came to a graduate fair like this one. I thought I'd see if there was something that jumped out to me. I saw the sign for Wunderman Thompson Commerce and spoke to the head of recruitment. Originally when I first thought of the IT industry, I saw it as very male-dominated and just about coding, but luckily when I spoke to the recruiter, she let me know that it was actually about so much more than that!"
The session ended with a few questions from the audience which focused on how companies are trying to engage more women in male-dominated sectors and application advice.
As the event drew to a close, both employers and students were eager to let us know how useful and inspiring they had found the day. Theresa Bodner, a PhD student from Bangor University described her experience:
"I really liked the panel session because I think it's important to have female mentors, people that you can look up to. The best advice I've given today is twofold, the first is to be persistent if you want something to really go for it and the other is to really be authentic. The fact that we are women is not a weakness, it's a strength and what we can bring to the industry is a lot of advantages. I can't wait to start applying to these companies!"
We also caught up with Olivia from And Digital who was really impressed with the calibre of students she had spoken to:
"The event has been really fantastic! We've had some articulate and well thought out questions, they've done a lot of research into And Digital, which was really nice too. The company have had some fantastic hires and high achievers from previous events. It's a fantastic ground for us to talk about our brand, talk about what we do and also hopefully make some more hires for next year."
If you're interested in attending a STEM Women event, either as an employer or a student, get in touch with our team today. With the Autumn event season over, there's a bit of a gap before our next event, however we have planned some more in the new year. Check out our events page for more details.