STEM Women are Bringing their Inspiring Graduate Careers Events to Australia!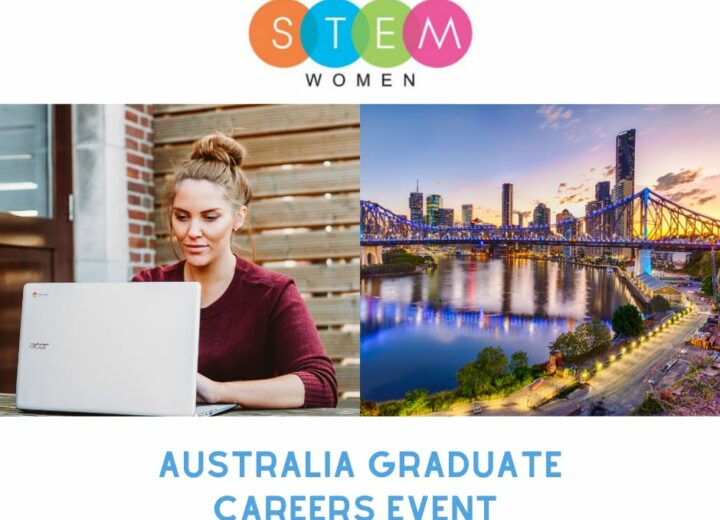 On Thursday 11th March, we will be hosting our first-ever virtual Australia Graduate Careers Event!
This event will attract STEM students and recent graduates who identify as female, from universities across Australia. It will provide the opportunity for attendees to build their professional networks with STEM employers, hear company talks, ask questions to a panel of women working in STEM and apply to live opportunities.
The event has already attracted some impressive companies, including IMC, Naval Shipbuilding College, Lion, EY, McGrath Nicol, Cochlear, Hitachi, Jane Street, Seqirus, Accenture, Chevron, John Holland, Fulton Hogan, DXC Technology, Newcrest Mining, Rheinmetall Defence and Xero, with many more to be announced! Some of our exhibitors have already expressed how excited they are ahead of the event.
"We're super excited to attend the STEM women careers event and are really looking forward to meeting you all and having some great conversations! At Xero, focusing on gender diversity has always been a priority for us, as we're keen to get more women into the tech sector. " 
Ellen Nash from Xero
"We're excited to be attending the STEM women virtual event. We are looking forward to connecting with students and inspiring the next generation of female leaders."
Tara Evans from IMC
Our virtual event platform allows attendees to browse company stalls, apply for live roles, watch inspirational presentations and talks, take part in live Q&A's and chat live with company representatives via webchat, voice or video call. Employers can also use our Sourcing tool to identify attendees from a specific course and can then initiate a chat, a very popular feature!
Our exhibitors have some fantastic opportunities for attendees, as Tracy Pierce from the Naval Shipbuilding College highlighted:
"Australia's Naval Shipbuilding Industry holds many exciting career opportunities for women in STEM, from roles in software, mechanical, electrical and electronic engineering, through to naval architecture, project management and design. The Naval Shipbuilding College looks forward to the first STEM Women event in Australia, so we can connect Australia's future talent with companies in the National Shipbuilding Enterprise.'
Katherine Davidson from Lion Co explained the diverse range of opportunities available at her company:
"There is a whole lot more to brewing than beards and tattoos – so we're excited to share more about the variety of career paths available in beverage manufacturing and our incredible culture. See you there!"
According to a report conducted by Catalyst.org, women comprised only 17% of the STEM qualified population and a total of 27 % of the STEM workforce in 2016. In engineering professions, the data showed that only 12% of the workforce in 2016 was made up of women. Similarly, in IT, women are also underrepresented, comprising just 28% of the workforce in 2017. This percentage has remained the same since 2015.
At STEM Women we are passionate about bridging the gender gap in STEM industries by helping more women to work towards a career in a STEM industry. We have successfully introduced over 10,000 female students to graduate employers at events held in the UK, Ireland and the Netherlands since 2018. Our events have attracted over 150 companies from STEM sectors, including financial services, technology, engineering and many more.
You can read more about our past events in our client success stories, which detail some of the many clients who have made hires following our events.
Sophie Chadwick, STEM Women Events Manager: "We can't wait to bring STEM Women to Australia for the first time ever! We're so excited to be branching out further than ever before to help more inspirational employers meet with talented young women."
In addition to our Australia Graduate Careers Event, we are also hosting a UK Graduate Careers Event and two Technology focused events, one for students based in the UK and another for those based in Ireland. Students attending these events will be studying a STEM degree, with a passion for starting a career in technology.
If you are interested in attending our Australia Graduate Careers Event, register for your ticket here – https://stemwomenevents.com/event/4470
For employers who are looking to exhibit at one of the STEM Women online events, get in touch with laurenj@stemwomen.co.uk to book a demo on the platform!
For more information on all of our 2021 events, visit www.stemwomenevents.com, and follow us on LinkedIn, Facebook, Instagram and Twitter to stay up to date with all the latest news and event information.