Highlights from the STEM Women Australia Graduate Careers Event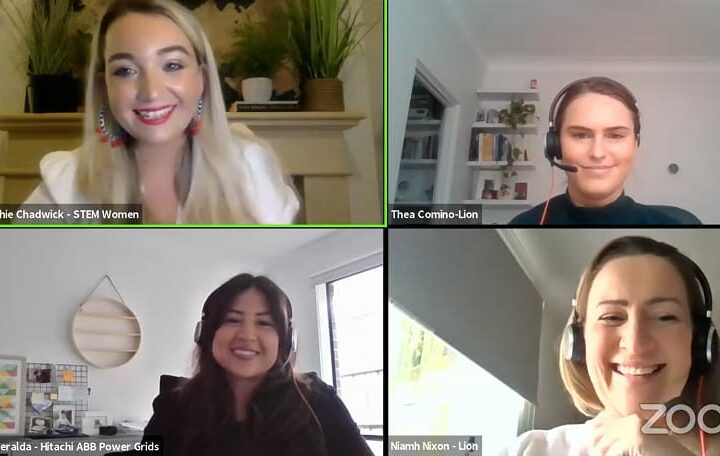 On Thursday 11th March, we hosted our very first graduate careers event for Australia and welcomed 322 attendees and 17 fantastic employers.
Our exhibitors included Lion and Hitachi ABB Power Grids who had representatives presenting a speaker session and sitting on our panel, plus Accenture, Chevron, Cochlear, DXC Technology, EY, Fulton Hogan, IMC Trading, Jane Street, John Holland, McGrath Nicol, Naval Shipbuilding College, Newcrest Mining, Rheinmetall Defence, Seqirus and Xero.
Attendees and company representatives had a total of 656 conversations, sending 4,599 chat messages! We also saw a peak audience of 137 in our live presentations section of the platform, and attendees made 191 job applications during the event.
The event started with a welcome talk from Sophie Chadwick, STEM Women Events Manager. Sophie gave attendees an outline of the agenda, an introduction to the exhibiting employers and provided some helpful tips so attendees could get the most out of the day.
We then enjoyed an inspiring panel session with women working in STEM industries. Our panellists included Niamh Nixon and Thea Comino from Lion, plus Esmeralda Hernandez from Hitachi ABB Power Grids. Attendees were encouraged to ask questions to our panellists to learn more about their roles and gain an insight into what it's like to work at their companies. We heard some great advice on how to ask for support in the workplace, the best ways to network virtually and how to make a good first impression with employers at events like these.
After a short networking break, we then began our employer speaker sessions. First up was Serena Teh, Capital Projects Manager at Lion. Serena started with an overview of her career journey so far, from graduating as an electrical engineer, to securing her first role as a graduate engineer and then a design engineer, project engineer and lastly, a project manager. She then moved to Lion, Australia's largest manufacturer of beer and adult beverages. She gave attendees a great insight into how she felt as a fresh graduate and how she wasn't sure exactly which career path to follow. Serena highlighted the importance of company culture when deciding on which job to go for and how to attract a sponsor in your business.
We then heard from Keertana Manjunatha, Controls and SCADA Engineer at Hitachi ABB Power Grids. Keertana began by talking about the lack of female engineers, especially in electrical and electronics, however, she believes that it is starting to change for the better and was happy to be talking at the event and encouraging more women to consider these roles. She then ran through her inspiring career journey, from studying her masters in Melbourne, a new country away from family and friends, to joining Hitachi ABB Power Grids. We then heard about a day in the life of her role at Hitachi ABB Power Grids, the projects she is currently working on and the exciting products she has helped to engineer. The session ended with some inspiring advice on the importance of being yourself, being authentic and staying curious.
​
Following these sessions, attendees were then invited to network and watch a skills session with Sarah Perugia, Executive Leadership Coach. Sarah's presentation focused on 'How to present yourself with impact and purpose in a virtual environment.'
Following the event both employers and attendees provided us with some fantastic feedback:
"We were thrilled to participate in STEM Women's first event in Australia today. A fantastic opportunity to speak to STEM students across Australia and hear from inspiring female STEM role models."
Jennifer Monis, Cochlear​
"Fanstastic event and highly recommended."
Jason Hume, Newcrest Mining
"I thoroughly enjoyed chatting and having video calls directly with the employers. It gave a deeper insight about the possible job opportunities not only limited to penultimate students but also open for recent graduates."
Nayma Tarik, Bachelor of Biomedical Science
We are so happy with how our first Australian event went and can't wait to return with more events down under. Next up, we are hosting a Technology sector-specific event for companies and attendees based in Ireland, followed by a Technology event for the UK. For more information, visit our events page and follow us on LinkedIn, Twitter and Facebook for updates.
There are still spaces left for employers for our upcoming events, if you're interested in exhibiting, get in touch with laurenj@stemwomen.co.uk.