Meet the Speakers – Benelux Region STEM Careers Event – September 2022 – Sponsored by Booking.com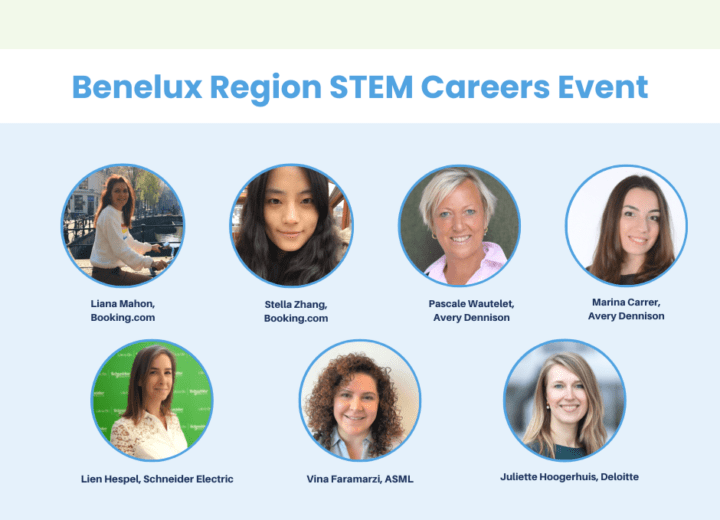 On Wednesday 28th September, we are running our Benelux STEM Careers Event! Taking place on our virtual events platform, this event is perfect for students and graduates studying a STEM (science, technology, engineering, or mathematics) related course, based across the Benelux Region (Netherlands, Belgium and Luxembourg).
Sponsored by Booking.com, we have 14 fantastic exhibitors signed up to this event, all looking to network with attendees, promote their roles and inspire. During the day, 5 employers will also be presenting live sessions, with some also sitting on our panel discussion.
Speakers will talk about their personal experiences of working in their industry, the exciting opportunities available at their company and what graduates can expect when applying for roles!
Meet our speakers!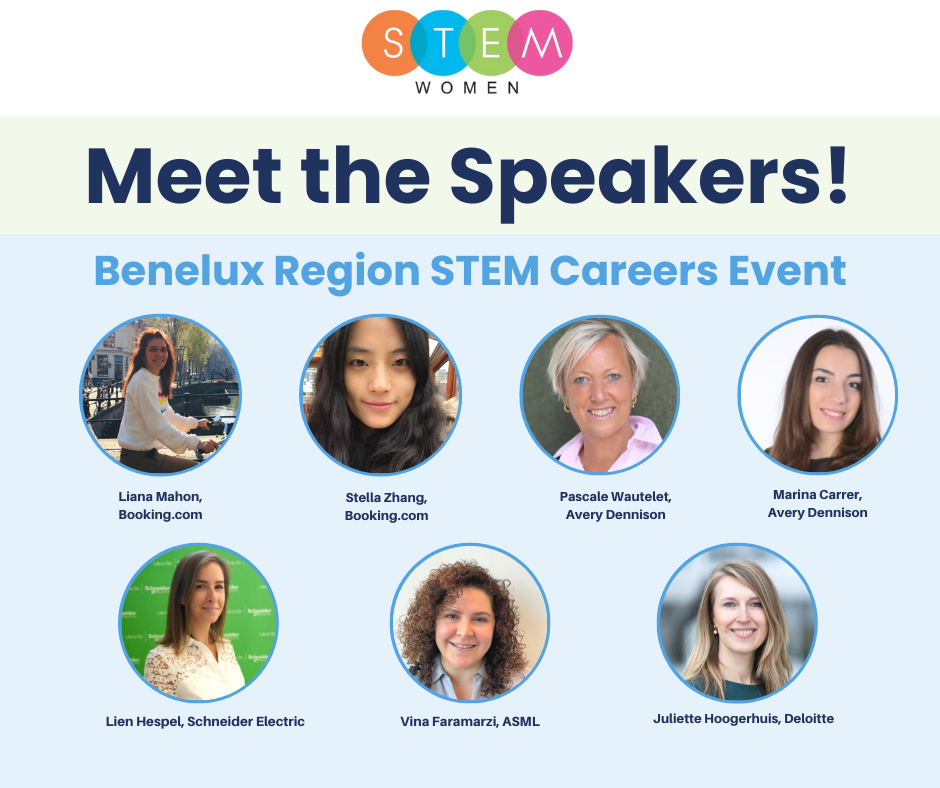 "Our team is excited to meet the inspiring attendees of the Benelux Region STEM Careers Event! We are always so impressed with the students' positive energy, academic insights, and knowledge about the latest tech." – Booking.com
"In this session I will tell you more about my career journey so far and the decisive moments that led me to this. The main question I would like to discuss with you is: How to balance chasing your goals and dreams while staying open to the unexpected? Looking forward to meeting you!" – Juliette Hoogerhuis, Deloitte.
"Schneider Electric is a leading company in the digital transformation of energy management and automation. Sustainability is at the heart of everything we do and we provide solutions to deliver improved efficiency and reliability through digital innovations. I will be talking about the company, my career path and give some advice to young women about some of my "lessons learnt". – Lien Hespel, Schneider Electric.
"Avery Dennison is a global materials science company specializing in the design and manufacturing of a wide variety of labelling and functional materials. We pride ourselves on leading our industry to a sustainable future, with a commitment to preserving and enriching where we all live and work. From our leading R&D facilities around the world, to our factory floors, we are composed of remarkably high skilled, smart people, whose relentless curiosity is matched by a passion for innovation and disruption" – Pascale Wautelet, Avery Dennison.
The Panel Discussion
At 12:25pm, we will begin our panel discussion which will feature: Kelly Pisane, Senior Data Scientist Insights, Booking.com, Laureline Senequier, Deloitte, and Greta Moser, Director PLM Brand Protection & IPPS, Avery Dennison.
The Event Agenda – Time zone CEST
Noon – Event begins in the 'Live Presentations' area, with a welcome talk from STEM Women and our event sponsor Booking.com – Stella Zhang, Senior Product Manager
12.25pm – Panel discussion with women working in industry. Ask questions and gain a fascinating first hand insight from inspiring panellists.
1:00pm – Live networking begins and continues until the event ends. Attendees can visit company stands, network with employers and search live jobs!
1:30pm – Employer insight talk from Pascale Wautelet, Vice President Global R&D and Marina Carrer, Graduate Program Associate R&D from Avery Dennison.
1:50pm – Employer insight talk from Juliette Hoogerhuis, Manager Technology Strategy & Operating Model from Deloitte.
2:10pm – Employer insight talk from Liana Mahon, Senior iOS Software Engineer, Booking.com.
2:30pm – Employer insight talk from Lien Hespel, Strategy & Marketing Manager, Schneider Electric.
2:50pm – Employer insight talk from Vina Faramarzi, ASML.
4:30pm – Event ends.
———————————————————————————————-
STEM Women Events
If you're a student or recent graduate, there is still time to register for your free ticket to this event.
We are also hosting a number events for attendees and employers based in the UK, Ireland, and the Benelux Region this autumn and in 2023. Take a look at our events line up for more information!
There are also still spaces available for employers looking to exhibit at this event and our upcoming events. Get in touch with Event Sales Manager, Lauren Jenkins by emailing laurenj@stemwomen.com.