Meet the Speakers – Australia and New Zealand STEM Careers Event – 9th March 2023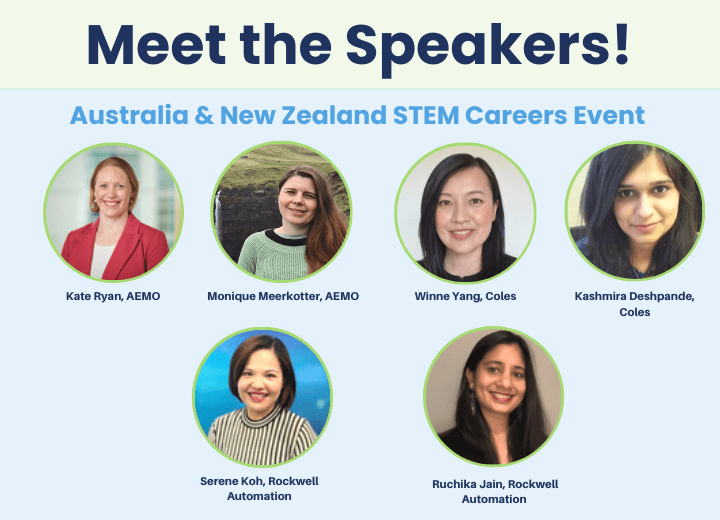 On Thursday 9th March, we are running our virtual Australia and New Zealand STEM Careers Event. Taking place online on the STEM Women Events platform, this event is perfect for students and graduates studying a STEM (science, technology, engineering, or mathematics) related course.
We have 20 exhibiting employers taking part in the event, with 3 companies delivering live presentations on stage, and an insightful panel discussion featuring women working in industry.
Meet our speakers!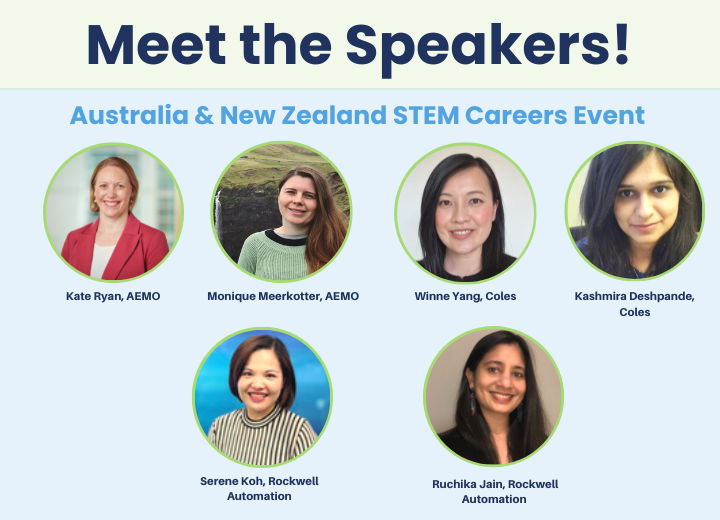 Event Agenda
Noon – Event begins in the 'Live Presentations' area, with a welcome talk from STEM Women.
12.20pm – Panel discussion with women working in STEM. Ask questions and gain a fascinating first hand insight from our inspiring panellists. We will hear from Monique Meerkotter from AEMO, Ruchika Jain from Rockwell Automation and Kashmira Deshpande from Coles.
12:55pm – Live networking begins and continues until the event ends at 4:00pm. Attendees can visit company stands, network with employers 1-1 and search and apply to live jobs and internships.
1:00pm – Live employer insight talk with Winne Yang, Head of Technology – Commercial Technology and Own Brand, Coles.
"Sharing experiences and lessons learnt over her 12 year career working in STEM – Technology, exciting opportunities and work we are doing across the Coles technology team."
1:30pm – Live employer insight talk with Kate Ryan, Executive General Manager – WA and Strategy at AEMO.
"Kate Ryan is responsible for leading the Western Australia function and AEMO's corporate strategy. Kate joined AEMO in February 2022, and has extensive knowledge and experience built over decades in the energy industry. Kate will be talking about her career journey, the role AEMO plays in the energy sector, AEMO commitment to diversity and equity and the exciting career paths within the energy sector."
2:00pm – Live employer insight talk with Serene Koh, Head of HR, Australia and New Zealand from Rockwell Automation.
"I will share with the audience an overview of Rockwell Automation, how we support our customers and enable our employees' success through our culture."
4:00pm – Event ends.
——————————————————————————
STEM Women Events
We are also hosting a number events for attendees and employers based in the UK, Ireland, Australia and New Zealand in 2023. Take a look at our events line up for more information!
There are also still spaces available for employers looking to at our upcoming events. Get in touch with Event Sales Manager, Lauren Jenkins by emailing laurenj@stemwomen.com.