Highlights from the STEM Women Australia and New Zealand Careers Event, with knowledge partner QuantumBlack, a McKinsey company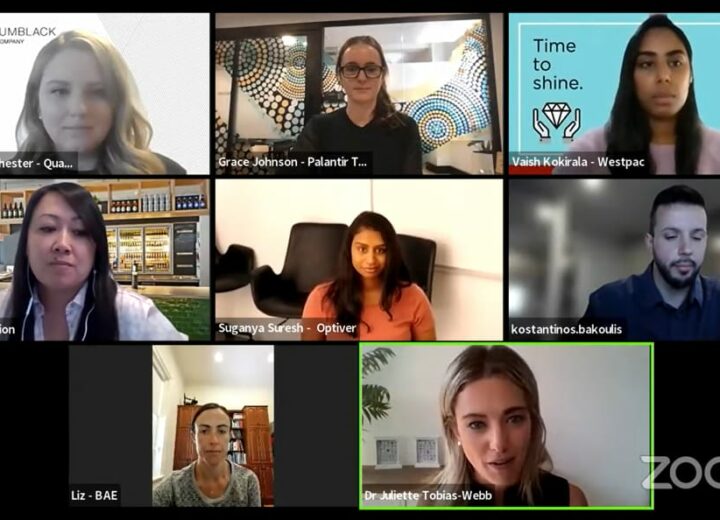 On Thursday 10th March, we ran our Australia and New Zealand STEM Careers Event, with knowledge partner QuantumBlack, a McKinsey company. For this event, we signed up an impressive 1,564 STEM students and graduates, all looking to start their careers within a STEM industry. We welcomed 33 top employers from a range of different industries to network, promote their opportunities, present talks and take part in a panel session.
This event was targeted towards STEM students and graduates who identify as women or non-binary, studying at universities across Australia and New Zealand. Attendees were studying a range of STEM related courses, but the most popular course was Computer Science, followed by Biological Sciences, and Data Analytics.
Throughout the day, attendees and employers had 1,734 conversations, sending 6,306 chat messages, and attendees made 470 job applications!
The Event Agenda
The event began with an introduction from STEM Women Events Manager, Sophie Chadwick. Sophie introduced STEM Women, gave an overview of the agenda and highlighted the exhibiting companies. This was followed by a welcome address from our knowledge partners QuantumBlack, a McKinsey company. Amanda Winchester, Expert Associate Partner, led this presentation, giving attendees an introduction to the firm and how they are facing the diversity challenge. Amanda went into how QuantumBlack work with AI machine learning processes, and how they integrate within McKinsey.
Panel Discussion
Following this, our event host, Dr Juliette Tobias Webb, a Chief Behavioural Scientist and Women in Leadership MBA Lecturer, took over to chair the panel and speaker sessions. The panel discussion featured representatives working in a range of different STEM industries. They were Amanda Winchester from QuantumBlack, Grace Johnson from Palantir, Vaish Kokirala from Westpac, Maddie Mai from Lion, Suganya Suresh from Optiver, Kostantinos Bakoulis from NEC and Liz from BAE Systems.
During the panel discussion, we heard some invaluable advice around how to get over not feeling qualified enough for job listings and how to promote the technical skills you have. The panelists also discussed how to present your soft skills without using too many buzz words, and how COVID has affected the job market for new graduates.
Attendees then had the chance to network with employers via webchat, browse the company stalls and apply for the live role. Following this, we then enjoyed the first of our employer speaker sessions.
Speaker Sessions
Narry Kim, Senior Recruiter, Sandra Chen, Data Scientist, Daisy Wood, Data Scientist, Mary Tang, Data Engineer, QuantumBlack, a McKinsey company
The team from QuantumBlack gave attendees an insight into what type of opportunities are available at the firm and what it's like to work there. Each representative talked through their personal experience at QuantumBlack and the fascinating work they do in data.
Hayley Ann Adamson, Capital Programme Manager – NZ, Lion Co
Next up, we heard from Hayley at Lion Co who spoke about her personal career journey through engineering industries. Her presentation also looked at challenging gender stereotypes and focused on how we can change diversity in STEM by changing practices in early years.
Amelia Carrozzi, Business Manager, Customer Service & Technology Transformation, Westpac
Amelia gave attendees an overview of her journey from starting as a graduate at the company, her experience over the past 4 years and what roles are available to apply for. Attendees heard in detail about the two different graduate programmes that are on offer.
Anthea Mills, Head of Engineering – People Development, and Anika Talukder, Project Engineer, BAE Systems
Next, Anthea and Anika presented on how attendees can make a positive career move to their company. They spoke briefly about their career and educational history, followed by more information about BAE Systems and what they do.
Lisa Xie, Forward Deployed Software Engineer, Palantir
We then heard a fascinating insight into what it's like to work at Palantir and the interesting projects they work on for their clients. Lisa also spoke about her experience at university and how she got her current role.
Simone Yearsley, Talent Acquisition Business Partner and Danielle Xu, IT Graduate, NEC
The team from NEC presented their talk on application processes and what to expect. Simone talked attendees through how to apply, how to structure resumes, and how to impress during an interview. Danielle then gave everyone an insight into how she got her role and how she found the recruitment experience.
Sairah Hamid, Technology Recruitment Lead, Optiver
Sairah from Optiver then presented on the open roles available at the company, the recruitment process, how to apply and their upcoming events. She spoke through the perks and benefits that graduates can enjoy when working for Optiver, plus the unique company culture.
Tina Liao, Graduate Technology and Digital Stream, NAB
Next up, attendees enjoyed a question and answer session led by event host Dr Webb. Tina talked about her background and how she got her role on the graduate scheme at NAB. She gave some great tips to attendees on how to succeed at the application stage and why she chose NAB over other companies.
Shannen Loudon, Head of Engagement APAC, mthree
Shannen then took over to talk to the audience about the Alumni Program at mthree. She gave an overview of mthree, the work they do, their partners and the talent they look for to join their training programmes.
Kate Brodie, Director of Digital AI, Optus
Attendees then heard a presentation from Kate, who covered who Optus are and how she got her role within the company. She studied commerce and business at university and highlighted how she made the move into technology.
Aroha Steele, Head of Solution Centre A/NZ, FNZ
Aroha started her presentation by talking about the importance of connectivity and how FNZ helps to connect people across the world. Attendees heard a fascinating insight into Aroha's career journey into technology and IT.
Michelle Oh, Principal – Solution Ownership, Slalom Build
Our speaker sessions ended with a presentation from Michelle at Slalom Build. Michelle talked about what she studied at university, her journey through a number of roles in technology, and how she secured her job at Slalom.
A Fantastic Event!
We are delighted to introduce even more STEM students to inspirational employers in Australia and New Zealand. This event was a real highlight and we received some great feedback from our attendees and exhibitors!
"I had the opportunity to touch on my journey in STEM at Westpac starting out as a technology Grad to now being a Scrum Master in Data Platforms. I also shared my experiences being in tech and I had a great time chatting with students about Westpac opportunities in tech!"

Vaish Kokirala from Westpac​
"There was a lot of insightful information provided in the event. A lot of good motivation and encouragement along with many tips and tricks for different stages of recruitment process. The one on one chat sessions with different employers was also a very engaging approach. Thank you for this wonderful opportunity."

Akshara Akkala Master of Computer Science University of Wollongong
STEM Women Events
We are running a number of events throughout 2022. Next up we have our UK Technology Event on 30th March, and we are running another Australia and New Zealand event in August 2022. For more information visit www.stemwomenevents.com, follow us on LinkedIn, Twitter and Facebook for event updates.
If you're interested in exhibiting at an upcoming event, please don't hesitate to get in touch with Event Sales Manager, Lauren Jenkins by emailing info@stemwomen.com.