Meet the Speakers: Australia and New Zealand STEM Careers Event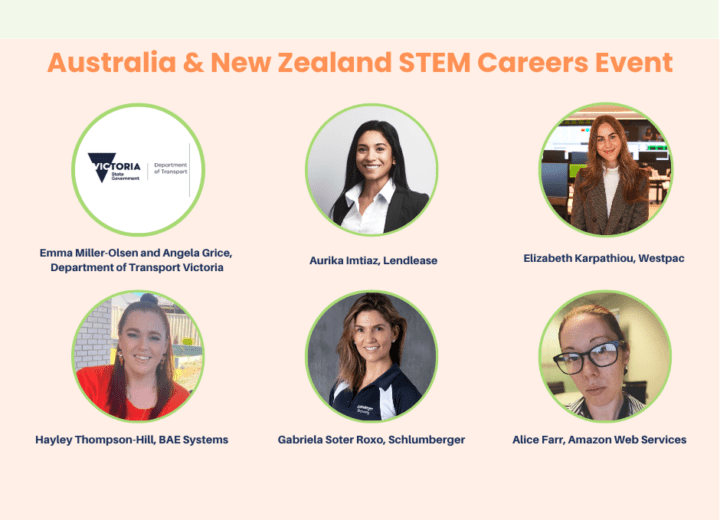 We can't wait to host our second Australia and New Zealand based event of the year! Taking place on Thursday 4th August, we have signed up 16 fantastic exhibitors, including our event sponsors Department of Transport, Victoria.
During the day, all our exhibitors will be ready to network with attendees, and many of them will be presenting live sessions and sitting on our panel discussion featuring women in working in industry.
Speakers will talk about their personal experiences of working in their industry, the exciting opportunities available at their company and what graduates can expect when applying for roles!
Meet the Speakers!
"I am looking forward to meeting you all virtually and speaking about my journey which led to my current role as an Information Security Consultant for Westpac. I will also talk about the tech landscape at the Westpac Group, particularly career opportunities at Westpac, such as the Graduate Program." – Elizabeth Karpathiou, Information Security Consultant, Westpac

"I will be sharing my history as an Engineer in oil and gas with Schlumberger over the past 12 years: I joined the company looking for a borderless career, and I did get what I asked. I also want to shed some light on the opportunities Schlumberger offer and our culture of inclusion; that is one of the things that makes me the proudest of continuing to work here". – Gabriela Soter Roxo, New Talent Recruiting & University Relations Manager, Schlumberger

"I will cover a little bit about BAE Systems and what we do, our values such as inclusion and diversity, and our early careers programs that apply to this group of Graduate and Internship roles." – Hayley Thompson-Hill, Talent Acquisition Specialist – Early Careers, BAE Systems.
Event Agenda
This event will take place:
12 – 4:00pm in AEST.
2 – 6:00pm in NZST.
————————————————-
Noon – Event begins in the 'Live Presentations' area, with a welcome talk from STEM Women and our event sponsor Department of Transport (Victoria) (DoT) – Angela Grice.
12.20pm – Panel discussion with women working in STEM. Ask questions and gain a fascinating first hand insight from inspiring panellists.
12:55pm – Live networking begins and continues until the event ends. Attendees can visit company stands, network with employers and search live jobs!
1:30pm – Live employer insight talk with Department of Transport (Victoria) (DoT) – Emma Miller-Olsen.
1:45pm – Live employer insight talk with Lendlease – Aurika Imtiaz.
2pm – Live employer insight talk with BAE Systems – Hayley Thompson-Hill.
2.15pm – Live employer insight talk with Westpac – Elizabeth Karpathiou.
2:30pm – Live employer insight talk with Schlumberger – Gabriela Soter Roxo.
2:45pm – Live employer insight talk with Amazon Web Services – Alice Farr.
3pm – Final networking break.
4pm – Event ends.
—————————————————————-
STEM Women Events
If you're a student or recent graduate, there is still time to register for your free ticket to this event – here
Not based in Australia or New Zealand? We are hosting a number events for attendees and employers based in the UK, Ireland, and the Benelux Region this autumn. Take a look at our events line up for more information!
There are also still spaces available for employers looking to exhibit at this event and our upcoming events. Get in touch with Event Sales Manager, Lauren Jenkins by emailing laurenj@stemwomen.com.