Meet the Speakers at our England and Wales STEM Careers Event, Sponsored by PwC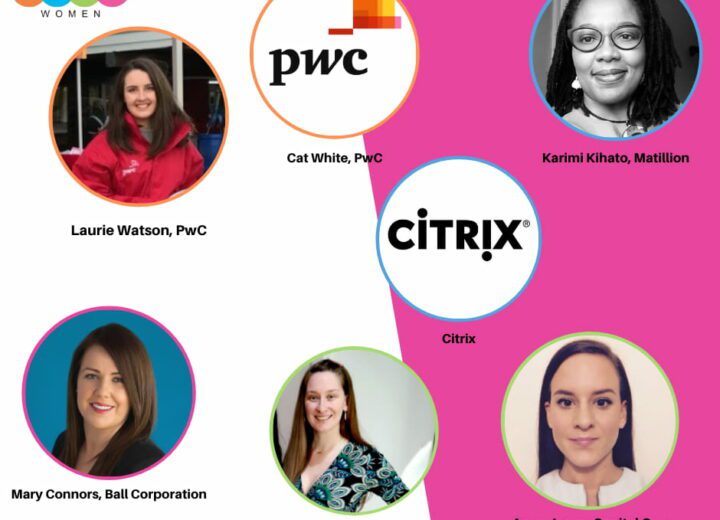 On Wednesday 13th October 2021, we are hosting our England and Wales (excluding London) STEM Careers Event for recent students and graduates who identify as female or non-binary.
During the day, attendees will have the chance to network with employers and watch live presentations during the day. These speaker sessions will be presented by representatives from top employers who will cover their personal career journey, what it's like to work at the company and offer attendees invaluable advice on the application and interviewing process.
We caught up with the speakers at our event to find out more about them, what they will be covering in their sessions and what they are looking forward to on the event day.
Welcome talk from STEM Women
The event will start with a welcome talk from STEM Women Events Host, Sophie Chadwick. Sophie will talk through the event agenda, highlight the company stalls and introduce the sponsor speaker who will address the audience.
Welcome talk from PwC, Laurie Watson, Talent Engagement Senior Associate
Laurie from PwC will be presenting the welcome talk on behalf of PwC.
Could you give us a brief description of your role at PwC?
"I work in the Student Recruitment Team at PwC specifically focussing on our Flying Start degree programmes and undergraduate opportunities. I have worked at PwC for 4 years and am based in the Manchester office."
What can attendees expect to hear during the welcome talk?
"I will be sharing an overview of PwC and our opportunities."
What are you most looking forward to on the event day?
"Meeting and speaking to enthusiastic and motivated students who are keen to learn about PwC opportunities."
Mary Connors, Director Strategic HR Business Partner EMEA, Ball Corporation
At 2.20pm, we will welcome Mary Connors from Ball Corporation to present her speaker session. Mary will cover what Ball are looking for from candidates and the application process.
What are you most looking forward to on the event day?
"I can't wait for the opportunity of meeting a whole host of female talent, and breaking those stereotypes about embarking on a career in manufacturing.  I am looking forward to showing you how exciting and dynamic joining the Ball Family can be – in beginning or continuing a hugely successful career where you will truly make a difference to the World by joining a company that has been working relentlessly to promote sustainability in all its forms – through its products, operations, and community support."
Do you have any tips for attendees?
"Ask us lots of questions so we can tell you what it's really like to work in Ball Beverage Packaging manufacturing.  Tell us what you want from your career and we will tell you how we can help and what we have on offer.  Bring your CV and an open mind."
Anna Jones, Early Careers Recruiter, Capital One
Next up, we will welcome Anna from Capital One who will be talking about the application process at the company and what opportunities they have available.
Could you give an outline of your role at the company?
"I work in the recruitment team as an Early Careers recruiter in tech and I'm mainly responsible for our Software Academy Graduate/Internship and Placement programmes."
What will you be covering during the speaker session?
"I will be covering a brief overview of the application process and maybe some myth busting around the same topic."
What are you most looking forward to on the event day?
"I'm very excited to be invited as this will be my first time on the panel and if I could help anyone with their application, it will be great experience."
Stephanie Turnbull, System Sales Account Manager, Waters
Stephanie from Waters will then present her session to the audience. She will be talking about her personal career journey and offering attendees some invaluable advice.
Could you give us a short outline of your role at Waters?
"I am a System Sales Account Manager for the North of England. My role involves understanding the needs of our customers by delivering benefit with Waters instrument solutions. Whilst making sure we sell and support the correct instrumentation, so our customers are able to answer the many scientific questions they may have. In short I sell mass spectrometers and liquid chromatography systems but in reality I sell the answers to complex scientific problems!"
What will you covering during your speaker session?
"I will be covering my career journey to date. From wanting to join the Royal Navy to academia and beyond. Outlining that changes in career path can be positive. The key is to always have a goal ahead and be determined to simply continue. "
Do you have any tips for attendees when they are at the event?
"Listen and network. The best thing you can do at events like this is expand your network. Contact speakers that you find interesting. The worst thing that can happen is they won't reply…but the best thing that can happen is they will. Be assured that we have all been in a position similar to you, you will get there (wherever there maybe)."
What are you most looking forward to on the day?
"Speaking to attendees!"
Karimi Kihato, People Operations Director, Matillion
Karimi from Matillion will then take over to talk to attendees about her unique professional journey and her current role as People Operations Director.
Could you give us a short outline of your role at Matillion?
"People Operations Director at Matillion. I lead the People Ops Business Partnering and People Operations Services team. My role leads various People OPs projects and initiatives such as designing people products and services that ensure all Matillioners have a great employee experience."
What will you be covering during your speaker session?
"My professional journey: A personal talk covering their career to date – with a focus on celebrating BHM #proudtobe a black woman in tech."
What are you most looking forward to on the day?
"Meeting students interested in a career in tech in our virtual stand and answering some really interesting questions after the talk."
Cat White, Senior Associate, PwC
We will then hear a presentation from Cat from PwC.
"My name is Cat and I work in the Audit team at PwC Newcastle. I did a Biology degree and had a wiggly career path before joining PwC on the graduate scheme. I'll be talking about my journey from university to PwC. Looking forward to speaking to some amazing women in STEM."
Representative, Citrix 
Our speaker sessions will end with a talk from a representative from Citrix. 
STEM Women Events
Before our speaker sessions begin, attendees can also watch and ask questions during a live panel discussion with women working in STEM.
If you're interested in starting your career in STEM, and would like to attend a STEM Women event, visit www.stemwomenevents.com and register for your free ticket today!
There are also still spaces available for employers looking to exhibit at this event and our upcoming autumn 2021 events. Get in touch with Lauren at laurenj@stemwomen.co.uk for more information.