Meet the Speakers at the STEM Women UK Engineering Industry Event, Sponsored by Ball Corporation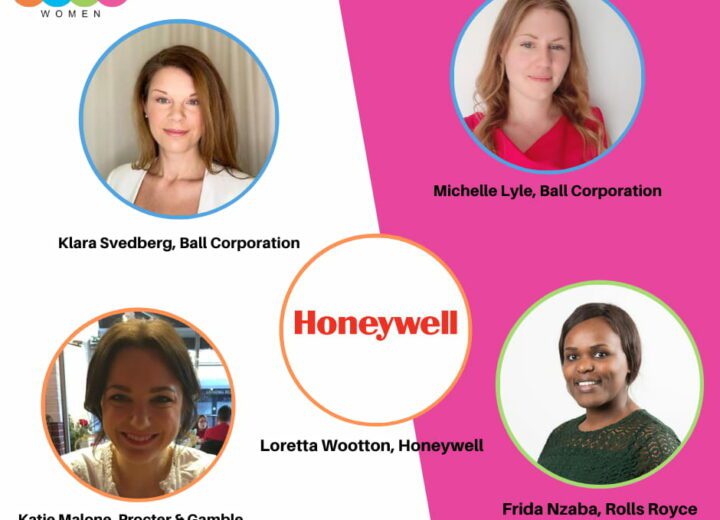 On Wednesday 20th October we are hosting our first STEM Women Event dedicated to the Engineering industry. Sponsored by Ball Corporation, this event is perfect for students and recent graduates who identify as female or non-binary and are looking to start their career in engineering.
Alongside live networking with employers, attendees will also have the chance to listen to live presentations and speaker sessions from representatives working in engineering. These talks will cover a range of topics from the exciting opportunities available to their companies, to application tips, and honest accounts of personal career journeys.
Ahead of the event, we caught up with some of the speakers taking part on Wednesday.
Welcome Talk from STEM Women
Our event will begin with a welcome talk from Sophie Chadwick, STEM Women Events Host. Sophie will open the event and introduce the exhibiting companies. She will also run through the agenda and highlight key areas of the platform to check out.
Welcome Talk from Ball Corporation
Following Sophie's introduction, we will then hear a welcome address from our event sponsors, Ball Corporation. Klara Svedberg, Senior Director for Strategy and Transformation will be presenting the welcome talk.
"I lead Strategy & Transformation as part of our EMEA leadership team – which is leading our beverage packaging business in Europe, Middle-East, Africa & Asian region.

"In my welcome talk, I will talk about the power of engineering as a skill and how that is required to understand the world we live in, and to creatively find solutions to everyday and meaningful problem. And, why we need more diverse perspectives to be truly successful."
Frida Nzaba, Manufacturing Engineer – EOS Lineside, Rolls Royce
Our speaker session will begin at 1.30pm with a presentation from Frida at Rolls Royce.
Could you give an outline of your role at the company?
"I work at Engine Overhaul Services facility in Derby as an Overhaul Manufacturing Engineer. My job consists of delivering technical packages and instructions to shop floor employees and resolves any technical issue that arise. This ensures the overhauled jet engines are maintained and serviced to be efficient; therefore I feel any improvements we make to the jet engines contribute to meeting Rolls-Royce's sustainability targets.
"I strongly advocate for more female engineers because women can bring additional qualities, skills and perspectives to the profession, such as strong interpersonal skills with fellow colleagues whilst remaining organised at work; these traits have certainly helped me in my career."
What will you be covering during the speaker session?
"I will be covering the following topics: my journey into STEM, brief intro of RR, my current role at RR and the skills I utilise for my job, graduate schemes in RR as opportunities, opportunities for extracurricular activities and how I balanced working full-time whilst studying."
What are you most looking forward to on the event day?
"I am looking forward to inspiring the graduates and enlightening them of my journey working in Rolls-Royce and what future skills are vital. I am a strong advocate of encouraging women into STEM, so this event makes me excited to have such a platform."
Michelle Lyle, Lead Engineer of Global Engineering Product Design, Ball Corporation
Next up we will welcome Michelle from Ball Corporation, who will be talking about her experience as an engineer and the opportunities are available at Ball.
Could you give an outline of your role at the company?
"My role is in the Global Engineering team at Ball which is a newer team that focuses on tooling & procedure standardization, tooling design, and increased collaboration across regions. I manage the global product design work, focusing on optimizing the can and tooling designs we currently use to be stronger, more cost effective, and more sustainable while meeting the required specifications."
What will you be covering during the speaker session?
"I will be covering an overview of Ball's products and values. I will also be covering my experience as an engineer within the company and what Ball has to offer in terms of career opportunities."
What are you most looking forward to on the event day?
"Engaging with women who are interested in pursuing careers in the STEM industry."
Do you have any tips for attendees during the event?
"Ask as many questions as you can about what various roles/career paths have to offer. I found engineering turned out to be a much broader field then I ever imagined and what I thought engineers did was actually a very small portion of what it has turned out to be. I definitely never thought I'd be designing tooling to make cans when I got my engineering degree."
Katie Malone, Fairy Liquid Operations Leader at Procter & Gamble
We will then introduce Katie Malone from Procter & Gamble to talk to attendees about her personal career journey and why she chose P&G.
Could you give an outline of your role at the company?
Fairy Liquid Operations Leader, responsible for making, packing and shipping Fairy liquid to a global market."
What will you be covering during the speaker session?
"Things I wish I'd known at the start of my career and how P&G can help you in this important phase of life!"
What are you most looking forward to on the event day?
"Engaging with our female engineers of the future and hopefully providing some inspiration for their career."
Loretta Wootton, Engineering Director, Honeywell
Our speaker session will end with a presentation from Loretta from Honeywell. She will be talking about her fascinating career path and Honeywell Aerospace.
STEM Women Events
Before our speaker sessions begin, attendees can also watch and ask questions during a live panel discussion with women working in STEM.
If you're interested in starting your career in STEM, and would like to attend a STEM Women event, visit www.stemwomenevents.com and register for your free ticket today!
There are also still spaces available for employers looking to exhibit at this event and our upcoming autumn 2021 events. Get in touch with Lauren at laurenj@stemwomen.co.uk for more information.