Meet the Sponsors and Speakers at our Ireland STEM Careers Event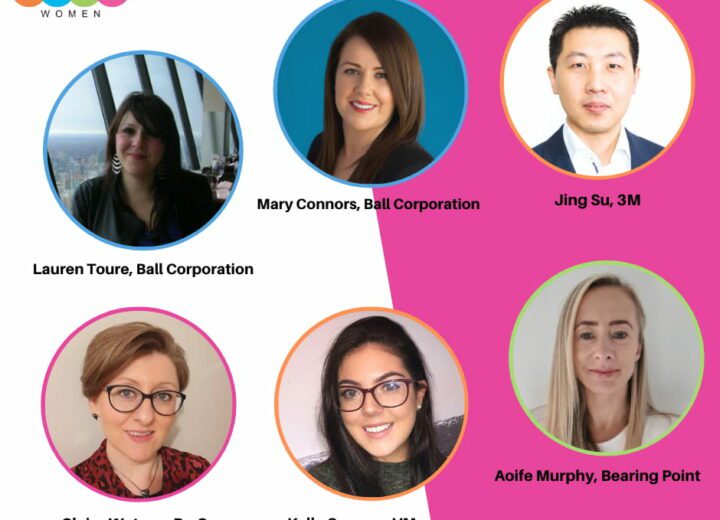 On Wednesday 6th October we are hosting our Ireland STEM Careers Event for recent students and graduates who identify as female or non-binary.
As well as live networking, attendees will also have the chance to watch live presentations during the day. These speaker sessions will be presented by representatives from top employers who will cover their personal career journey, what it's like to work at the company and offer attendees invaluable advice on the application and interviewing process.
We caught up with the speakers at our Ireland STEM careers event to find out more about them, what they will be covering in their sessions and what they are looking forward to on the event day.
Welcome Talk from STEM Women
The event will start with a welcome talk from STEM Women Events Host, Sophie Chadwick. Sophie will give attendees an overview of the agenda, highlight the company stalls and introduce the sponsor speaker who will address the audience.
Welcome Talk from Ball Corporation – Lauren Toure, Diversity & Inclusion Manager, EMEA
Lauren Toure from Ball Corporation will open the event with a welcome address. Her presentation will outline who Ball are in more detail and highlight the exciting opportunities they have available to attendees.
Who are Ball Corporation?
"Ball Corporation supplies innovative, sustainable aluminium packaging solutions for beverage, personal care and household products customers, as well as aerospace and other technologies and services primarily for the U.S. government. The company and its subsidiaries employ 21,500 people worldwide and reported 2020 net sales of $11.8 billion.
"Our aluminium beverage can and end operations in Europe, the Middle East, and Africa (EMEA) includes 24 plants – 20 can plants and 4 end plants – in addition to our main regional office in Luton, UK, and seven other regional offices throughout EMEA. With more than 4,500 employees, Ball Beverage Packaging EMEA continuously invests in its growth – adding capacity, plants, and technology – and in our people by building new capabilities, developing talents, and hiring new colleagues. Recently, the region announced the construction of a second beverage plant in the Czech Republic and a third facility in the United Kingdom."
Why are Ball excited to be sponsoring this event?
"At Ball, we are committed to maintaining a culture of belonging by providing opportunities for our people to grow while contributing to our ongoing success in unique ways. Our global teams understand that diversity and inclusion (D&I) is essential to our long-term success as an organization. Collectively, we recognize that a more diverse workforce helps drive growth and innovation, because a greater variety of backgrounds and skillsets from our employees allows us to deliver a greater variety of ideas that lead to real results. As women are significantly under-represented as a whole in all areas and at all levels of manufacturing, we want to show the world that this can be rectified. We recognize the diversity of skills, knowledge, and experience that women and all currently under-represented talent will bring us – and we could not think of a better partner for helping us on our journey."
Claire Watson, Head of Business Innovation, PwC
Our employer speakers session will then begin at 1.30pm with a presentation from Claire. She will be talking about her experience at PwC and her career journey.
What will you covering during your speaker session?
"My PwC experience and Career journey."
Do you have any tips for attendees when they are at the event?
"Be open to new ideas!"
What are you most looking forward to on the day?
"Speaking to the next generation of women who will make a difference in the world."
Kelly Conway, Technical Support Engineer, VMware
We will then hear from Kelly, a Technical Support Engineer at VMware. Kelly will be talking about her career experiences and what it's like starting at VMware as a recent graduate.
Could you give us a short outline of your role at VMware?
"I work as a Technical Support Engineer at VMware. My day-to-day responsibility is to assist VMware customers with any technical issues they are having with the product, and work towards resolving these issues through troubleshooting, testing and research."
What will you covering during your speaker session?
"During my speaker session I will give viewers an insight into life at VMware as a graduate. I will be discussing my career journey so far and giving an overview of my current role and training and development opportunities."
Do you have any tips for attendees?
"My advice to attendees starting off their career journey and attending interviews, would be to treat the moment you enter the company's grounds as if the interview has begun. It's so important to show respect and manners and both play a huge role in how companies view you as a future employee."
Mary Connors, Director Strategic HR Business Partner EMEA, Ball Corporation
At 2.20pm, we will welcome Mary Connors from Ball Corporation to present her speaker session. Mary will cover what Ball are looking for from candidates and the application process.
What are you most looking forward to on the event day?
"I can't wait for the opportunity of meeting a whole host of female talent, and breaking those stereotypes about embarking on a career in manufacturing.  I am looking forward to showing you how exciting and dynamic joining the Ball Family can be – in beginning or continuing a hugely successful career where you will truly make a difference to the World by joining a company that has been working relentlessly to promote sustainability in all its forms – through its products, operations, and community support."
Do you have any tips for attendees?
"Ask us lots of questions so we can tell you what it's really like to work in Ball Beverage Packaging manufacturing.  Tell us what you want from your career and we will tell you how we can help and what we have on offer.  Bring your CV and an open mind."
Aoife Murphy, Manager People and Strategy, BearingPoint
Aoife from BearingPoint will then take over to present a session on the company and her personal career journey to becoming a Systems Analyst.
Could you give us a short outline of your role at BearingPoint?
"I am a Manager in the People & Strategy Team in BearingPoint and for the last number of years I have been working as a Systems Analyst on large software implementation projects. I work as part of an Agile Delivery team delivering new functionality and enhancements to systems for a large Public Sector client."
What will you covering during your speaker session?
"I will talk about my career journey so far, how I got into the IT sector, some of the projects and challenges I faced along the way bringing me to my current role. I would also like to talk about BearingPoint, about what it means to work for a consultancy, how they have supported me through my journey and give attendees an insight on what it is like to work for BearingPoint not only from a delivery aspect but from a cultural perspective."
Do you have any tips for attendees when they are at the event?
"Enjoy the event, don't be shy in asking questions at the stands to get a feel for the company and the roles on offer. Perhaps also do a bit of research on the companies you are interested in ahead of the event or before reaching out to them."
What are you most looking forward to on the day?
"I am really looking forward to the panel discussion, engaging with the other participants and hearing views and stories from other women in the tech industry."
Jing Su, Senior Machine Learning Scientist, 3M
Our speaker sessions will end with a presentation from Jing Su from 3M. He will be going into detail about his role as a Senior Machine Learning Scientist and the role AI in the medical domain.
Could you give us a short outline of your role at 3M.
"I am a senior machine learning scientist at 3M Digital Science Community. We are developing advanced natural language understanding technologies in medical domain. My role includes designing a proposal, working out an idea and collaborating for a bigger goal. It's great to work in a motivated team."
What will you covering during your speaker session?
"I will talk about the needs to assist medical appointments, how doctors do in general and what AI can help."
Do you have any tips for attendees when they are at the event?
"I'll talk about the challenges of speech recognition and natural language understanding in a specific domain, in which way AI brings a solution, and the tips to build a career in one AI domain."
What are you most looking forward to on the day?
"I am looking forward to talking to people who have enthusiasm to work on AI and smart technologies. I wish to give advice as I can."
STEM Women Events
Before our speaker sessions begin, attendees can also watch and ask questions during a live panel discussion with women working in STEM.
If you're interested in starting your career in STEM, and would like to attend a STEM Women event, visit www.stemwomenevents.com and register for your free ticket today!
There are also still spaces available for employers looking to exhibit at this event and our upcoming autumn 2021 events. Get in touch with Lauren at laurenj@stemwomen.co.uk for more information.