Meet our Australia and New Zealand Careers Event knowledge partner, QuantumBlack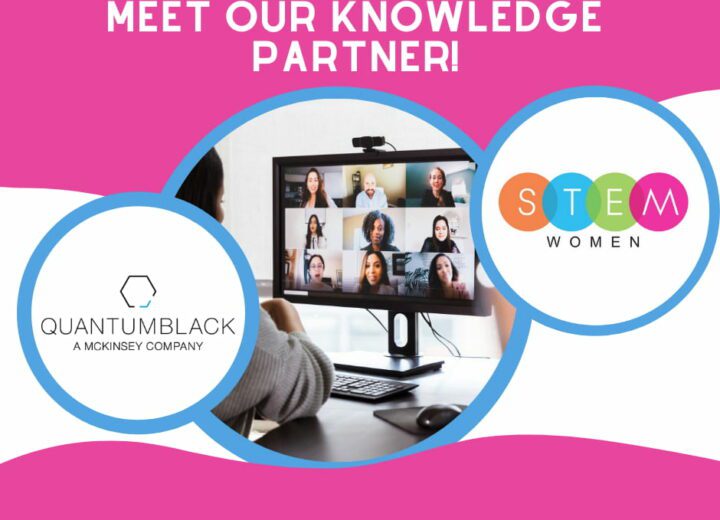 We are excited to announce that QuantumBlack is partnering with us for our upcoming Australia and New Zealand STEM Careers Event, taking place on Thursday 10th March! Ahead of the event, we caught up with Amanda Winchester, Expert Associate Partner at QuantumBlack to find out more about the Firm and what attendees can expect to hear during the event.

Amanda Winchester, Expert Associate Partner at QuantumBlack, a McKinsey company
We are so excited to be partnering with you, let's begin with an overview of who QuantumBlack is.
"QuantumBlack is the Machine Learning and AI centre of innovation and excellence at McKinsey & Company. We use the latest AI and Machine Learning approaches to help our clients use their data to drive performance. We bring together the brightest data scientists, engineers and designers to tackle some of the biggest challenges facing both organisations and the world today. It's a fascinating place to work!"
Why have you chosen to partner with STEM Women?
"We are very committed to the idea that we have a responsibility to help the wider tech and data industry offer better opportunities for women. We are proud to partner with STEM Women to support, champion and show women there is a path into STEM – at all levels. We need more women in this field and we need greater visibility of what women in this field have contributed."
What can attendees look forward to hearing about in your talks?
"We're excited to share with participants how QuantumBlack works with top-tier organisations around the world to apply data to challenging, real-world business problems and strategies.  We'll share case examples of the types of work we do, where we are in tackling the diversity challenge of creating opportunities for women in tech disciplines as a Firm, and why we're excited about the next wave of female STEM talent. Through this forum, we hope to provide participants with the opportunity to ask questions, get advice, and learn more about the diverse set of careers available to those emerging from their studies with STEM degrees."
​QuantumBlack Labs
What opportunities are available to attendees?
"A whole range. We're seeking inspiring data scientists, data engineers, software-cloud engineers, agile coaches, product managers, designers and digital marketers."
Do you have any tips for attendees approaching the company stall?
"Bring an open mind! There are so many ways in which you can apply your educational background in your career – you don't need to be studying business or law to be successful in management or leadership positions, just as a degree in engineering doesn't mean that you're locked into traditional engineering roles once you graduate."
Why is gender diversity important to your company?
"At QuantumBlack we strive to accelerate performance, for our clients and for the personal effectiveness of our own colleagues. Working in a team setting is so core to our culture as a Firm, whether that team is building a reusable, scalable tool that saves hours of data engineering capacity when faced with a new data set, or helping a client transform their business unit's profitability. It's been proven that gender diversity is a leading indicator of top performing teams and organisations – and we've found that bringing together people of different backgrounds, cultures, and educational experiences helps ensure that our teams are operating at peak performance across the board."
STEM Women Events
We can't wait to hear from QuantumBlack at our event. They will be presenting a welcome talk, an employer speaker session and will have a representative on the panel. Attendees can also network live with the team, browse the Firm's stall and apply to live opportunities.
If you are a STEM student or recent graduate and would like to attend a STEM Women event, check out our events page and register your interest. All of our events are completely free for attendees and offer exclusive access to amazing graduate opportunities.
Register for the Australia and New Zealand STEM Careers Event.