Join us at the STEM Women Virtual UK Graduate Careers Event this February!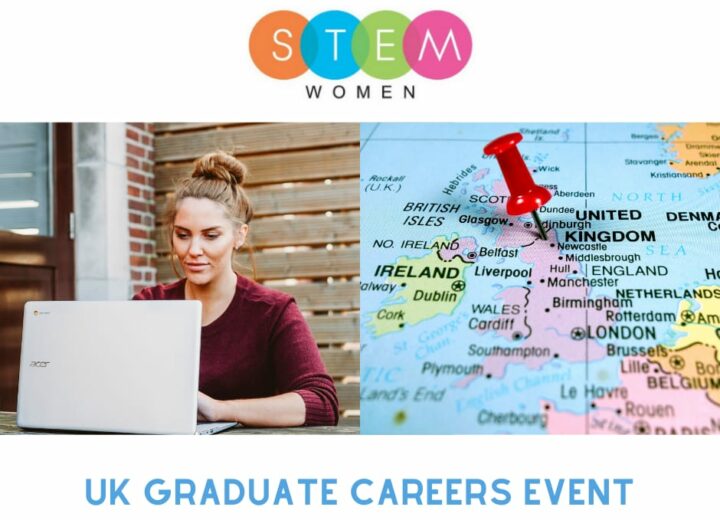 On Wednesday 17th February 2021, we will be hosting our first virtual UK Graduate Careers Event of 2021!
Targeted towards female STEM students studying at universities across the whole of the UK, this inspiring event will give attendees the opportunity to virtually network with potential employers from STEM industries, watch live talks from employers, ask questions to a panel of women working in STEM and apply for exclusive job opportunities.
The event has already attracted some impressive companies, including PwC, VMWare, KPMG, Infosys and Optiver, who will be running live presentations, Imperial Business School, MathWorks, Efficio Consulting, BAE Systems, Flow Traders, Jeffries, Jane Street, General Dynamics, SEI, Lidl, Danaher and EIP, with many more to be announced!
Our innovative STEM Women virtual platform allows attendees to browse company stalls, apply for live jobs, watch presentations, ask questions during Q&A sessions and live chat with company representatives.
According to a WISE report, from 2019 to 2020 just 24% of the UK STEM workforce was made up of women. STEM Women Events strive to bridge the gender gap in STEM industries and work towards encouraging more women to choose a career in STEM.
In Autumn 2020, we hosted 10 virtual careers events across the UK, Ireland and the Netherlands, welcoming 133 exhibiting employers and 3,421 women looking to start their careers in STEM industries. Our events have already proven to help female students and graduates find their dream roles at impressive companies across the UK, Ireland and the Netherlands. Check out our latest case studies, featuring students who have accepted offers for roles at impressive companies, and our client VMware, who were thrilled to make a number of hires following our Autumn 2020 events.
Panel session at STEM Women Ireland Event 2020
Sophie Chadwick, STEM Women Events Manager: "We are so excited to host our first virtual event of 2021. Our Autumn 2020 virtual event season was such a huge success with both employers and attendees, we can't wait to continue helping women to succeed in STEM d work towards a more gender balanced workforce."
Alongside the UK Graduate Careers Event, we are also hosting two Technology focused events, one for students based in the UK and another for those based in Ireland. Students attending these events will be studying a STEM degree, with a passion for starting a career in technology. We are also set to host our first-ever event for STEM students based in Australia! We're so excited to be branching out further than ever before and hope to build our STEM Women communities across the world.
If you are interested in attending our UK Graduate Careers Event, register for your ticket here – https://stemwomenevents.com/event/4521
For employers who are looking to exhibit at one of the STEM Women online events, get in touch with laurenj@stemwomen.co.uk to book a demo!
Visit the STEM Women (www.stemwomenevents.com) events page to find out more, and follow us on LinkedIn, Facebook and Twitter to stay up to date with all the latest news and event information.