Inspiring Women in STEM Posters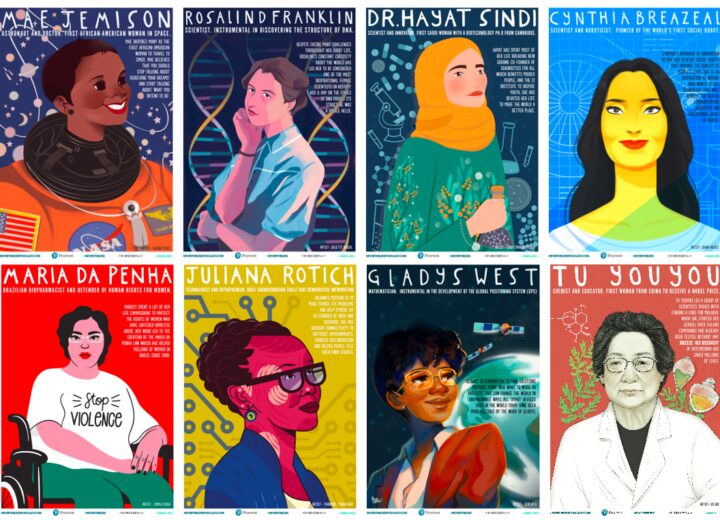 At STEM Women, we love learning and getting inspired by some of the amazing things women achieve in STEM industries. Recently a female empowerment podcast, Nevertheless, commissioned eight female artists from across the world to illustrate accomplished and innovative women, whose names and achievements have gone underappreciated. These colourful and bold illustrations were then used to create some amazing women in STEM posters that everyone can download for free! Each one depicts a portrait of a remarkable woman, alongside a brief description of their inspiring accomplishments.
Available for free download in seven different languages, these STEM role model posters are so fab, we wanted to carry on the legacy by sharing and explaining a bit more about the women they depict.
Check out the inspiring women in STEM posters below!
Women in STEM Posters: 
Dr Hayat Sindi
Born in Makkah, Saudi Arabia, Dr Hayat Sindi is one of the world's leading biotechnologists and was ranked by Arabian Business magazine as the 19th most influential Arab in the world. She is the President and Founder of i2 Institute, alongside being the co-founder of Diagnostics For All. Sindi was the first Saudi woman to be accepted to study at Cambridge University in the field of biotechnology and obtained her Ph.D in 2001 from Newnham College. She is also the first from any of the Arab States of the Persian Gulf to achieve a doctoral degree in biotechnology.
The illustration of Hayat Sindi was completed by freelance illustrator Lidia Tomashevskaya. Born in Tel Aviv, Israel, she has worked with publishing houses on book illustrations and has produced illustrations and graphic design for brands such as Hewlett Packard.
Juliana Rotich
The next STEM role model poster depicts Juliana Rotich, a technologist, strategic advisor, entrepreneur, and keynote speaker, known for her instrumental work in building crowdsourcing tools that democratise information. Rotich is the co-founder of BRCK Inc in Kenya, a hardware and services technology company formed to assist the flow of communication in low infrastructure environments by developing innovative technologies. She is also the co-founder of non-profit tech company, Ushahidi Inc, which focuses on the development of free and open source software that changes how information flows.
The women in STEM poster was designed by graphic artist, Thandiwe Tshabalala. Based in Cape Town, her work is colourful, bold, conceptual and usually follows her motto 'communicate don't decorate.' She was awarded the Mbokodo Award for South African Women in the Arts in 2015.
Maria da Penha
A Brazilian biopharmacist and defender of human rights for women, Maria da Penha advocates for women rights against domestic violence. After she was nearly killed by her husband, Penha found that in Brazil there were no police stations she could go to for help that specialised in violence against women. Her case remained in the court system for two decades, whilst her husband remained a free man. However, in a landmark ruling years later, the Court of Human Rights openly criticized the Brazilian government for not doing more to prosecute domestic abuse perpetrators. In 2006, the Brazilian government responded by enacting a law now known as the Maria de Penha Law on Domestic and Family violence. The law increased the punishment for domestic abuse against women.
Brazilian freelance illustrator and designer Camila Rosa created this STEM role model poster. Rosa's work shows women from alternative perspectives, for example Latin-American, powerful and not in line with the stereotypical beauty standards.
Tu Youyou
A pharmaceutical chemist and educator, Tu Youyou was the first woman from China to receive a Nobel Prize. She discovered artemisinin, also known as ginghaosu, and dihydroartemisinin, both drugs used to treat malaria. This discovery was a huge breakthrough in 20th-century tropical medicine and helped save the lives of millions of people around the world. For this ground-breaking work, Tu received the 2011 Lasker Award in clinical medicine and the 2015 Nobel Prize in Physiology or Medicine, jointly with William C. Campbell and Satoshi Ōmura.
She became the first Chinese Nobel Laureate in medicine or physiology and the first female citizen of the People's Republic of China to receive a Nobel Prize in any category.
One of the more detailed Women in STEM posters, it was illustrated by Xu Hui, an artist from Jinan, China.
Mae C. Jemison
Mae C. Jemison is an American engineer, physician and NASA astronaut, and on September 12, 1992, she became the first African American woman to travel in space when she went into orbit on the Space Shuttle Endeavour. In 1993 she left NASA to start her own company and began researching the application of technology to daily life. She holds nine honorary doctorates in science, engineering, letters, and the humanities.
Karina Perez designed the poster. She is a Mexican American Illustrator and Designer who is focused on exploring storytelling through design and colour.
Cynthia Breazeal

Dr Cynthia Breazeal is a scientist and roboticist. She is an Associate Professor of Media Arts and Sciences at the Massachusetts Institute of Technology where she founded and directs the Personal Robots Group at the Media Lab. She is also the founder and Chief Scientist of Jibo, Inc, and is a pioneer of Social Robotics and Human Robot Interaction. Breazeal is the author of Designing Social Robots and has published over 100 articles in journals surrounding topics of Autonomous Robotics, AI, Robot Learning and Human Robot Interaction.
The artist who created this Women in STEM poster is Joana Neves. A Portuguese digital artist who loves drawing and is driven by her long-time interest for fashion, folk tales, burlesque and animation.
Gladys West
An American mathematician, Gladys West is celebrated for her amazing contributions to the mathematics at the heart of GPS. Surprisingly, her instrumental work went unnoticed until a member of her sorority, Alpha Kappa Alpha, read a short biography West had written and submitted for an alumni function.
The poster was created by self-taught illustrator Geneva B, from North Carolina. Her work focuses on colours, big hair and whimsy touches of realism and happiness.
Rosalind Franklin
A scientist whose pioneering study of molecular structures including coal, viruses and DNA gained her huge recognition from fellow scientists. Rosalind Franklin was instrumental in discovering the structure of DNA, her X-ray diffraction images of DNA allowed the University of Cambridge's Francis Crick and James Watson to identify the double helix structure. Sadly, for years her work went unnoticed, only Crick Watson and Frankiln's colleague Maurice Wilkins received the Nobel Prize for the discovery in 1962. However, in 2003 the Royal Society founded the Rosalind Franklin Award to highlight her outstanding work and celebrate the work of women in STEM.
One of the more colourful and bold Women in STEM posters, it was created by French animation student and illustrator Juliette Brocal.
Get inspired by women in STEM
At STEM Women, we are on a mission to address the gender imbalance in STEM. Each year, we host networking careers events for female students studying STEM subjects at university and experienced women with 1-5 years' experience in STEM industries. We invite companies looking to recruit for STEM related roles to connect with our large community of women in STEM at events across the UK, Ireland and Europe. Our events allow attendees to network with top employers, connect with female role models, grow professional networks, engage with skills sessions and hear inspirational talks and panel sessions.
Visit our events page to find out more and follow us on LinkedIn, Facebook and Twitter to stay up to date with all the latest news and event information.