How STEM Women Events Can Benefit Start-ups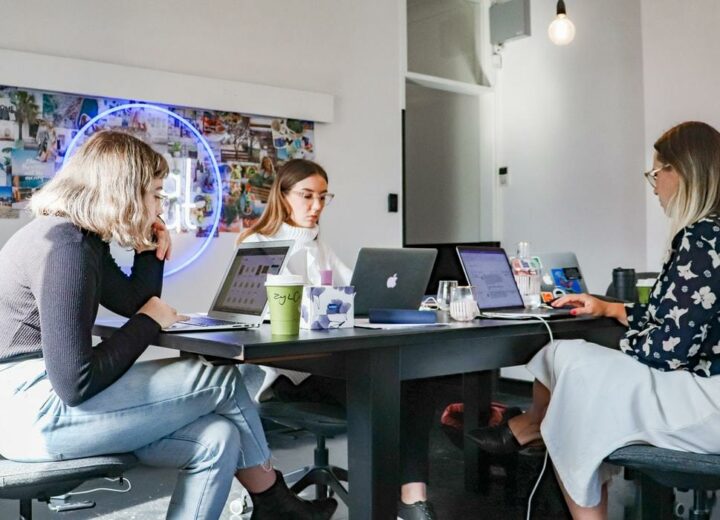 Graduate recruitment events aren't just for large companies, in fact, start-ups and SMEs can benefit hugely from careers fairs like STEM Women events. From improving brand awareness, to establishing an inclusive culture, lowering hiring costs and saving time, our graduate events can assist start-ups with their recruitment strategy and help lead to business growth.
The biggest challenge most start-ups are faced with is hiring the right people. Building a great team is crucial if you want your business to succeed. According to CB insights, not having the right team in place is the third major reason why most start-ups fail. But with competition so high, you will often find yourself up against big corporations in the battle for talent.
However, one of the best ways for start-ups to stand out from the crowd and attract the very best talent is at graduate careers events. In particular, STEM Women events!
Who are STEM Women?
STEM Women host events targeted towards STEM students and recent graduates who identify as female or non-binary and are looking to start their career in a STEM industry. Our events allow top employers to network live with attendees via webchat, voice and video call, source interesting talent using our sourcing tools, present speaker sessions about their company and take part in insightful panel sessions. Our events have proven successful with all sorts of companies, from large corporations, to SMEs, and start-ups.
We host a range of events, from general STEM careers events to industry-specific events for technology, financial services and engineering. Our events take place across the UK, Ireland, Europe and Australia.
How can our events benefit start-ups?
Let's take a look at just some of the reasons why STEM Women events can benefit start-ups…
Boost brand awareness
As a start-up, one of the key objectives of the business will be to increase awareness of your brand and what it offers. By exhibiting at one of our events, your company logo will be used across marketing materials, in brochures, on the event platform, on our website, and much more. Depending on the package you choose, we will also create promotional articles about your company and the exciting opportunities you have available. During the event, your company stall will be live to hundreds of attendees, and fellow employees, showcasing company content, images, videos, and jobs. We will also publish articles and videos after the event, highlighting the day and further promoting the companies who took part.
Gain exclusive access to top talent and source for your roles
Our events allow employers to actively search for top talent during the event using our sourcing tool. You can view CVs, network, and set up video conversations with all active event attendees. If you opt for the premium package, you will also benefit from having access to the data of everyone who signed up to attend the event.
Fill your roles more efficiently
Recruitment is always one of the toughest processes for start-ups. With such a small team, it's important you find the right fit for your new roles. This can be very time-consuming, time that you may not have. At STEM Women events, we source candidates from top universities who are specifically looking for roles within STEM. Our event attendees are passionate and bright, making them perfect for start-ups. By attending our events, you will save time looking for potential candidates as they will be there waiting for you to contact them.
"We partnered with STEM Women to host our first bespoke event and found the entire process from start to end second to none. The professional and dedicated approach provided us with comfort that we were in good hands and support our company's diversity agenda.

"We wanted to host an event to create an awareness of the brand, and although we didn't have set expectations we were pleased with the quality and the attendance of students, resulting in female graduate hires!"

Serena – Early Talent Specialist at Graphcore

Read more about the Graphcore STEM Women event here. 
Spark interest
As a start-up, it can be difficult to find the right candidates for your roles, as many job seekers may have never heard of your company. At STEM Women events, growing start-ups usually have a higher average engagement from event attendees. For example, at the STEM Women UK Technology Event in April 2021, Ekimetrics, a small data science consultancy, performed over the average for stall visits and chats during the event. Your business is new and innovative, which are all things that fresh graduates are curious about when searching for their first job. We have found that they are very keen to work at start-ups, it can sometimes be hard for them to find out about the opportunities and roles available.
"The virtual Women in STEM careers event was a great way for us to meet relevant, engaged, and more importantly, exceptional female talent from all walks of life and different academic backgrounds. We were able to identify and speak to graduates looking for a career in data science and they were able to easily find out more about who we are. A great event and being virtual, meant we were able to involve more of our team in the process!"

Katherine Baylis – Ekimetrics 
Establish an inclusive culture
At STEM Women, we are champions of diverse working environments. Start-ups have a unique opportunity to establish a gender-balanced culture. When staff numbers are modest, a small number of female hires can really help improve the male: female ratio. In turn, this creates a diverse culture that attracts more female applicants in the future. By contrast, start-ups that don't focus on D&I during the early stage are likely to develop a culture that becomes a bigger issue in the future.
No preconceptions
Some companies that attend events will suffer from having a few preconceptions about what it's like to work there, or the type of roles they have available. Start-ups have the advantage of a clean slate when it comes to highlighting their company culture, working environment, and the opportunities that are available. By exhibiting at a STEM Women event, it's easy to become known as a champion of diversity in the eyes of graduates. This impression is likely to last and can make the company an "employer of choice".
Showcase your business during a speaker or panel session
As well as having your company stall live and networking with attendees, many employers also choose to host a speaker session. During these sessions, you have the chance to present about your company, offer real stories about your employees, and talk about the roles that are available. These live presentations usually see over 200 watchers, making it the perfect opportunity to boost your stall visits and chats. At the STEM Women London and Home Counties Event in 2020, technology start-up Poly AI hosted an insight session that went into detail about machine learning and the unique projects they work on at the company. Following the session, they moved up to the top 10 companies for a number of stall visits. If you opt for the speaker package, you will also have a representative on the panel session which takes place at the very start of the event, and therefore always draws a large audience. The panel sessions are more informal, allowing employers to answer questions from the audience, which are usually focused on personal experiences and advice. As a start-up, you may be able to offer the attendees some insightful advice they may not have heard before, whilst promoting your unique business and opportunities.

STEM Women Panel Session
Find potential partners
STEM Women events are attended by many different kinds of organisations, from large companies like Google, PwC and EY, to smaller tech start-ups, banks, investment companies and engineering businesses. As a start-up, these events can be one of the best places to really showcase your unique business, not only to potential recruits but also to sector leaders. You may find extra investment from a fellow employer exhibiting, or partnership opportunities, leading to greater company growth.
Virtual events mean lower costs
STEM Women events have moved completely online, so costs for employers are much lower. Companies no longer need to worry about travel, hotel, marketing, and goody bag costs!
Be champions of gender diversity in STEM
According to LinkedIn's research, company culture is among the top reasons for changing jobs. Top talent wants to work for companies that value their employees and support an inclusive culture. By showing that your company is a champion of diversity and promote a healthy work culture, you will attract the best people to join your company. It has been proven that having a gender-balanced team can boost productivity and innovation and therefore lead to increased business growth and results!

​
Many students and recent graduates would love to work at a start-up, but sometimes they don't know where to find out about the opportunities and they may have never heard of the company. By attending a STEM Women event, you will be able to network with amazing students and recent graduates from across the UK, Ireland, Australia, and Europe.
We have already worked with a number of start-ups, who have had great success at our events. One of our returning clients is Alacrity Foundation, read more in our client success story.
For more information about STEM Women events, please contact our event sales manager, Lauren Jenkins. She will guide you through the process of an event, offer you a free demonstration of the platform, and send you any relevant marketing brochures.
You can also follow STEM Women on LinkedIn, Twitter, Instagram, and Twitter to keep up to date with events and the latest diversity and inclusion insights.