Highlights from the STEM Women London Careers Event, Sponsored by PwC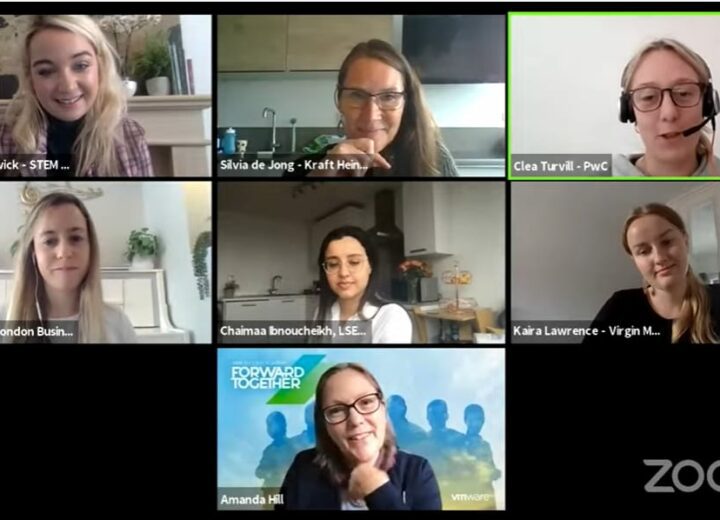 On Wednesday 29th September we hosted our London Careers Event, reaching our halfway point of the autumn event season. This event was perfect for students and recent graduates who identify as female or non-binary and were looking to start their careers in a STEM industry.
This was one of our largest virtual events yet, with 1122 students and graduates signed up for this event, and 560 signing in on the day. We welcomed 30 top exhibitors including our event sponsors PwC, plus Amazon, American Express, Analysys Mason, Bird & Bird, CBOE, Dornan Group, Efficio, EY, Flow Traders, FTI, IMI Plc, Kilburn and Strode, KPMG, Kraft Heinz, Liberty Global, Lidl, London Business School, London Stock Exchange, MJ Hudson, NetCompany, Newton, RELX, RWE, Sherwin, Sky, Virgin Media, VMware, Wates and Willmott Dixon.
Over the course of the event, attendees and employers had a total of 1,213 conversations, sending 6,656 chat messages, and recorded 464 job applications. During our live presentations, there was a peak audience of 297.
Our attendees were predominately studying computer science, followed by biology and mathematics.
The event began with a welcome talk from STEM Women Events Hosts, Sophie Chadwick. Sophie addressed the audience and gave everyone an introduction to the platform and the exhibitors. She also went through the event agenda and timings for the speaker sessions.
This was followed by a welcome address from our event sponsors, PwC. Ladane Faycal, Student Recruiter, began her talk with an overview of PwC and their business areas. She also covered the exciting opportunities available at the company, the application process and how attendees can apply. She ended her session by inviting attendees to head to the company stall and start chatting with representatives.
Directly after the welcome talk, we held our panel session with women working in STEM industries. The audience could ask their questions live to the panel and upvote questions they were most interested in. The panel featured Kaira Lawrence from Virgin Media, Silvia de Jong from Kraft Heinz, Clea Turvill from PwC, Yael Droog from London Business School, Amanda Hill from VMware, and Chaimaa Ibnoucheikh from London Stock Exchange Group.
The panellists answered questions on how to go from studying a science related course at university to entering into a technical role, tips for interviews and the importance of finding mentors. We heard some great advice on the importance of being your authentic self in interviews and during assessments, and how to be confident.
After the panel session, we had a short networking break, where attendees could browse company stalls, apply for jobs and network with employers.
At 1.30pm, our employer speaker sessions began with a presentation from Chaimaa Ibnoucheikh, Solutions Architect at London Stock Exchange. Chaimaa began by talking about her educational and career journey so far. Her presentation centred around some of the key soft and technical skills you need to succeed as a Solutions Architect. She spoke in detail about the specific projects she works on and how a combination of soft and hard skills have helped her to succeed.
We then welcomed Hema Solanki, Student Recruitment Manager for the Early Masters Programme at London Business School. Hema introduced London Business School and gave attendees an insight into the types of master's courses they have available and how they can benefit people in their careers. She covered the number of students they intake, how long the courses are, and what topics you are likely to learn.
Next up was Kaira Lawrence from Virgin Media. Kaira gave a presentation about her journey to becoming a Consumer Sales Graduate. She started by highlighting what Virgin Media look for from their graduate candidates, pinpointing key skills and requirements. She then went into detail about the graduate schemes available, the business areas that Virgin Media offer and the recruitment process. Attendees heard some great tips on getting through interviews and assessment centres, and the best way to succeed at the company.
We then heard from Zahrah Fauzee, Senior Associate, Actuarial RMS at PwC. Zahrah gave attendees an overview of her education, studying MORSE at university and then going on to apply for a number of graduate schemes and roles, and securing her internship at PwC.  She spoke about her day-to-day tasks and what she loves about working for the company.
At 3.10pm, Sophie Russell, Technical Account Manager at VMware, then presented her session. Sophie spoke about her role in depth and what challenges she faces on a daily basis. She highlighted the technical parts of the role and the soft skills needed to succeed. We heard more about VMware, the company culture and the initiatives they support.
Our speaker session ended with a presentation from Elena Chan, Data Transformation Lead, International and Freya Holland, International Analytics Manager at Kraft Heinz. Elena began the session by introducing herself, her interests and her educational background. She then spoke briefly about her career path so far and how she secured her current role. Freya then took over to talk about her personal career path after studying MORSE at university and going on to complete a MSc in Operational Research Management Science.
Following this, attendees then had a final networking break to chat with employers, apply for jobs and browse company stalls.
We are delighted with how our London event went, both attendees and employers were keen to offer some great feedback after the event.
"I thought the event was absolutely fantastic and an extremely useful way to meet potential employers."
Event Attendee
We are now halfway through our autumn event season, with just four events left! Next up, will be our Ireland STEM Careers Event, followed by our England and Wales (excluding London) STEM Careers Event, our UK Engineering Industry Event and our Benelux STEM Careers Event. For more information visit www.stemwomenevents.com, follow us on LinkedIn, Twitter and Facebook for event updates.
There are still a few employer spaces left for upcoming events. If you're interested in exhibiting, get in touch with laurenj@stemwomen.co.uk.